Margaret Atwood, Author of The Handmaid's Tale, Has Yet Another TV Project in the Works
The television adaptation of her MaddAddam trilogy was reportedly a Darren Aronofsky project until HBO canned the idea in late 2016.
---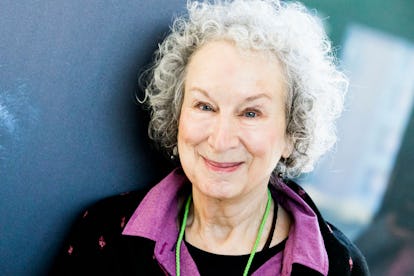 Rosdiana Ciaravolo/Getty Images
Margaret Atwood just can't seem to stay away from television—or rather, television can't seem to stay away from Atwood. After the critical success of The Handmaid's Tale on Hulu, Atwood secured a deal with Netflix to adapt her book Alias Grace (about an Irish murderess) into a mini series, and now both Paramount Television and Anonymous Content are bidding to adapt her MaddAddam trilogy for the small screen.
According to Entertainment Weekly, the writer's work has been eyed by none other than Darren Aronofsky in the past, who reportedly planned to bring the trilogy to HBO. After HBO shut down the project, the trilogy is now looking for a home. It seems that both Paramount TV and production house Anonymous Content are gearing up to secure a lineup of prestigious television drama series, with some of the most notable series in the works being George Clooney's adaptation of Catch-22 and TNT's The Alienist.
MaddAddam, the third installment in a post apocalyptic trilogy that also includes the novels Oryx and Crake and The Year of the Flood, follows the story of human survivors who attempt to re-build the world and save their species. For now, even though there is no network attached to the project, Anonymous Content has snatched it up to executive produce, and Atwood is reportedly satisfied with the ideas they have in store. "I am very happy with the vision described to me…as well as the stunning visual presentation they put together," Atwood said in a statement. After The Handmaid's Tale took home several Emmys and Golden Globes, and has already announced a season 2 release date of April 25, fans of the feminist, and often dystopian, literature written by Atwood are sure to be satisfied by the television adaptation of MaddAddam as well.
Related: Alias Grace Is Your New Binge-Worthy Feminist Show
See W's most popular videos: