Cara Delevingne Made Margot Robbie Prank Call British Royalty, But Prince Harry Was Totally Cool About It
Do you have Prince… Harry in a can?
---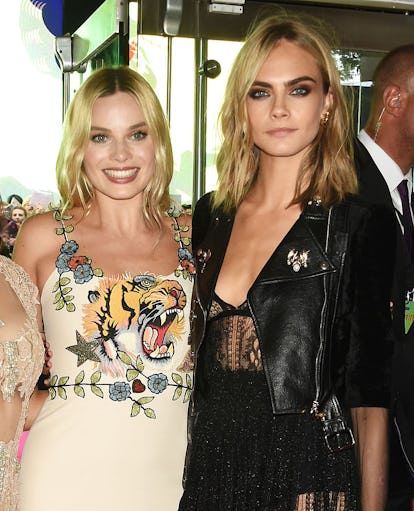 David M. Benett/Getty Images
The best friends who prank together, stay together, and not even Margot Robbie can resist the urge to pull off a good prank call. Supermodel and actress Cara Delevingne, a noted master prankster, once convinced one of Hollywood's Oscar-nominated leading ladies to do what most people would deem the unthinkable—prank call Prince Harry.
In 2016, during the production of Suicide Squad, Delevingne took joking matters into her own hands and urged Margot Robbie to prank call a mutual acquaintance of theirs. "We can't prank call royalty," the I, Tonya actress told The Sun. Delevingne encouraged her to pick up the phone, and as it turns out, you can prank call royalty as long as the call is sent to the House of Windsor.
Robbie and Prince Harry's acquaintanceship was formed back in 2015 at a party for Suki Waterhouse, where Robbie once claimed to not realize she was hanging out with Prince Harry for at least a full half hour. Now, they have each other's numbers stored in their phones (Prince Harry is allegedly "pretty quick on text," according to Robbie), and may bump into one another at the occasional party, but the actress has noted that they are "not close friends." Apparently Prince Harry was "so cool" with the prank call due to the fact that "England literally has the coolest royalty in the world," but not cool enough to send out an invite to the royal wedding in May.
You might be wondering, when Robbie picked up the phone to dial up Prince Harry at Delevingne's request, which accent did she use to pull off the prank? Did Prince Harry leave Prince Albert in a can? Was the Queen's refrigerator running? The world may never know what actually transpired over the phone between Robbie and Prince Harry, but if Delevingne—who once pranked Kesha and the Haim sisters at Taylor Swift's house during 4th of July celebrations—was the mastermind behind the prank, whatever the joke was, it probably landed.
Related: The Best Actress Contenders Had a Group Hug at the Oscars