Mariah Carey Resurrected and Put to Rest the "If You Don't Love Me at My" Meme
The Queen of Memes herself posted her take.
---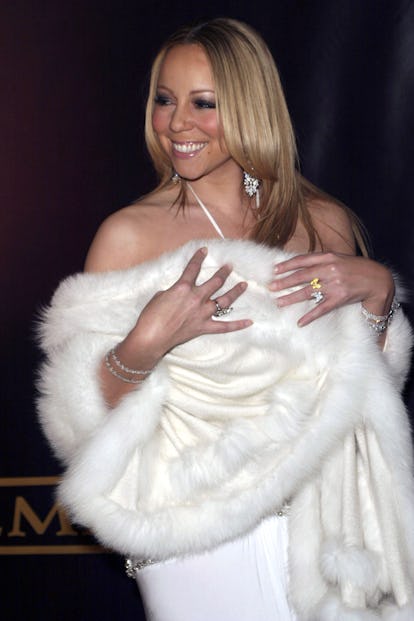 Ferdaus Shamim/Getty Images
By now, the "if you don't love me at my … you don't deserve me at my" meme has become pretty ubiquitous. (In case you've been scrolling too fast on your feed and aren't aware of the concept: The "if you don't love me at my" side of the post features a not so flattering, often throwback photo, and the "you don't deserve me at my" is often astonishing glow-up.) But just as it was about to go through the meme rite of passage of living out its weeklong life before being laid to rest in the depths of KnowYourMeme.com, over the weekend it was resurrected by none other than Mariah Carey.
Carey is more than a few days late to the game: Tyra Banks, for one, posted her take last Thursday, the day before Mindy Kaling was declared to have laid the meme to rest when she responded to a fan last Friday with "I don't get this, I'm equally pretty in both."
But Carey didn't seem to get the message from Kaling, or the rest of the internet. (That, or she simply thought that despite her tardiness, she could do much better.) And so, more than 48 hours after Kaling's, on Sunday, Carey tweeted her own take, effectively once again claiming her status of queen of memes. (The photo on the left is of her famously makeup-free role in the 2009 film Precious; the one on the right is of her decked out on the cover of her 2005 so-called comeback album The Emancipation of Mimi, which was the best-selling album in the U.S. that year.)
She has that cred in the first place, of course, because of the famous GIF of Carey shaking her head and saying "I don't know her"—her response when asked for her thoughts on Jennifer Lopez in the early aughts. J.Lo, who at that point had already won a Grammy, released a four-time platinum album, and was of course one of Carey's biggest competitors. (Carey kept this up at least until 2016, when she again insisted to Andy Cohen that she's "very forgetful" and truly does not know Lopez.)
On the other hand, Carey's timing with "if you don't love me at my" could be considered impeccable: It at long last really does put the meme to rest, hopefully for good.
Related: Mariah Carey Accidentally Stole Meryl Streep's Seat at the 2018 Golden Globes
25 Reasons Why We're So Obsessed With Mariah Carey's Style
Mariah Carey attends the 33rd Annual Grammy Awards circa 1991 in New York City wearing a little black dress with rhinestone trim and long diamond earrings.

Images Press/Getty Images
Mariah Carey attends the 19th Annual American Music Awards on January 27, 1992 at the Shrine Auditorium in Los Angeles, California wearing a sequin dress and shimmering tights.

Ron Galella, Ltd./Getty Images
Mariah Carey wears a black slit skirt paired with a black bandeau crop top out in New York City, a look she paired with simple strappy heels.

KMazur/Getty Images
Mariah Carey was the queen of a good pair of jeans. Here, she sits in the recording studio in a worn pair of Levi's and a button-up sweater.

Getty Images
Singer Mariah Carey attends the Fall 1994 Fashion Week: Calvin Klein Fashion Show on April 13, 1994 at Bryan Park in New York City in a classic '90s "Clueless" look.

Ron Galella, Ltd./Getty Images
Singer Mariah Carey attends the 23rd Annual American Music Awards on January 29, 1996 at the Shrine Auditorium in Los Angeles, California wearing leather pants.

Ron Galella, Ltd./Getty Images
Singer Mariah Carey attends the "Seven Years in Tibet" Century City Premiere on October 6, 1997 at the Cineplex Odeon Century Plaza Cinemas in Century City, California.

Ron Galella, Ltd./Getty Images
Singer Mariah Carey attends Sean Combs' Party to Celebrate the Grand Opening of Justin's Bar & Restaurant on September 30, 1997 in New York City.

Ron Galella, Ltd./Getty Images
Mariah Carey lets her curly hair down and wears a shimmering gold dress for a night out at the Beacon Theatre in New York City in 1998.

KMazur/Getty Images
Mariah Carey poses in a pink Chanel houndstooth two-piece with a small dog at a Chanel-hosted lunch at Lincoln Center in New York in 2000.

Rose Hartman/Getty Images
Karl Lagerfeld poses with Mariah Carey circa 2000. The singer wears a mesh little black dress and the two perfectly match, making us realize they're actually quite similar.

Rose Hartman/Getty Images
Mariah Carey wears a sequin butterfly bustier to the 'VH-1 Divas 2000: A Tribute To Diana Ross' at Madison Square Garden in New York City.

Evan Agostini/Getty Images
Mariah Carey wears a pink slip dress to receive her award at the The 6th Annual Blockbuster Awards in the Shrine Auditorium in Los Angeles, California.

Gregg DeGuire/Getty Images
Singer Mariah Carey poses for paparazzi photographers July 11, 2001 wearing a "Delicious" tank top as she leaves the Mandarin Oriental Hotel in Knightsbridge, London.

Getty Images
Mariah Carey wears a crochet bustier crop top and a maxi denim skirt to the The 17th Annual Soul Train Music Awards in Los Angeles.

Jeffrey Mayer/Getty Images
Mariah Carey attends a party to promote her new single "Loverboy" and new album "Glitter" in London wearing a bandana top, denim separates, and a "Glitter" belt.

UK Press/Getty Images
Mariah Carey poses in a denim mini skirt, "Glitter" tank top, and sunglasses while holding a pink boom box on tour promoting her new album.

RJ Capak/Getty Images
Mariah Carey steps out in a pink Juicy Couture velour jumpsuit top, which she paired with jeans, sunglasses, and a rhinestone belt to sign autographs.

Ferdaus Shamim/Getty Images
Mariah Carey arrives in London wearing a "Honey B. Fly" pink top, denim separates, a diamond chain necklace, and an "Automatic princess" diamond chain belt.

Stuart Mostyn/Getty Images
Mariah Carey attended her album launch and birthday party at Tantra in London, Great Britain wearing a fur-trimmed white shawl, a white maxi dress, and lots of jewels.

Ferdaus Shamim/Getty Images
Mariah Carey steps out to walk her dog in New York City wearing high heels, a yellow bandage dress, and sunglasses. Is this her version of casual?

James Devaney
Singer Mariah Carey throws the ceremonial first pitch before Japanese professional baseball match between Yomiuri Giants and Rakuten Golden Eagles at Tokyo Dome on May 28, 2008 in Tokyo, Japan.

Koichi Kamoshida/Getty Images
Singer Mariah Carey leaves MTV Studios July 22, 2008 in New York City wearing a rainbow mini skirt and diamond belt and a blue button-up shirt.

James Devaney/Getty Images
Mariah Carey didn't even let a broken arm get in the way of her glamour. Here she is seen leaving the Ritz-Carlton on July 12, 2013 in New York City with a bedazzled sling.

James Devaney/Getty Images
Mariah Carey didn't even let a broken arm get in the way of her glamour. Here she is at "The Butler" New York Premiere in a studded sling.

Daniel Zuchnik