Mariah Carey Accidentally Stole Meryl Streep's Seat at the 2018 Golden Globes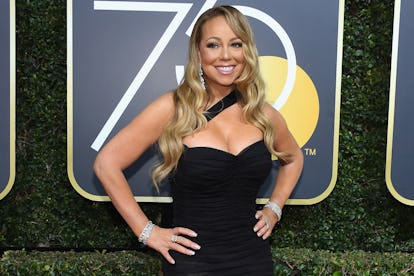 Kevork Djansezian/NBC/Getty Images
Though Sunday night's Golden Globes certainly were not lacking in political statements on stage, an epic battle for power took place off-camera. Mariah Carey, everyone's favorite diva, unknowingly snatched up the seat of one of the few other queens who could illicit something like the feeling of being star struck in Carey: Meryl Streep.
The singer took to her Twitter to clue us all in on a potentially embarrassing behind-the-scenes moment from the Globes. She teased, "Got caught mingling on the way to the loo during a commercial break.. took the first seat available, happens to be right next to Steven Spielberg ?? Cut to next commercial break, guess who comes back to her seat…"
Apparently, even Streep is not impervious to Carey's charm, so it was no big deal when The Post actress returned to her occupied seat. Carey said she apologized to Streep, who simply said, "You can take my seat any time!" Mariah ended the epic tale with two laughing emojis and four hearts, so it seems that the awkward encounter only served to make the two legends into unlikely friends.
Carey also tweeted about other stand-out moments of the night, including Oprah's epic speech, and she gracefully congratulated The Greatest Showman for winner of the award for Best Original Song in a Motion Picture over her song "The Star" from the animated holiday movie The Star. Looks like 2018 Mariah is more humble than diva after all.
Streep wasn't the only notable star encounter Carey, who was nominated in the song category, had during the night. You might have seen the photo of her posed on the red carpet with America Ferrera, Natalie Portman, Emma Stone and Billie Jean Queen. You might have missed the red carpet video that showed how the photo-op came to be. The other four were posing together when an excited Ferrera spots Carey near by and motions her over much to the apparent delight of both Portman and Stone.
They do know her.
Related: Watch Mariah Carey Sing 'Touch My Body' to Karl Lagerfeld
Golden Globes 2018: See Hollywood's Biggest Names Wearing Black Dresses On the Red Carpet
Allison Williams arrives to the 75th Annual Golden Globe Awards held at the Beverly Hilton Hotel on January 7, 2018. (Photo by Kevork Djansezian/NBC/NBCU Photo Bank via Getty Images)

Kevork Djansezian/NBC
Caitriona Balfe arrives to the 75th Annual Golden Globe Awards held at the Beverly Hilton Hotel on January 7, 2018. (Photo by Kevork Djansezian/NBC/NBCU Photo Bank via Getty Images)

Kevork Djansezian/NBC
Sadie Sink arrives to the 75th Annual Golden Globe Awards held at the Beverly Hilton Hotel on January 7, 2018. (Photo by Kevork Djansezian/NBC/NBCU Photo Bank via Getty Images)

Kevork Djansezian/NBC
Debra Messing arrives to the 75th Annual Golden Globe Awards held at the Beverly Hilton Hotel on January 7, 2018. (Photo by Kevork Djansezian/NBC/NBCU Photo Bank via Getty Images)

Kevork Djansezian/NBC
Alexis Bledel arrives to the 75th Annual Golden Globe Awards held at the Beverly Hilton Hotel on January 7, 2018. (Photo by Kevork Djansezian/NBC/NBCU Photo Bank via Getty Images)

Kevork Djansezian/NBC
Tracee Ellis Ross arrives to the 75th Annual Golden Globe Awards held at the Beverly Hilton Hotel on January 7, 2018. (Photo by Kevork Djansezian/NBC/NBCU Photo Bank via Getty Images)

Kevork Djansezian/NBC
Claire Foy arrives to the 75th Annual Golden Globe Awards held at the Beverly Hilton Hotel on January 7, 2018. (Photo by Kevork Djansezian/NBC/NBCU Photo Bank via Getty Images)

Kevork Djansezian/NBC
Catherine Zeta-Jones arrives to the 75th Annual Golden Globe Awards held at the Beverly Hilton Hotel on January 7, 2018. (Photo by Kevork Djansezian/NBC/NBCU Photo Bank via Getty Images)

Kevork Djansezian/NBC
Frankie Shaw arrives to the 75th Annual Golden Globe Awards held at the Beverly Hilton Hotel on January 7, 2018. (Photo by Kevork Djansezian/NBC/NBCU Photo Bank via Getty Images)

Kevork Djansezian/NBC
Chrissy Metz arrives to the 75th Annual Golden Globe Awards held at the Beverly Hilton Hotel on January 7, 2018. (Photo by Kevork Djansezian/NBC/NBCU Photo Bank via Getty Images)

Kevork Djansezian/NBC
Laurie Metcalf arrives to the 75th Annual Golden Globe Awards held at the Beverly Hilton Hotel on January 7, 2018. (Photo by Kevork Djansezian/NBC/NBCU Photo Bank via Getty Images)

Kevork Djansezian/NBC
Allison Brie arrives to the 75th Annual Golden Globe Awards held at the Beverly Hilton Hotel on January 7, 2018. (Photo by Kevork Djansezian/NBC/NBCU Photo Bank via Getty Images)

Kevork Djansezian/NBC
Dakota Johnson arrives to the 75th Annual Golden Globe Awards held at the Beverly Hilton Hotel on January 7, 2018. (Photo by Kevork Djansezian/NBC/NBCU Photo Bank via Getty Images)

Kevork Djansezian/NBC
Meryl Streep and director of the National Domestic Workers Alliance Ai-jen Poo arrive to the 75th Annual Golden Globe Awards held at the Beverly Hilton Hotel on January 7, 2018. (Photo by Kevork Djansezian/NBC/NBCU Photo Bank via Getty Images)

Kevork Djansezian/NBC
Amy Poehler arrives to the 75th Annual Golden Globe Awards held at the Beverly Hilton Hotel on January 7, 2018. (Photo by Kevork Djansezian/NBC/NBCU Photo Bank via Getty Images)

Kevork Djansezian/NBC
Christina Hendricks arrives to the 75th Annual Golden Globe Awards held at the Beverly Hilton Hotel on January 7, 2018. (Photo by Kevork Djansezian/NBC/NBCU Photo Bank via Getty Images)

Kevork Djansezian/NBC
Sarah Paulson arrives to the 75th Annual Golden Globe Awards held at the Beverly Hilton Hotel on January 7, 2018. (Photo by Kevork Djansezian/NBC/NBCU Photo Bank via Getty Images)

Kevork Djansezian/NBC
Susan Sarandon arrives to the 75th Annual Golden Globe Awards held at the Beverly Hilton Hotel on January 7, 2018. (Photo by Kevork Djansezian/NBC/NBCU Photo Bank via Getty Images)

Kevork Djansezian/NBC
Allison Janney attends The 75th Annual Golden Globe Awards at The Beverly Hilton Hotel on January 7, 2018 in Beverly Hills, California. (Photo by Frederick M. Brown/Getty Images)

Frederick M. Brown
Alicia Vikander attends The 75th Annual Golden Globe Awards at The Beverly Hilton Hotel on January 7, 2018 in Beverly Hills, California. (Photo by Frazer Harrison/Getty Images)

Frazer Harrison
Issa Rae attends The 75th Annual Golden Globe Awards at The Beverly Hilton Hotel on January 7, 2018 in Beverly Hills, California. (Photo by Frazer Harrison/Getty Images)

Frazer Harrison
Kendall Jenner attends The 75th Annual Golden Globe Awards at The Beverly Hilton Hotel on January 7, 2018 in Beverly Hills, California. (Photo by Frederick M. Brown/Getty Images)

Frederick M. Brown
Pamela Adlon attends The 75th Annual Golden Globe Awards at The Beverly Hilton Hotel on January 7, 2018 in Beverly Hills, California. (Photo by Frazer Harrison/Getty Images)

Frazer Harrison
Elizabeth Moss attends The 75th Annual Golden Globe Awards at The Beverly Hilton Hotel on January 7, 2018 in Beverly Hills, California. (Photo by Frazer Harrison/Getty Images)

Frazer Harrison
Maggie Gyllenhaal attends The 75th Annual Golden Globe Awards at The Beverly Hilton Hotel on January 7, 2018 in Beverly Hills, California. (Photo by Frazer Harrison/Getty Images)

Frazer Harrison
Viola Davis attends The 75th Annual Golden Globe Awards at The Beverly Hilton Hotel on January 7, 2018 in Beverly Hills, California. (Photo by Frederick M. Brown/Getty Images)

Frederick M. Brown
Connie Britton attends The 75th Annual Golden Globe Awards at The Beverly Hilton Hotel on January 7, 2018 in Beverly Hills, California. (Photo by Frederick M. Brown/Getty Images)

Frederick M. Brown
Millie Bobby Brown attends The 75th Annual Golden Globe Awards at The Beverly Hilton Hotel on January 7, 2018 in Beverly Hills, California. (Photo by Frederick M. Brown/Getty Images)

Frederick M. Brown
Kerry Washington attends The 75th Annual Golden Globe Awards at The Beverly Hilton Hotel on January 7, 2018 in Beverly Hills, California. (Photo by Frederick M. Brown/Getty Images)

Frederick M. Brown
America Ferrera and Natalie Portman attend The 75th Annual Golden Globe Awards at The Beverly Hilton Hotel on January 7, 2018 in Beverly Hills, California. (Photo by Frazer Harrison/Getty Images)

Frazer Harrison