Why You Should Be Paying Attention To Marine Serre, Paris's Hottest Young Designer
The designer is scoring big with her debut collection.
---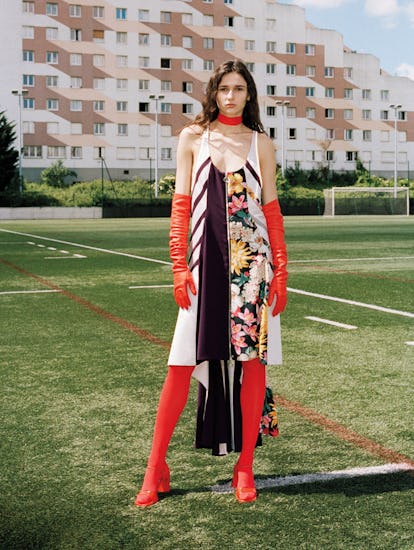 Photographs by Kira Bunse, Styled by Anna Schiffel; Hair by Yuji Okuda at Agence Saint Germain; Makeup by Kathy Le Sant at Open Talent Paris; photography assistant Bastien Santanoceto; Fashion assistant: Emil Kosuge; model: Justine Asset at Women.
Marine Serre had barely hemmed her final student collection at La Cambre, in Brussels, when her work caught the eye of Balenciaga's Demna Gvasalia and the buyers of the Parisian concept store the Broken Arm, who were judges for the graduate fashion show. Such early attention had a ripple effect, prompting orders from Dover Street Market and Opening Ceremony, and winning her the 2017 LVMH Prize for Young Fashion Designers—all before she'd even worked out how to scale a business or produce a collection.
"Launching a line right away wasn't the plan, but I like the way it's happened," admits the petite 25-year-old over coffee in Paris. "There's something a bit magical about it because everyone today is trying to have a brand, and we didn't set out to do that. But when Dover Street Market came along, we thought, Why not?"
Now based in Paris, Serre has been juggling full-time work at Balenciaga along with the mounting demands of her fledging label, working nights and weekends from her 270-square-foot apartment in the up-and-coming 18th arrondissement. She has the help of her younger sister, Justine, who's based in Toulouse and assists with bookkeeping, and her boyfriend, Pepijn van Eeden, a Dutch Ph.D. student, who offers creative input. Serre grew up in a tiny village in the sleepy region of Corrèze, in the southwest of France, surrounded by farmland. She started tennis lessons with her father, a sports enthusiast who works for the national rail company, at the tender age of three, and was an avid competitor until she discovered that fashion design—specifically, reworking thrift-store finds to fit her small frame—was far more fun. Soon after she arrived in Brussels for college, she was in a car accident. "I couldn't play tennis anymore because I couldn't run…and then fashion took over," she says with no discernible trace of regret.
Serre interned at established houses like Maison Martin Margiela, Alexander McQueen, and Christian Dior, yet like so many other Parisian new-gen designers (Gvasalia, Y/Project's Glenn Martens, Koché's Christelle Kocher, to name a few), it's the street—in all its everyday, unglamorous glory—that serves as a mood board. What separates Serre from the pack, though, are the underlying sociopolitical themes running through her work. Her debut offering, a more retail-friendly version of her graduate collection that she's entitled Radical Call for Love, is full of voluminous silhouettes inspired by 19th-century Arabian garb and sleek, body-con shapes crafted from high-tech fabrics. It served as a statement of multiculturalism and inclusion, infused with '90s sportswear tropes—the crescent moon associated with the Arab world appears, like an athletic logo, on a bodysuit and platform shoes.
"I was near the terrorist attacks in both Paris and Brussels when they happened, and when I had to start my graduate collection, I remember thinking, What do I do?" she says. "I felt that fashion was not useful. I was questioning everything." And yet, she persisted. "I don't want to make a political statement, but of course everything is political at the moment," she notes. "It's nice to be connected to what is happening in the world."
Related: Young French Designer Marine Serre Wins the LVMH Prize, With a Little Help From Rihanna
9 Famous Kids Who Ruled the Runway at New York Fashion Week 2017