Celebrities Around the World, From Miley Cyrus to Canadian Prime Minister Justin Trudeau, Show Their Support for Marriage Equality in Australia
Aussies, Brits and Americans alike showcase their support for Australian marriage equality on social media.
---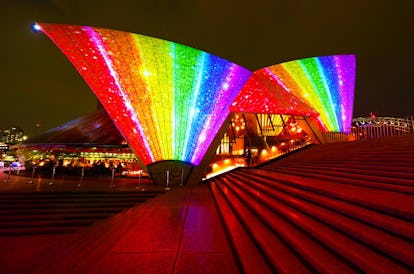 Sydney Opera House/Twitter
On November 15, 61% of the Australian population voted in favor of passing a same-sex marriage bill that would allow for marriage equality across the nation. Celebrities around the world including Billy Eichner, Portia de Rossi, Kylie Minogue and even Canadian Prime Minister Justin Trudeau tweeted their support of the vote in Australia.
It was not until June 26, 2015, that the United States Supreme Court ruled that states must legally recognize same-sex marriages, but the largely positive response to "legalize" same-sex marriage in Australia proves that the nation has been slow to catch up to many other English-speaking countries that have already passed marriage equality bills. Marriage equality legislation marks just the beginning in the fight for justice for all LGBTQ citizens of Australia and of the world, and some LGBTQ activists initially feared the campaign to cast votes for same-sex marriage would prompt a harshly negative response from conservatives.
Australian comedian Josh Thomas tweeted his take on the vote, criticizing Australia's Prime Minister Malcolm Turnbull for placing "his own best interests against the public's mental health and fiscal responsibility" and not pushing for marriage equality sooner than this year.
While Prime Minister Turnbull aims to pass a Parliament bill that will adjust the nation's Marriage Act 1961 to change its definition of marriage to include couples of all genders before the end of the year, Liberal Party Senator James Paterson plans to implement a bill that would legally protect those who deny LGBTQ couples their wedding services, arguing that it would provide conservatives with "religious protection."
While some prominent Aussie celebrities still have yet to share their thoughts on the bill, Brits, Americans and some who consider themselves "Australian by association" showcased their support for marriage equality on social media, while The Empire State Building in New York City and the Sydney Opera House were lit up with rainbow colors to celebrate the historic vote.
[#twiiter: https://twitter.com/elliegoulding/status/930773692316921857]
Related: Edith Windsor, Same-Sex Marriage Pioneer, Dies at 88
See W's most popular videos: