Martha Stewart Talks Holiday Trends: Kissing Under the Mistletoe Is "In," Pumpkin Spice Lattes Are "Vehemently Out"
Martha Stewart invited W into her home and gave her stamp of approval to the holiday accoutrements that are "in" this season.
---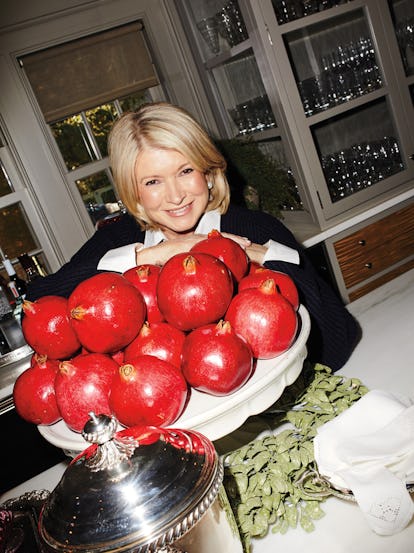 Photograph by Maciek Kobielski, Styled by Nora Milch; Hair by Megan O'Connor; Make-Up by Daisy Schwartzberg Toye
Everything you've ever needed to know about celebrating the holidays you can learn from Martha Stewart. From making the perfect eggnog to the most elegant hostess gifts, there's no one more trusted in that realm. But don't be fooled by her sophisticated lifestyle—Ms. Stewart has an opinion on all things holiday–even the accoutrements that might be considered delightfully tacky. Here, she breaks down her guide to some of the most controversial holiday traditions, including pumpkin spice lattes.
Home Decor
Inflatable lawn decorations are an absolute no-no according to Stewart. "They're pretty ugly and they move like those things at the gas station," she says. What Martha Stewart does prefer in terms of decorations is anything with illumination. She just can't get enough of window lights and candles. Anything that shines bright has her stamp of approval.
Wardrobe
Ugly Christmas sweaters are officially okay. (Shop them here.)
Food & Drink
Stewart is officially declaring pumpkin spice lattes as "vehemently out," so you can stop pretending they ever tasted good in the first place. While she's given no official word on gingerbread lattes—which taste so much better than their pumpkin cousins—eggnog is definitely in this year (as long as you're sipping the official Martha Stewart recipe, of course). The only thing you can serve that is better than eggnog, according to Stewart, is a turkey sandwich made with Thanksgiving leftovers. Those have been deemed "the best."
Making Out
Stewart finds kissing at midnight on New Year's Eve "charming," as well as smooching under the mistletoe, but only if you can find some. It is apparently becoming increasingly more difficult to scope out the mistletoe in the holiday decoration aisle.
Politics
Stewart is all for talking politics at the holiday dinner table this year. Not that you will necessarily be able to avoid it, either way–everyone from your grandparents to your baby cousins will have an opinion, so you might as well prepare some talking points now.
Related: 45 Holiday Gift Ideas For the Kids In Your Life
The Ultimate Holiday Gift Guide: 155 Gift Ideas from Martha Stewart, Lily Aldridge and Other People We Love