Martha Stewart and Snoop Dogg Recreate That Ghost Scene With a Chocolate Cake
Patrick Swayze and Demi Moore should be proud.
---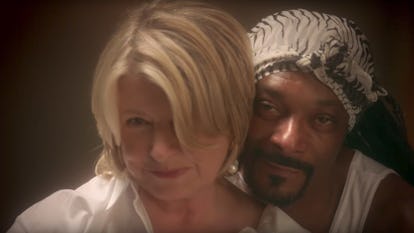 VH1/YouTube
To promote the second season of their VH1 cooking-show-cum-hang-out-session, Martha & Snoop's Potluck Dinner Party, Martha Stewart and Snoop Dogg (née Lion, née Dogg) recreated the infamous scene from Ghost in which Patrick Swayze gives his artist girlfriend Demi Moore a little enthusiastic assistance with her ceramics at the pottery wheel. You know the one.
In their version, Martha and Snoop (who are famously best TV friends and also, it should probably be mentioned, share a publicist) are instead making a chocolate cake. Well, we should say, making and then ruining a chocolate cake. Nobody wants a dessert you stuck your fingers in! Martha, what are you doing?
In the movie (spoiler alert for millennials) Swayze and Moore go from working on the wheel to a steamy lovemaking scene, and then Swayze is murdered by bankers and returns as a ghost through medium Whoopi Goldberg. The Martha and Snoop story does not involve any of those other elements, though if they could find a way to make Whoopi Goldberg part of all their projects, we would love that.
The promo is set to the same music as the original movie scene—The Righteous Brothers' gorgeous classic, "Unchained Melody." See it in full below, along with the original, you know, for comparison's sake only.
The scene has been parodied countless times, so often that in Community's pottery-class-centric episode, the teacher has a sign posted that specifically prohibits the practice. Obviously, it happens anyway. Combine this scene with the lift from the end of Dirty Dancing—also parodied and homaged ad nauseam—and you are left with only one conclusion: Patrick Swayze is an icon.
The second season of Martha & Snoop's Potluck Dinner Party premieres on VH1 at 10 p.m. on October 16.
Related: For Her Birthday This Year, Martha Stewart Is Getting Her Very Own Musical
See What's Trending in W Video: