Maya Rudolph Reveals Why She Calls Paul Thomas Anderson Her "Husband" Even Though They Are Not Married
Even though the two are not officially married.
---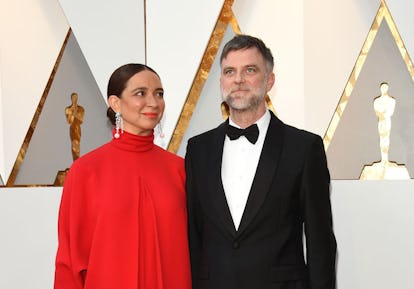 AFP Contributor/Getty Images
Maya Rudolph and Paul Thomas Anderson are one of Hollywood's most understated power couples. They are so understated, in fact, that it can be easy to forget that, despite dating since 2001, the couple never officially tied the knot.
But that hasn't stopped the couple from using the legal language to describe each other. In an interview with The New York Times, the comedienne revealed the story behind how and why she started referring to her longterm partner of 17 years and the father of their four children as her "husband," despite the fact that the couple are not married. According to Rudolph, one day she was dining at a restaurant, casually holding conversation with the maître d', who told a story about a man who called himself "the unofficial mayor of the Valley." Rudolph's quick-witted retort was, "I hope it wasn't my husband."
After eight years of referring to Anderson as her "boyfriend," Rudolph decided it felt "ooky" to continue to use the term once the couple had their first daughter, in 2009. She told the Times she switched to "husband" because "people know what that means," and according to Rudolph, her definition of the term "means he's the father of my child, and I live with him, and we are a couple, and we are not going anywhere."
Related: Amy Poehler to Star in and Direct Netflix's Wine Country and Live Her Best Life