Maye Musk, Advocate for False Eyelashes and Bold Beauty, Is Now a CoverGirl
Elon Musk's 69-year-old model mom adds another credit to her already impressive resume.
---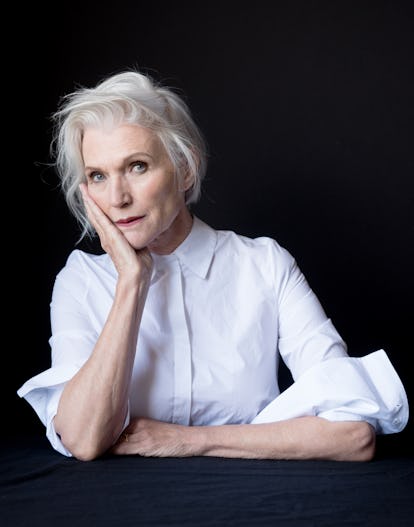 Backstage at the Concept Korea Spring 2018 show during New York Fashion Week earlier this month, as Maye Musk reeled off a list of products she keeps stashed in her medicine cabinet, she paused for a minute to recall the full name of one: an anti-aging, anti-wrinkle foundation by CoverGirl. After all, as the newest face of CoverGirl—the latest addition to an already impressive resume for the 69-year-old model, whose credits also include being Elon Musk's mom—she's likely got foundation to spare right now. And mascara, and bright lipsticks, and maybe even false eyelashes—though she probably has enough of those stashed from recent runway gigs.
Musk's latest assignment was announced Wednesday, bringing her into the ranks of CoverGirl spokesmodels that also include Issa Rae, the mastermind behind Insecure; Nura Afia, the first face of CoverGirl to wear a hijab; James Charles, the first male CoverGirl model; and Ayesha Curry, the celebrity chef, wife of basketball player Stephen Curry, and, according to Glamour, the brand's first non-entertainer ambassador. As a model with five decades' worth of experience Musk adds to this roster of superlatives as the oldest model to earn a CoverGirl beauty contract.
"I'm so excited to say that I'm now officially a COVERGIRL! My three kids, ten grandchildren, and I have had the hardest time trying to keep it a secret until today's big announcement," Musk wrote on Instagram shortly after the announcement. "Beauty truly is for women of all ages." (Though Musk recently described herself as "pretty plain," that particular evaluation is a luxury only afforded to women who look like Maye Musk at 69 years old. That is, not all that plain.)
At 69, Musk is also among the youngest of aging beauties who have been appointed to beauty contracts in recent years. L'Oréal Paris, for example, is represented by a series of septuagenarian models, including Jane Fonda, 79, Helen Mirren, 72, and Susan Sarandon, 70. (Musk turns 70 next April.) Of course, this is far from the first time Musk has fronted a beauty campaign: She first earned that honor back in the '60s and has since appeared in ads for the likes of Revlon and Clinique.
And, in fact, Maye credits part of her recent success—not only walking New York Fashion Week at 69, but also signing with IMG Models and appearing in a Beyoncé video as a particularly chic ghost—with embracing her natural powder-white hair. She let it grow in as a 60th birthday gift to herself: "You have to change," she told me last year, shortly after she signed with IMG. "You have to always be updated."
Of course, Musk may "always be updated" when it comes to beauty and fashion, but, as she told the New York Times in an interview accompanying the announcement, she still hasn't gotten her hands on the most recent Tesla model.
Tilda Swinton cuddles with her puppy: