Why Megan Rapinoe's Loewe Campaign Actually Matters
Slowly but surely, women's sports are getting recognition.
---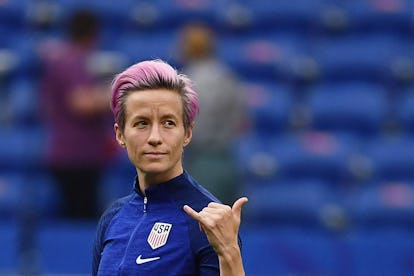 The National Women's Soccer League might be in its off-season, but Megan Rapinoe is keeping busy. Last month, she closed out her banner year by landing both the title of Sports Illustrated's sportsperson of the year and the coveted first celebrity cameo on The L Word: Generation Q. (Admittedly minor compared to winning the World Cup, suing the national soccer federation for gender discrimination, and infuriating Donald Trump, but accomplishments all the same.) And now, just two weeks into 2020, Rapinoe has already marked another milestone of sorts: On Wednesday, Loewe revealed that Rapinoe is the face of its fall/winter 2020 campaign.
The U.S. women's team's co-captain—and America's gay sweetheart, as Alice put it on The L Word—will soon be on billboards all over Paris, just in time for fashion week.
Photographed by Steven Meisel, the campaign marked yet another collaboration between Pat McGrath, Guido Palau, M/M Paris, Benjamin Bruno, and the photographer. Typically, Loewe's all-star team prefers to get messy, whether stuffing fruit into the mouth of Vittoria Ceretti or smearing lipstick on the face of Charlie Heaton of Stranger Things.) But for Rapinoe, they kept things relatively simple. "Her eyes are grinning, the tongue peeks a boo between the teeth, mimicking the soccer player's signature expression when she wins," reads the enigmatic press release. The house also shared a preview of the campaign's upcoming video.
From the sound of it, Rapinoe's casting came about partly by chance. "I watched Megan on the news one morning and what she was saying resonated with me," Loewe's creative director, Jonathan Anderson, told CNN. When he approached Rapinoe about the campaign, the 34-year-old was all for it. "Any chance I get to do something outside of sport, particularly in fashion, I'm all over that," she said. "Particularly in the context of women's sports, where I feel we're very boxed in."
Male athletes regularly land campaigns—especially for watches, fragrance, and underwear. (The latter category is especially popular; see: Rafael Nadal for Tommy Hilfiger, Odell Beckham Jr. for Calvin Klein, and David Beckham for Emporio Armani.) Quite a few male athletes have made it into the realm of high fashion, too. The past decade has seen Muhammad Ali pose for Louis Vuitton, Russell Westbrook for Acne Studios, David Beckham for Belstaff, and Victor Cruz for Givenchy.
But for athletes who are women, it's a different story. Sure, the past few years have seen Ronda Rousey pose topless for Buffalo by David Bitton, and Aly Raisman model for Aerie, but those brands are hardly at the level of those their male counterparts have plugged. Tennis stars seem to have better luck, with Off-White tapping Serena Williams and Sacai featuring Naomi Osaka. Then again, both of those campaigns were the brands' collaborations with Nike, whose ads of course regularly feature athletes.
Rapinoe clearly enjoys dipping her toes into fashion. (Last year, for example, she helped start the buzz around the up-and-coming label Maisie Wilen.) But she also sees the campaign as something bigger—a step forward for women athletes. "As we start to progress, and our sport becomes more popular and we start to become more successful, you have fashion designers wanting athletes who have become cultural[ly] significant," she said. "I think that fashion is a really good indication and case study for the progression of women's sports."