Meghan Markle Is Reportedly Turning to Her Mom to Help Rein in Her Father
That's what moms are for.
---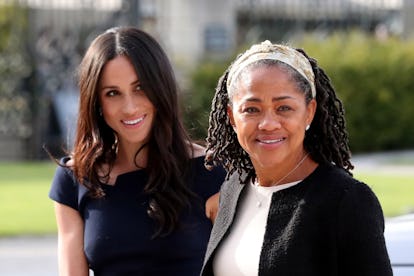 WPA Pool/Getty Images
Despite enjoying a seemingly idyllic summer that included a tour of the U.K.'s most iconic castles and a stay at George Clooney's Lake Como villa, Meghan Markle hasn't had a totally stress-free life of late. Anyone who's been following the chronicles of the world's newest duchess will know that much of that stress reportedly comes from Meghan's estranged father, Thomas Markle, who has been speaking to the media in a very public effort to reconcile with his daughter. But apparently, he's not doing a very good job of it. From making claims on behalf of Princess Diana to reportedly hanging up on his new son-in-law, Thomas Markle reportedly continues to be a thorn in the royal family's side.
As the Duchess of Sussex, Meghan likely has a very formidable team of professional crisis managers at her disposal. But according to a new report from the Daily Mail, there's only one person she really trusts to fix this mess: Meghan is reportedly turning to her mother, Doria Ragland, to help rein in her renegade father.
A close friend of the duchess reportedly told the Mail that Meghan is expected to travel to California in the near future, and is thinking of turning to her mother as a last resort. "So far, Meghan's mom hasn't gotten involved, but that may all change when they see each other in person," the source said. "Meghan has been adamant that her mom not get dragged into all the drama. But if anyone can talk some sense into her dad, it's Doria. Meghan is now open to the possibility of her mom working some magic behind the scenes."
The unnamed source also described how Thomas Markle's behavior has impacted his daughter on a granular level. "It has just become so embarrassing for Meghan," the source said. "Like the elephant in the room when she's with people she doesn't know very well. What frustrates Meghan the most is that her father doesn't seem to take responsibility for any of his actions, as if he can do no harm, and everyone else is to blame." The source also added that the more Meghan's father speaks to the media, "the more she wants to stay away."
It's a messy situation indeed, but if anyone can fix it, it's mom.