Meghan Markle Wears Her Hair in an Elegant French Twist in Fiji
With a nod to local style.
---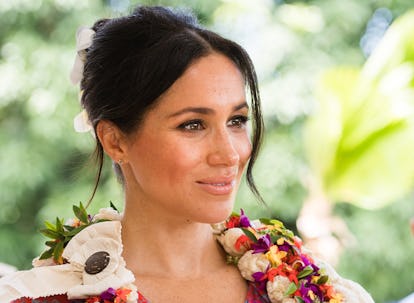 Samir Hussein/Getty Images
Meghan Markle and Prince Harry are barely halfway through their first royal tour together, but in that time, the duchess has already announced a pregnancy, and given an empowering speech. And on Wednesday, she gifted the tress-obsessed of the world with yet another stunning moment: the[first French twist she's worn since becoming a member of the royal family.
While touring the University of the South Pacific in Fiji on Wednesday, Harry and Meghan both dressed in their island best: he in a blue tropical print shirt and she in a floral wrap dress tied with a pom-pom at her waist. But for royal beauty watchers, the pièce de résistance was Meghan's hair. The duchess wore a French twist, the chic, polished cousin to her trademark messy bun. Instead of securing the gathered hair at the nape of the neck, though, the French twist tucks the hair under itself to create a sleek, smooth silhouette on the back of the head, rather than a bouncy bun.
She also honored the local style with three beautiful white flowers tucked neatly into her twist. The look is a clever combination of royal culture and island aesthetic. It's also a reminder that the duchess' take on royal style is just getting started.
Princess Anne Is a Modern Fashion Icon Hiding in Plain Sight
Princess Anne at the Chelsea Flower Show in London, two days after Meghan Markle and Prince Harry's royal wedding, May 2018.

Chris Jackson/Getty Images
Princess Anne on the grounds of Sandringham House, February 1970.

Central Press/Getty Images
Princess Anne with her arm in a sling after she fell off her horse in Kiev, Russia, for a championship competition, September 1973.

Tim Graham/Getty Images
Princess Anne on the opening day of the 2010 Olympic Games in London, July 2012.

Paul Gilham/Getty Images
Princess Anne on the grounds of the Windsor International Horse Trials in Windsor, May 2004.

Carl De Souza/Getty Images
Princess Anne on a visit to Kiev, Russia, September 1973.

Tim Graham/Getty Images
Princess Anne on the course of the first Gatcombe Park Horse Trials in Glouchestershire, August 1983.

David Levenson/Getty Images
Princess Anne at a theater in London, September 1973.

Tim Graham/Getty Images
Princess Anne at the Windsor Horse Trials in Windsor Great Park, May 1984.

David Levenson/Getty Images
Princess Anne at the Derby in Epsom, 1983.

Tim Graham/Getty Images
Princess Anne at Horse Trials in the U.K. with members of the Royal Canadian Mounted Police, 1968.

Jeremy Fletcher/Getty Images
Princess Anne with her cell phone and walkie-talkie at the Whatley Manor Horse Trials at Gatcombe Park in Stroud, September 2017.

Max Mumby/Indigo/Getty Images
Princess Anne at age 23, with her fiancé Captain Mark Phillips, at the London premiere of Jesus Christ Superstar, August 1973.

AFP/Getty Images
Princess Anne at John Smith's Grand National horse racing meeting in Liverpool, April 2011.

Max Mumby/Indigo/Getty Images
Princess Anne on a visit to the Ackworth Group of the Riding for the Disabled Association, June 1983.

PA Images/Getty Images
Princess Anne at St Giles' Cathedral's Thistle Service in Edinburgh, July 2016.

Max Mumby/Indigo/Getty Images
Princess Anne with Queen Elizabeth II and her grandson, Peter Phillips, at the baby's christening, December 1977.

Hulton Archive/Getty Images
Princess Anne in Gambia for Save the Children, February 1984.

Tim Graham/Getty Images
Princess Anne and her second husband Timothy Laurence at the 2016 Braemar Highland Gathering in Scotland, September 2016.

Mark Cuthbert/Getty Images
Princess Anne, pregnant with her daughter Zara, and her husband Mark Phillips, in Great Somerford, May 1981.

Tim Graham/Getty Images
Princess Anne on a visit to Zagorsk, Russia, May 1990.

Tim Graham/Getty Images
Princess Anne with her children Peter and Zara At the Royal Windsor Horse Show, May 1984.

Tim Graham/Getty Images
Princess Anne at a parade at Sandhurst Military Academy, August 1973.

Tim Graham/Getty Images
Princess Anne at the race course of the Cheltenham Festival, March 2017.

Max Mumby/Indigo/Getty Images
Princess Anne at the Save The Children Festival Of Trees in London, ca. 2000s.

Tim Graham/Getty Images