Meghan Markle and Kate Middleton Wore Color-Coordinated Outfits for Royal Outings Across London
The sisters-in-law wore matchy looks across London.
---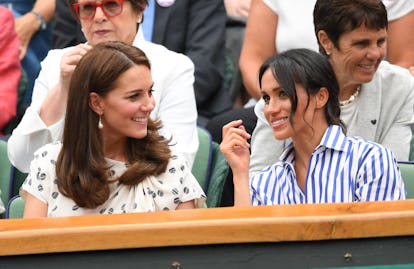 Karwai Tang/Getty Images
On Wednesday, Meghan Markle and Kate Middleton each left Kensington Palace for separate royal outings: Markle to the Hubb Community Kitchen in West London, and Middleton to University College London in the center of the city. Though the duchesses ventured out for very different solo appointments, they wore surprisingly similar outfits, leaving the world wondering whether they'd met somewhere on the palace grounds to discuss color-coordinating their wardrobes, if the sisters-in-law had begun sharing clothes, or if Markle and Middleton have become so close in recent months that they've started to think and, therefore, dress alike.
All are valid theories, especially since this isn't even the first time the pair have color-coordinated: When they attended Wimbledon together earlier this year, they were dressed in complementary shades of blue. Sadly, we may never know the inner workings of Meghan and Kate's closets, but it's undeniably entertaining to imagine the two commoners turned royals spending their afternoon teatime conspiring a fashion-forward plan to produce some splashy headlines.
For her part, Meghan wore a long-sleeved, velvet-collared dress in a dark maroon shade, topped off with a matching knee-length wool coat, both by Club Monaco, per People. The mom-to-be wore the dress over slightly sheer black tights and heeled black leather Givenchy boots, styled her hair with a middle part and pulled back in a low ponytail, and sported a jammy lipstick that complemented her ensemble.
Once inside the Hubb Community Kitchen, the Duchess of Sussex greeted the women who gathered there to cook meals for their community, which was heavily impacted by the tragic Grenfell Tower fire in June 2017—and with whom Meghan teamed up to produce the Together: Our Community Cookbook collection of recipes, which has reportedly raised enough money to renovate the kitchen, allow it to stay open seven days per week, and provide meals and community to even more people. She tied a black apron around her waist, then jumped right in to help the women cook and serve a meal. It's unknown whether the palace is planning on hosting a Thanksgiving meal on Thursday to help its American transplant feel more at home, but if not, Wednesday's lunch at the Hubb Community Kitchen was a worthy substitute.
Middleton, meanwhile, dressed in a slightly lighter burgundy shade than her sister-in-law: She wore a dark red blazer and matching flippy skirt from Paule Ka over a black turtleneck and, like Markle, black tights and black heels. In another striking similarity between the two, Middleton also opted for a low ponytail, though her part was slightly off-center. She didn't, however, match her beauty look to her outfit, sporting only minimal makeup and a pink-nude lip color.
At the university, the duchess met with a professor of neuroscience in the Developmental Risk and Resilience Unit to learn "how environment and biology interact to shape the way in which children develop both socially and emotionally," according to a series of tweets from the palace. The meeting was the next step in the Duchess of Cambridge's recent work to establish a committee of "practitioners and academics from a range of disciplines, including neuroscience, mental health, nursing, perinatal care, and education," all to further research into children's mental health and well-being.
Related: The Evolution of Meghan Markle's Style Through The Years