Meghan Markle's New Mystery Dog Is Getting Less Mysterious, Slowly but Surely
We still don't know its name, though.
---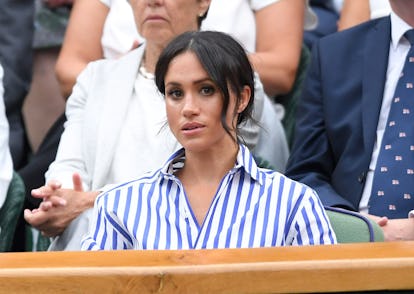 Karwai Tang/WireImage
Several months ago, Meghan Markle, noted dog lover, recently crowned Duchess of Sussex, and wife of Prince Harry, became embroiled in some niche dog drama when it was revealed that she left one of her rescue dogs—Bogart, a Labrador-shepherd mix—behind in Toronto, as her vet declared him medically unfit for the journey. As a result, she separated Bogart from her other rescue dog, a beagle named Guy, in a move that some declared "awful" and "disgusting" despite it, apparently, being in Bogart's best interests.
Then, earlier this summer, Meghan and Harry adopted a new companion for Guy—believed to be another Labrador, as People reported in August. (Ellen DeGeneres played a pivotal role in Bogart's adoption—she encouraged Markle to take him home, going so far as to tap on the glass of the adoption center as she and wife Portia de Rossi were departing to remind the Suits actress of her duty—but it's unlikely that she reprised her role as canine matchmaker.) Now, Meghan Markle micro-updates have once again turned towards her canine companions, as Markle, in the words of People magazine, "drop[ped] a major new detail about her mystery dog with Prince Harry." They've yet to reveal the dog's name—Town and Country reported it to be Oz, though there's no confirmation—but now, at least, we have a gender: The dog is a she.
People keep "getting her name wrong," Markle lamented during her recent trip to Sussex. Which leads us to wonder: What could the dog's name be that people continually get it wrong? Not only did she reveal her new dog's gender, but she also unwittingly revealed that she has a maybe challenging name! Still to be determined are how she got set up with the new dog (as we have established, probably not Ellen), whether it likes her or Harry more, and how it—she—likes Guy.
Anyways, congratulations to Meghan and Harry, it's a girl.