Are Meghan Markle and Prince Harry Already Preparing To Have a Baby?
A source close to the royal couple revealed their plans to grow their family.
---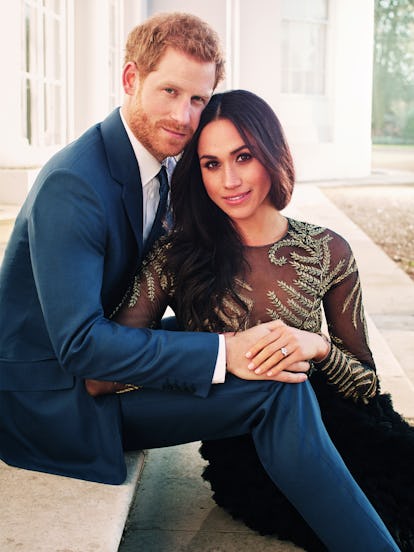 Photo by Alexi Lubomirski via Getty Images
While Meghan Markle continues to shake up royal protocol by wearing her hair in a messy bun, there's another type of "bun" that seems to be making its way into the royal gossip—are the royal couple getting ready to start a family as soon as they reach their May 19 wedding date? Apparently, everyone keeps asking Meghan Markle and Prince Harry about their desire to have children after their upcoming spring wedding (which will be here before you know it). Sources close to the couple say they are excited to eventually have children, but are in no hurry to grow their family by one more for now.
There's already a Lifetime movie in the works about the evolution of the relationship between the royal couple, so those screenwriters might want to keep an eye out for a spot in the script to include a royal baby at some point in the near future. While the royal couple is certainly interested in having children at some point, there is reportedly no pressure coming from within the royal family to get started right away. "Should they not want any, that would be fine. However, both are keen to start a family in the future, but don't expect anything immediately," a source revealed.
If the royal couple were looking to have a baby any time soon, they would probably want to wait until after their honeymoon anyway, and although they have not yet decided where that will be, they are reportedly looking for a "hot and sunny" locale to spend their post-nuptial holiday. As of right now, Markle is reportedly "having private meetings with charities that Harry has helped set up so she can get to know the humanitarian landscape of the U.K." in preparation for her exciting new position working for the British monarchy.
Related: Meghan Markle Rocked a Messy Bun, Again
The Evolution of Meghan Markle's Style Through The Years