Meghan Markle and Prince Harry Are About to Move Into Kensington Palace At Last
After a year and $1.83 in renovations, their apartment is finally ready.
---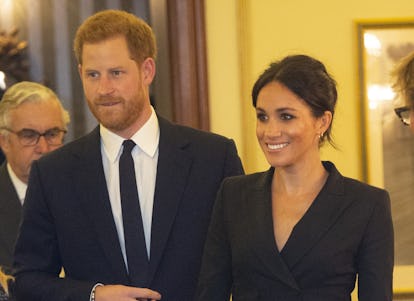 Dan Charity – WPA Pool/Getty Images
After nearly a year, and a nearly $2 million investment, the new Kensington Palace apartment of Prince Harry and Meghan Markle, Duke and Duchess of Sussex, is finally ready.
Last November, renovations began on Apartment 1, the wing of Kensington Palace earmarked for the newly engaged couple. And earlier this week, the scaffolding finally came off of the roof; with $1.83 million in upgrades, the home is ready at last for Harry and Meghan to move in.
The apartment previously housed the Duke of Gloucester, who had also offered it up to William and Kate when they were first eyeing a move into the palace. (Having lived there since 1972, it sounds like the duke was really, really looking for a change.) With 21 rooms, it's got plenty space for Harry and Meghan, as well as Guy (a rescue dog Meghan brought from Toronto) and an unnamed new she-dog they adopted together, to roam freely. It also offers an ample buffer against William and Kate, whose apartment—1A, with 22 rooms and two kitchens—abuts, and even joins doors with, Apartment 1. (Historically, according to the Daily Mail, the two units were once one apartment, but were divided up in 1955 because 21 rooms is probably enough for any one family.)
Until now, Harry and Meghan have been living in the "bijou" (Daily Mail) Nottingham Cottage, Harry's old purported "bachelor pad" on the grounds of the palace, where he proposed to her. (Just as "apartment" is a bit of a misnomer for a 21-room compound, we imagine "cottage" is probably a bit of an understatement here.) Meghan's interior design—a cashmere throw here, a few candles there—sounds like something a person could get behind, especially as the cold months approach. Now she's got a wing of a palace to frolic through.