Meghan Markle and Serena Williams Watched the Princes Play Polo
Of course, the royal team won.
---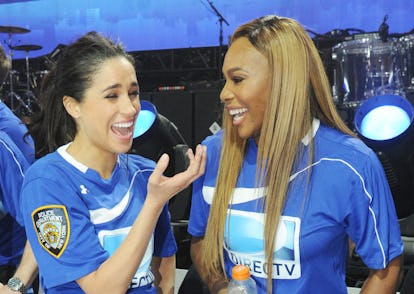 Photo by Kevin Mazur/Getty Images for DirecTV
Girls' brunch is canceled. It's over. We're not doing it anymore. We're doing polo now. If noted best friends Meghan Markle, Duchess of Sussex, and Serena Williams, Queen of Tennis, take in polo games together, then that is the new thing. It's a rule.
Hello! Magazine reports that the two women met up "in Ascot on Saturday as they showed up at the Audi Polo Challenge to cheer on Prince Harry and Prince William who were competing in the event." Williams's husband, Alexis Ohanian, attended as well; both Williams and Ohanian were guests at Markle's wedding to Prince Harry this past May, among many other celebrities. For this occasion, reports the tabloid, "Meghan wore a pretty Soshanna shirt dress for the occasion, looking chic in the white gingham print dress which she accompanied with a white Panama hat and a pair of Sarah Flint Grear sandals."
The event, the 17th annual polo challenge at Coworth Park just west of London, was a fundraiser for the charities Child Bereavement UK and Tusk Trust and drew other high-profile attendees like Anna Friel, Tom Holland, and Dominic Cooper. In the end, Prince Harry and Prince William's team triumphed 5-2. We wouldn't want to lose an athletic competition in front of Serena Williams, either.
Duchess of Cambridge Kate Middleton wasn't in attendance, but we can imagine Williams and Markle kept her caught up via what has to be the fanciest group chat in existence. After all, Middeton and Markle are sisters-in-law (princesses-in-law?), Markle and Williams are close friends, and Williams told InStyle she thinks Middleton is a "No. 1 badass." Now all we need is Priyanka Chopra and the Queen, and the dream group chat is complete.
Related: Serena Williams Reveals Her New Fashion Line, and How Being a Mom Has Changed Her Style
Royal Wedding Photos: All the Celebrity and Royal Arrivals at Prince Harry and Meghan Markle's Ceremony at Windsor Castle
Meghan Markle with her mother Doria Ragland (unseen) drive down the Long Walk as they arrive at Windsor Castle ahead of her wedding to Prince Harry on May 19, 2018 in Windsor, England.

Richard Heathcote
Meghan Markle (R) with her mother Doria Ragland drive down the Long Walk as they arrive at Windsor Castle ahead of her wedding to Prince Harry on May 19, 2018 in Windsor, England.

Richard Heathcote
Meghan Markle arrives for her wedding to Prince Harry at St George's Chapel, Windsor Castle on May 19, 2018 in Windsor, England.

WPA Pool
Meghan Markle arrives for the wedding ceremony to marry Prince Harry at St George's Chapel, Windsor Castle on May 19, 2018 in Windsor, England.

WPA Pool
Queen Elizabeth II arrives at the wedding of Prince Harry to Ms Meghan Markle at St George's Chapel, Windsor Castle on May 19, 2018 in Windsor, England. Prince Henry Charles Albert David of Wales marries Ms. Meghan Markle in a service at St George's Chapel inside the grounds of Windsor Castle.

Shaun Botterill
Queen Elizabeth II arrives at St George's Chapel at Windsor Castle before the wedding of Prince Harry to Meghan Markle on May 19, 2018 in Windsor, England.

WPA Pool
Queen Elizabeth II arrives at St George's Chapel at Windsor Castle before the wedding of Prince Harry to Meghan Markle on May 19, 2018 in Windsor, England.

WPA Pool
Doria Ragland arrives at St George's Chapel at Windsor Castle before the wedding of Prince Harry to Meghan Markle on May 19, 2018 in Windsor, England.

WPA Pool
Meghan Markle arrives at St George's Chapel at Windsor Castle before the wedding of Prince Harry to Meghan Markle on May 19, 2018 in Windsor, England.

WPA Pool
Prince Harry (left) walks with his best man, Prince William Duke of Cambridge, as he arrives at St George's Chapel at Windsor Castle for his wedding to Meghan Markle, on May 19, 2018 in Windsor, England.

WPA Pool
Prince Harry and Prince William, Duke of Cambridge the wedding of Prince Harry to Ms Meghan Markle at St George's Chapel, Windsor Castle on May 19, 2018 in Windsor, England.

Shaun Botterill
Prince Harry (left) walks with his best man, Prince William, Duke of Cambridge as they arrive at St George's Chapel at Windsor Castle before the wedding of Prince Harry to Meghan Markle on May 19, 2018 in Windsor, England.

WPA Pool
Prince Philip, Duke of Edinburgh rrives at St George's Chapel at Windsor Castle before the wedding of Prince Harry to Meghan Markle on May 19, 2018 in Windsor, England.

WPA Pool
Princess Anne, The Princess Royal and Vice Admiral Sir Tim Laurence arrive at St George's Chapel at Windsor Castle before the wedding of Prince Harry to Meghan Markle on May 19, 2018 in Windsor, England.

WPA Pool
Amal and George Clooney arrive at St George's Chapel at Windsor Castle before the wedding of Prince Harry to Meghan Markle on May 19, 2018 in Windsor, England.

WPA Pool
Sarah, Duchess of York arrives at St George's Chapel at Windsor Castle before the wedding of Prince Harry to Meghan Markle on May 19, 2018 in Windsor, England.

WPA Pool
Abigail Spencer and Priyanka Chopra arrive at the wedding of Prince Harry to Ms Meghan Markle at St George's Chapel, Windsor Castle on May 19, 2018 in Windsor, England.

Chris Jackson
Serena Williams and Alexis Ohanian attend the wedding of Prince Harry to Ms Meghan Markle at St George's Chapel, Windsor Castle on May 19, 2018 in Windsor, England.

Shaun Botterill
David and Victoria Beckham attend the wedding of Prince Harry to Ms Meghan Markle at St George's Chapel, Windsor Castle on May 19, 2018 in Windsor, England.

Shaun Botterill
David and Victoria Beckham (both right) talk with Sir Elton John (L) and David Furnish (C) as they arrive in St George's Chapel at Windsor Castle for the wedding of Prince Harry to Meghan Markle on May 19, 2018 in Windsor, England.

WPA Pool
Julia Carey and James Corden attend the wedding of Prince Harry to Ms Meghan Markle at St George's Chapel, Windsor Castle on May 19, 2018 in Windsor, England.

Shaun Botterill
Idris Elba and Sabrina Dhowre followed by Oprah Winfrey (fourth right) arrive at St George's Chapel at Windsor Castle for the wedding of Meghan Markle and Prince Harry on May 19, 2018 in Windsor, England.

WPA Pool/Getty
Lady Kitty Spencer arrives at the wedding of Prince Harry to Ms Meghan Markle at St George's Chapel, Windsor Castle on May 19, 2018 in Windsor, England.

Chris Jackson
Cressida Bonas arrives at St George's Chapel at Windsor Castle before the wedding of Prince Harry to Meghan Markle on May 19, 2018 in Windsor, England.

WPA Pool
Actress Gina Torres (Markle's former costar on Suits) arrives at St George's Chapel at Windsor Castle before the wedding of Prince Harry to Meghan Markle on May 19, 2018 in Windsor, England.

WPA Pool
Oprah Winfrey arrives at St George's Chapel at Windsor Castle before the wedding of Prince Harry to Meghan Markle on May 19, 2018 in Windsor, England.

WPA Pool
Socialite Delfina Blaquier arrives at the wedding of Prince Harry to Ms Meghan Markle at St George's Chapel, Windsor Castle on May 19, 2018 in Windsor, England.

Chris Jackson
Charles Spencer, 9th Earl Spencer and Karen Spencer arrive at the wedding of Prince Harry to Ms Meghan Markle at St George's Chapel, Windsor Castle on May 19, 2018 in Windsor, England.

Chris Jackson
Sofia Wellesley and singer James Blunt arrive at St George's Chapel at Windsor Castle for the wedding of Prince Harry to Meghan Markle on May 19, 2018 in Windsor, England.

WPA Pool
Chelsy Davy, Prince Harry's ex, attends the wedding of Prince Harry to Ms Meghan Markle at St George's Chapel, Windsor Castle on May 19, 2018 in Windsor, England.

Shaun Botterill