Serena Williams Reveals Her New Fashion Line, and How Being a Mom Has Changed Her Style
"My style has definitely evolved, but that doesn't mean that I can't look good."
---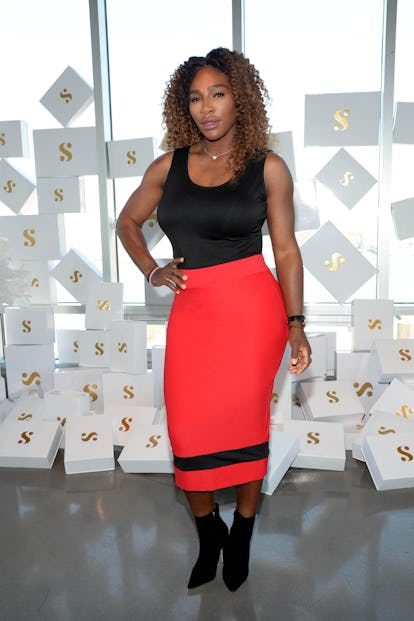 MICHAEL SIMON
Serena Williams is, by all definitions, a modern Renaissance woman. She's a businesswoman, activist, wife, mother, and, of course, one of the greatest tennis players to ever live. And now: a fashion designer. Today, Williams unveiled Serena, a full collection of ready-to-wear that spans just about every aspect of the multihyphenate's life, from denim to activewear to office attire. The line is being released in three "drops" (very 2018), the first of which is available today and includes a slip dress, denim, boyfriend joggers, and logo underwear, with prices ranging from $40 to $215. Ahead of the launch, Williams teased the full collection, which will continue to roll out over the next two months, as well as how designing the collection caused her to reflect on her ever-changing life.
How long have you been working on this collection? It's hard to say. Probably two years, but in between there was a wedding and there was a baby. So about two years because of those things. We actually started with our packaging. That was one of the first things we wanted to do.
What was the jumping-off point for that? We wanted something modern and simple. We wanted people to be happy when they got their package, and to be able to keep their box. I hate trash, so this is something you can reuse. And I love gold, like a gold medal, which is the best. That's kind of how the whole collection started. For that, we were inspired by strength and femininity and embracing that. Then, the jeans are some of my favorites [in the collection], because I love jeans, but every jean out there right now has stretch. Believe me, I have a hundred pairs. But I was like, "Can we go back to the original denim?" But also, can I wear it? Because I can't wear original denim because of my butt. It needs to have some stretch, but not a lot. So we have some stretch, but only a little bit. It still has the integrity of the jean. You aren't wearing leggings—which, don't get me wrong, are great and we will eventually do that. But we wanted to start with a strong jean for a few seasons, so that people know that we have that integrity jean.
How long did you work on them? We literally are still working on them. We are working in L.A., so that's been really good. I say that because our wash is almost perfect. You probably won't even be able to tell the difference. Then it will be perfect. I was nervous to do denim. Denim is hard. Hence the two years.
This is a huge collection, with everything from going-out dresses to athletic wear. Why go so big for your first collection? This is my life. The athletic wear is what I do, my everyday life. I love the biker shorts. This [graphic shirt] that says, "I'm beautiful, I'm strong" is our reminder. It's just a reminder for all the women. You can be going through something, but you are strong, you can get through it. We have that in millennial pink, as well, which I wanted to do because that's my favorite color. Then you also have my high-end, fashion life, with metallics and parachute pants. Metallics are everywhere, but we've matched it back to basic black. It's practical and wearable. Then, I sit on the board of SurveyMonkey, so welcome to my boardroom closet. We have men's suiting and plaid and stripes. We have another graphic T-shirt that says "Unbothered." I was like, "Let's go with unbothered."
Are you often unbothered? I have to be. [Laughs.] I stay unbothered. And then we also have the clothes for when I want to go out. It starts when I'm just going to the grocery store, and then something for later at night—our va-voom piece. It's something that is more out there. And that's kind of my life.
Since you started designing before you had your daughter, did you change things once you became a mom? We changed a lot, mostly fabric-wise. We wanted to update the fabrics and make them better, and some of the fabrics came in and we just didn't like them. They weren't good enough. We took a lot of stuff back.
Did you find that your own personal style changed after the wedding and baby? I definitely found that my style changed with the baby. I'm still nursing, so I always need something with easy access or just something that the baby can spit up on or throw food at me in. My style has definitely evolved, but that doesn't mean that I can't look good. All these pieces are really functional, but they still look good for the modern mom. Or young girl! I mean, hello, this leopard print.
And it will be available online? Well, my husband is a tech guy, and we are spending a lot of time in San Francisco. This collection is about modern, so why put it in retail? The new retail is online. So that's what we're doing.
Do you do your shopping online? I do, right there on my phone. I just download an app in a second and I'm shopping. I hardly go into stores anymore. Eventually we would love to be in stores, but right now I'm putting everything into my own hands.
Do you already have ideas for the next collection? We are finalizing our next collection, which will be for fall, so outerwear and amazing puffer coats. And Olympia's Corner. She's coming out with something too. She sits with me and holds the fabrics, so we're going to do something for her, too. She'll have a few pieces.
Related: Serena Williams' Daughter Alexis Olympia Is a Verified Olympian-in-Training on Instagram