Meghan Markle Spotted With a Cell Phone, Which Somehow Baffles Many
The woman is allowed to text, it's cool.
---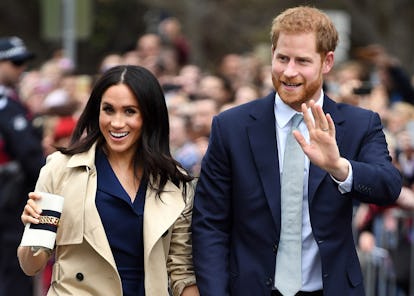 Pool/Samir Hussein
Though sometimes it seems like their job description is similar, Prince Harry, Meghan Markle, and the rest of the associate royals are not actually the British equivalents of the people who dress up as Mickey Mouse at Disney World. Meaning that while, yes, they do walk around bringing smiles to people's faces as brand ambassadors of sorts, they are not actually fantasy characters whose duty it is to keep up some sort of storybook image at all times with no exceptions.
Yet, try explaining that to the people who are apparently abuzz over that fact that Meghan Markle, Duchess of Sussex, was seen with (*gasp*) a cellular telephone, of all things, while on her tour through Australia with Prince Harry. Overly concerned royal watchers noticed the Duchess's phone in a photo in which she's about to board an airplane that was posted to Twitter by the Honourable Linda Dessau AC, Governor of Victoria. Markle has the phone clasped in the same hand as her clutch, but if you zoom in close enough you'll notice that the otherwise insignificant black rectangle in her hand has the unmistakable oval mark of an iPhone X camera. The sighting came a few days after the unmistakable rectangular outline of a smart phone was spotted in Harry's pants pocket.
Apparently some people and media outlets are beyond obsessed with the idea of two people owning cell phones.
Predictably, several outlets claimed that Markle was once again "breaking royal protocol." Of course, despite popular thought, there is not some ancient tome that sits somewhere deep in the bowels of Buckingham Palace painstakingly laying out rules that govern each and every one of the extended royal family member's behaviors. Rather, the reason you don't see the royals with cell phones too often is likely because most of the times they're seen in public they're on official duty meeting with the public or other dignitaries. Common sense dictates that just pulling out your cell phone in the middle of that to aimlessly text is not a very good look, much in the same way that it wouldn't be a good look for a celebrity to stop and tweet some random thought that popped into their mind in the middle of a red carpet.
Though it's not exactly a revelation that the royals do indeed have cell phones.
Ninety-two-year-old Queen Elizabeth II is said to have her own personal (though highly encrypted) smartphone and tablet, and is a regular texter (according to the Daily Mail, her favorite people to text are Princess Anne and her racing manager, John Warren).
Other members of the royal family have, indeed, been seen with their phones in public.
Here, for example, is Prince Harry cracking up about something (perhaps a devastatingly wicked meme) with his brother, Prince William, and father, Prince Charles.
Here's Princess Eugenie appearing to take the least enthusiastic group selfie ever alongside her friend James Blunt.
Here's Princess Michael of Kent (long viewed as one of the most snobbish extended royal family members when it comes to proper etiquette) pulling a "You're Doing Amazing, Sweetie" at a celebration of the Queen's 90th birthday.
Indeed, it seems likely that Markle had her phone out in a car on the way to the airport runway, slipped it next to her clutch to say her official goodbyes, and then got on the plane. Not that big of a deal.
Related: Is Meghan Markle Really Breaking So Many Royal Traditions?