Prince Harry Introduced Meghan Markle to His Favorite 98-Year-Old Australian
Since touching down in Sydney, they've also spent quite a bit of time with koalas.
---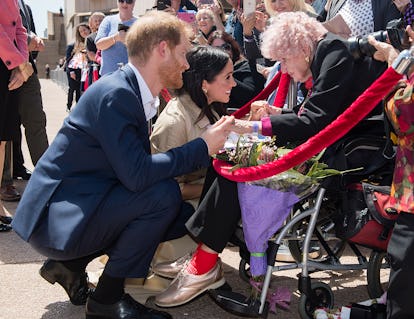 Samir Hussein/Getty Images
It was just a couple of months ago that Meghan Markle and Prince Harry reportedly decided to do the impossible and take a break from the public eye, but naturally, they're all over the news yet again—thanks in large part to the news that they're expecting their first child. (The official announcement was made on Monday, though the couple reportedly stole the show from Princess Eugenie over her wedding at the weekend by seizing the family gathering as an opportunity to fill their fellow royals in, before making an early departure for their 16-day tour of Fiji, New Zealand, Tonga, and Australia, having diligently sought some expert advice on the risk of the Zika virus, which causes birth defects.)
Sydney, then, turned out to be where the couple did their first public meet-and-greet since sharing the news. Despite being 10,000 miles away from home, things felt homey soon enough thanks to one local in particular. While greeting the hundreds assembled outside of the Sydney Opera House on Tuesday—and accepting gifts like bouquets, a stuffed koala, and even a pair of Uggs—Prince Harry spotted a familiar face in the crowd: that of 98-year-old Daphne Dunne, a former corporal in the Australian Women's Army Service, whom he's managed to keep in touch with since their first meeting in 2015, during which Dunne memorably kissed him on the cheek. (They also reunited while Prince Harry was in Sydney last year, after Dunne, in her wheelchair, patiently waited for him in the rain.)
This time around, Prince Harry greeted Dunne with a hug before introducing her to Markle, who also greeted her like an old friend: "I'm so happy to finally meet you. I've heard so much about you—all good things," she told the 98-year-old, who held her hand and caressed Prince Harry's face as they continued to exchange pleasantries. Following Dunne's requisite congratulations on the baby news, Prince Harry complimented her "very cool" shoes and asked if she'd dyed her hair a shade of pink, before accepting her gifts of cards and flowers and making way for Markle to yet again showcase her charm, telling Dunne, "Hopefully next time we see you, we'll have a little one with us!"
The pair may have just begun their trip, but they've already been keeping good company: Earlier in the day, they stopped by the Australian Governor-General's residence, where they received their first baby gift: a stuffed animal kangaroo named Joey.
They then headed off to spend time with even more joeys at the nearby Taronga Zoo, aka the home of several animals, like a newborn new Okapi calf, who'd just been named in their honor. In between hearing from conversation scientists about illegal wildlife trafficking, Prince Harry and Markle also got to spend some time with two koalas and their babies, as well as a drooling echidna named Lynx, and couldn't have looked more thrilled about it.
Related: Which Royal Title Will Meghan Markle and Prince Harry's Baby Receive?
Every Single Outfit Meghan Markle Has Worn Since Becoming the Duchess of Sussex
Camilla, Duchess of Cornwall and Meghan, Duchess of Sussex attend The Prince of Wales' 70th Birthday Patronage Celebration held at Buckingham Palace on May 22, 2018 in London, England.

WPA Pool
Catherine, Duchess of Cambridge, Meghan, Duchess of Sussex, Prince Harry, Duke of Sussex and Isla Phillips stand on the balcony of Buckingham Palace during Trooping The Colour 2018 on June 9, 2018 in London, England.

Max Mumby/Indigo
Meghan, Duchess of Sussex and Queen Elizabeth II depart Chester Town Hall, where they attended lunch as guests of Chester City Council on June 14, 2018 in Chester, England.

Karwai Tang
Meghan, Duchess of Sussex accompanied by Commonwealth secretary general Baroness Scotland arrives to attend the Your Commonwealth Youth Challenge reception at Marlborough House on July 05, 2018 in London, England.

WPA Pool
Meghan, Duchess of Sussex and Prince Harry, Duke of Sussex attend Royal Ascot Day 1 at Ascot Racecourse on June 19, 2018 in Ascot, United Kingdom.

Karwai Tang
Meghan, Duchess of Sussex with Queen Elizabeth II and Prince Harry, Duke of Sussex at the Queen's Young Leaders Awards Ceremony at Buckingham Palace on June 26, 2018 in London, England.

WPA Pool
The Duke and Duchess of Sussex depart after attending the christening of Prince Louis at the Chapel Royal, St James's Palace on July 09, 2018 in London, England.

WPA Pool
Meghan, Duchess of Sussex attends as members of the Royal Family attend events to mark the centenary of the RAF on July 10, 2018 in London, England.

Jeff Spicer
Harry, Duke of Sussex and Meghan, Duchess of Sussex arrive at Dublin Airport for their visit to Ireland on July 10, 2018.

Samir Hussein
Prince Harry, Duke of Sussex and Meghan, Duchess of Sussex visit Trinity College on the second day of their official two day royal visit to Ireland on July 11, 2018 in Dublin, Ireland.

Pool
Prince Harry, Duke of Sussex and Meghan, Duchess of Sussex visit Irish President Michael Higgins and his wife Sabina Coyne at Aras an Uachtarain during their visit to Ireland on July 11, 2018 in Dublin, Ireland.

Pool/Samir Hussein
Catherine, Duchess of Cambridge (R) and Meghan, Duchess of Sussex attend day twelve of the Wimbledon Lawn Tennis Championships at All England Lawn Tennis and Croquet Club on July 14, 2018 in London, England.

Clive Mason
Meghan, Duchess of Sussex visit The Nelson Mandela Centenary Exhibition at Southbank Centre on July 17, 2018 in London, England.

Samir Hussein
Meghan, Duchess of Sussex attends the Sentebale Polo 2018 held at the Royal County of Berkshire Polo Club on July 26, 2018 in Windsor, England.

Samir Hussein