Meghan Markle Now Has A Very Believable Wax Figure at Madame Tussauds London
It actually looks pretty normal!
---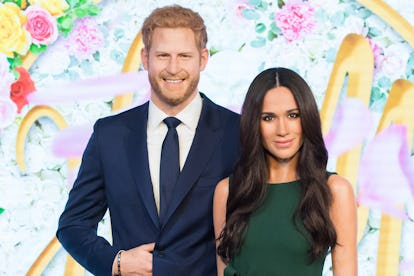 Samir Hussein/Getty Images
If you still have yet to snap a selfie with soon-to-be royal Meghan Markle, crossing that very important item off your bucket list just got a lot easier. This week, Madame Tussauds London unveiled a wax figure of Prince Harry's betrothed, The Telegraph reports, and for once, the figurine actually does its subject justice.
The waxy Meghan Markle wears the same forest green P.A.R.O.S.H. dress that the real Markle wore while announcing her engagement, back in November. Her dark hair is styled in the Suits actress's usual middle part and beachy waves, and she wears a spot-on replica of the engagement ring that Harry specially designed for her. And unlike countless other, slightly-off wax figures before hers, Mearkle's figure not only resembles the IRL duchess-to-be but doesn't have that creepy, uncanny valley feel.
According to The Telegraph, Markle's replica will be available for public viewing beginning May 18, the day before the animate Markle weds Prince Harry in St. George's Chapel, at Windsor Castle. She'll be placed next to Harry's own wax figure, which is reportedly getting something of a revamp in honor of his upcoming nuptials: He now wears a dapper blue suit and sports a chin full of scruff. And although a selfie with the happy couple is practically priceless, in honor of the duo's big day, all Madame Tussauds guests named Meghan or Harry will be given free admission on May 19, their wedding day.
If you don't foresee a trip across the pond in your future, don't worry. Per The Telegraph, in tandem with the London unveiling, Madame Tussauds New York will be debuting its own wax figure of Meghan later on Wednesday. The American version will be called, appropriately, the "American Princess," and will show Meghan in a different pose, wearing an outfit from British brand Self-Portrait. Hopefully, this will be enough to tide Markle's fellow countrymen over until she makes her return to the U.S. on a future royal state visit.
Related: Beyoncé Deserves a Wax Figure At Least as Good as Kylie Jenner's