Meghan Markle Writes Her Own Speeches, Which Is Uncommon for a Member of the Royal Family
She's the change she wants to see.
---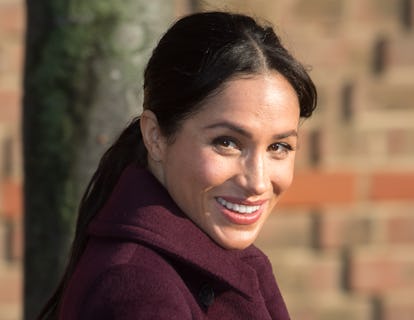 Samir Hussein/Samir Hussein/WireImage
Even before she was a royal, Meghan Markle was a humanitarian and feminist, and used her platform as an actress to help and inspire. As a royal, she is well aware that her impact is more than tenfold. That's why Markle has been taking her new job, and her voice, very seriously. In fact, she's even writing her own speeches.
Apparently, Markle has been doing this at least since last month, when she kicked off the first speech of her royal tour with Prince Harry. When the pair were in Fiji, Markle addressed students at the University of the South Pacific to talk about how women should be entitled to the best educations. It was during that speech that the royal reporter Omid Scobie noticed Markle seemed to be delivering her own words.
"When she gave one of her first speeches in Fiji, during her royal tour with [Prince Harry], she had notes with her that had all handwritten scribbles on before she went up," Scobie says in a new ABC special on Markle, called Meghan's New Life: The Real Princess Diaries, that airs on Thanksgiving. "And I asked a palace aide, 'Has she written this herself?' because that's quite unusual for the royals, there's usually other people. And they said, 'This was all her. She's been up for days working on this speech.'"
"Everyone should be afforded the opportunity to receive the education they want, but more importantly, the education they have the right to receive," she said in the speech. "And for women and girls in developing countries, this is vital."
Knowing that Markle writes her own speeches, the only question is: How does she find the time? The royal tour has been nonstop, not to mention that Markle has embarked on it while pregnant with her first child. It doesn't help that her and Prince Harry's palace aides keep quitting on them. Apparently, that is due to how demanding her responsibilities actually are. At least there's one palace aide she doesn't have to worry about ever quitting: her speechwriter.