Meghan Markle Allegedly Works So Hard Her Staff Can't Keep Up
The Duchess of Sussex just wants to get things done, okay?
---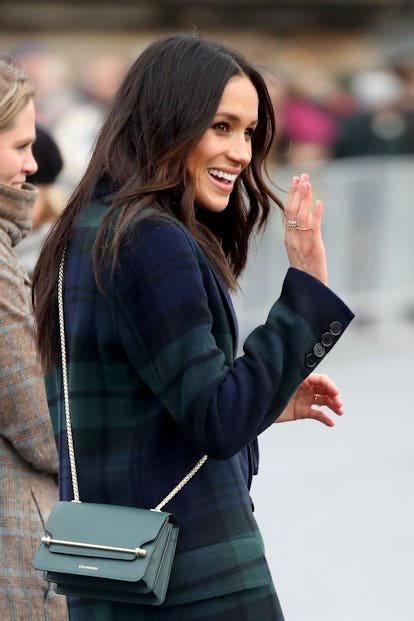 Getty Images
Earlier this month, a report surfaced that several of Meghan Markle and Prince Harry's palace staffers—including Markle's personal assistant and the couple's private secretary—had up and quit their prestigious positions. Of course, some turnover is to be expected in any business operation, including the business of operating a royal family, but one source went so far as to call the exodus a "stampede," according to the Daily Mail.
Well, fashion's tabloid of choice is back with more details on the various staff departures. Apparently, they just can't keep up with Markle. She wakes at 5 a.m. each day, according to the Daily Mail, and she'll often send her staff six or seven texts with ideas or requests—she has apparently been quite active in shaping her role at the palace, much like her pal Michelle Obama during her tenure as first lady. (Did no one tell her staff that six or seven texts actually isn't that much? Like, probably not even enough to make dinner plans with a friend?)
And while her black-tie outings this week were described as "secret" simply because the press wasn't informed ahead of time, it turns out that Markle has been going on some actual secret outings to meet with your average British citizen, especially, as the Daily Mail describes, "those associated with good causes." Her "particular brand of 'up and at 'em' West Coast energy" apparently clashes with the more formal (and apparently less productive) ethos of the palace staff. Who can blame a woman for wanting to get things done with her day? After all, an entire Guardian column was written about Markle's theoretical impact on the British economy—the writer Larry Elliott went so far as to christen the "answer to Britain's productivity crisis" "Meghanomics." The indefatigable new royal manages to fit in a run and yoga (her mom, Doria Ragland, once taught yoga, according to Business Insider), as well as the occasional Tracy Anderson video; she cooks; she goes to the theater and to movies.
As a source told The Sun when rumors emerged of some tension in Markle's relationship with Queen Elizabeth II, the newly minted Duchess of Sussex "has very high standards." It bears repeating: not a bad thing.