Meghan Markle and Queen Elizabeth's Reported Fight Doesn't Actually Have to Mean Anything
It all started with a tiara.
---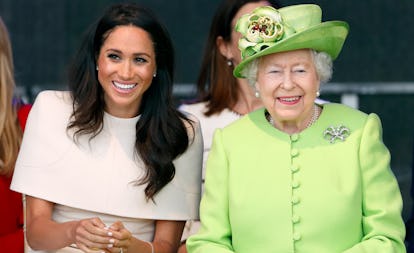 Max Mumby/Indigo/Getty Images
There's nothing the gossips love more than two women fighting, right? In a recent interview, musicians Julien Baker and Phoebe Bridgers pushed back against the assumption that there must have been some arguments over the course of making their new EP as boygenius with Lucy Dacus: "We use our adult words to reach a compromise," Baker said. "I don't think we'd be getting that question if we were dudes," Bridgers added.
So perhaps this helps explain the latest turn in the unfolding Meghan Markle-royal family drama: Apparently, Queen Elizabeth II and Markle have butted heads over royal protocol and, especially wedding preparations, a marked turn from the constant glowing updates about their seemingly doting relationship.
The thing is, Queen Elizabeth loves Meghan Markle. Everyone knows it. She admires the Duchess of Sussex's humanitarian inclinations; she invited Markle on a solo outing to Chester; she extended an invitation to Doria Ragland, her daughter-in-law's mother, to spend the holidays with the royal family; and whenever she and Markle are spotted together, they're usually photographed whispering and laughing. Markle is being interviewed for a documentary on the queen, during which she'll probably only have glowing things to say about her mother-in-law.
The source of tensions, it seems, [based on a new report in The Sun (grain of salt, always), was the tiara Markle hoped to wear for her wedding to Prince Harry. According to biographer Robert Johnson, Harry had proclaimed to his staff that "what Meghan wants, Meghan gets." (And honestly, good for her.) But per The Sun's anonymous sources, Markle selected an emerald-encrusted tiara of unknown provenance; she was told she couldn't wear it, as it may have come from Russia. "Prince Harry hit the roof when they were told it was impossible for her to wear it," the source said. The queen then stepped in, telling Harry that no, in fact, Markle "cannot have whatever she wants; she gets what tiara she's given by me." And honestly, it didn't turn out too poorly, given the tiara Meghan did end up wearing to the wedding.
The queen also "questioned why Meghan needed a veil" for this, her second wedding. "Meghan can be difficult," a source told The Sun. "She has very high standards." You say this like it's a bad thing.
In any case, this doesn't have to be a thing. Grown-ups fight sometimes! And then, to quote Baker, they use their adult words. It doesn't have to mean something. Giving that the source if a British tabloid, it probably doesn't mean anything at all.
Related: Why Meghan Markle Won't Wear Dresses by Her Friend Victoria Beckham