Doria Ragland Might Join the Royal Family in Norfolk for Christmas
Queen Elizabeth II continues to demonstrate her affection for her granddaughter-in-law.
---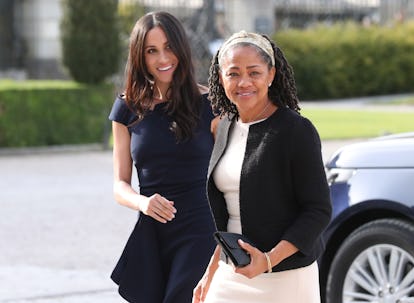 WPA Pool/Getty Images
Things might still be tense between the royal family and Meghan Markle's dad, Thomas (not to mention Markle's extended family), but everything's just peachy, it seems, between Queen Elizabeth II and Markle's mother, Doria Ragland: The queen has reportedly invited Ragland to spend Christmas with the royals, per the Daily Mail.
Not only has she been invited to spend the holidays with Harry, Meghan, and the rest—there is speculation that, if she accepts, she'll even stay with the immediate royal family at Sandringham, the queen's country house in Norfolk. This is apparently a rare privilege: While Kate Middleton's family has spent Christmas Day with the royals in the past, they usually stay at a separate estate nearby rather than with the queen herself.
"The queen's invitation would show respect and also acknowledge that Meghan, unlike Kate, has no other family in Britain," the Daily Mail paraphrased an anonymous source. It's a "very thoughtful gesture." It's been reported that Markle has a "close, warm relationship" with the queen and Prince Charles, earning her the rare privilege of riding on the queen's royal train to Chester, back in June, an invitation neither Harry, William, nor Kate received. Meghan Markle is special.
Given that Markle is several months pregnant with a due date speculated to be in the spring, it also makes sense for Markle's mother to be around. Plus, she's been the person Markle has turned to to help rein in her father, who has done everything from staging paparazzi photos "studying" for the royal wedding to hanging up on his daughter's then-future husband. The whole thing seemed to really stress out the royal family, so Ragland's counsel has probably earned her some considerable good will.
Related: Oprah Winfrey Shares Details of Her Hangout With Meghan Markle's Mom, Doria Ragland
All the Fashion and Beauty Micro Moments You Missed at the Royal Wedding, From Doria Ragland's Nose Piercing to Prince George the Goth