Meghan Markle and Queen Elizabeth II Have a 'Close, Warm' Relationship As Evidenced By the Queen's Smiles
They reportedly have a 'warm, close' relationship.
---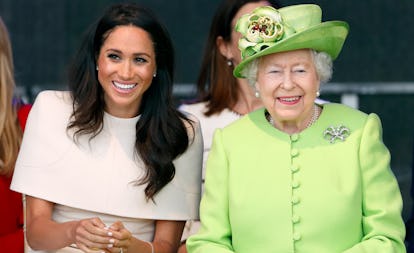 Max Mumby/Indigo/Getty Images
Meghan Markle won over the world with her fairytale marriage to Prince Harry that 29 million people tuned into — in America, alone — and, now, she's winning over the Queen's heart. In just the relatively short time that they've known each other, Markle and Queen Elizabeth II have become fast friends. The latest report from a source close to the palace confirms it.
After the Duchess of Sussex attended the Queen's Young Leaders awards at Buckingham Palace, her bond with the Queen was even further cemented. "Last night she was completely at ease with the queen," the source told Entertainment Tonight. "She has developed an increasingly close, warm relationship with [both] the queen and her father-in-law, Prince Charles. She wants to please them and is doing whatever she can to educate herself to make sure she doesn't put a foot wrong."
Markle is in no danger of doing that. Before last night's event, a couple of weeks ago, Markle made such a good impression on the Queen that she extended an invitation not even her grandsons Prince Harry and William or Kate Middleton have received: a ticket aboard the Queen's royal train. The occasion marked the pair's first official solo outing, an honor Markle's sister-in-law waited almost a year for.
One of the things Queen Elizabeth likes most about Markle is her humanitarian efforts and experience working with nonprofits, which the former actress had done for years before she met Prince Harry. Now that she's a member of the Royal Foundation, Markle plans on dialing that up. Apparently, she's been holding "secret meetings" with different organizations, but will focus on "gender equality, girls education, gay rights and human rights, which were the focus of her work as a UN advocate and a representative for the One World Foundation." Whichever she chooses, one thing is for sure: There, now, at least two ways to the Queen's heart — cake and her new granddaughter-in-law.