The Royals and the Trumps Unite in Pretending Prince Andrew Doesn't Exist
"I don't know him, no," the president insisted while in London.
---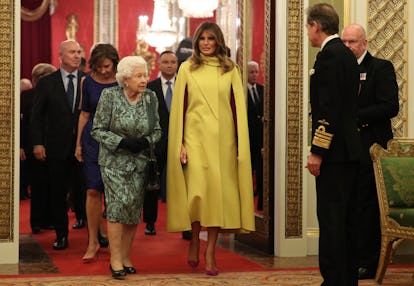 WPA Pool
It's been just over two weeks since Prince Andrew defied his publicist and subjected himself to a truly disastrous interview about his relationship with Jeffrey Epstein, the sex offender who killed himself after being charged with sex trafficking and abusing dozens of underage girls. As you may have noticed, tabloids in the U.K. and U.S. alike have taken care to ensure that the royal's name has been inescapable ever since. And yet, a Prince Andrew-free zone does in fact exist. The royals and the Trumps have come together to ensure as much, in what just might be the strongest display of unity and determination in British-American relations of the Trump era.
While in London for a meeting with NATO, Donald and Melania Trump dropped by Buckingham Palace on Tuesday to spend some quality time with Queen Elizabeth II, Prince Charles, and Camilla Parker Bowles, along with plenty of world leaders like Angela Merkel and Emmanuel Macron. (So much for the empty space left behind by Prince Andrew, who was reportedly "kicked out" of royal headquarters after officially stepping back from public duties last month.) What with all the hustle and bustle as guests commemorated the 70th anniversary, there simply wasn't time to (publicly) broach the topic of the queen's second son.
One might think Trump already had enough on his plate with the impeachment inquiry, but it turns out Prince Andrew is a sticky subject for the president, too—and one he had much less luck avoiding outside of the safe haven of Buckingham Palace. Earlier on Tuesday, when probed on the subject of Andrew, Trump appears to have frantically reverted to his ongoing impression of a particular Mariah Carey meme. "I don't know Prince Andrew, but it's a tough story," the president told reporters earlier on Tuesday. "I don't know him, no."
As was the case with Gordon Sondland, Matthew Whitaker, and other troublesome public figures whom Trump does indeed know, this only served to bring about the Streisand effect. The New York Times quickly unearthed quite a few photographs featuring both Trump and Andrew—most recently this past June, as Prince Andrew documented on his official Twitter account. The royal once even joined the Trumps at their estate in Mar-a-Lago, where they were joined by Epstein and his alleged co-conspirator, Ghislaine Maxwell. (Trump wasn't finished with his shtick just yet: "Jeremy Corbyn? Know nothing about him," he said of Prime Minister Boris Johnson's lead political opponent, whom he strongly denounced just last month.)
Luckily for both the royals and Trumps, Tuesday night provided another distraction from the elephant in the room: Just like Prince Andrew, Melania's arms were nowhere in sight. The first lady opted to spend the night swathed in a giant yellow Valentino cape, with perplexing hints of purple serving as the cherry on top.
Related: The Most Absurd Things Prince Andrew Said During His BBC Interview About Jeffrey Epstein
Why Can't All Royals Be More Like Camilla Parker Bowles?
Camilla Parker Bowles wielding a knife in front of Prince Charles during a visit to Seppeltsfield Winery in Barossa Valley, Australia, November 2015.

Getty Images
Camilla Parker Bowles double-fisting ice cream during a visit to the village market in Droromore, Northern Ireland, May 2017.

Getty Images
Camilla Parker Bowles hanging out with a crew of "Donald Trumps" at the ICAP's annual charity day in London, December 2017.

Getty Images
Camilla Parker Bowles trying some of her 61st birthday cake during her visit to the "Dig for Victory" organic allotment in St James's Park in London, July 2008.

Getty Images
Camilla Parker Bowles holding a koala named Matilda with Prince Charles during their Diamond Jubilee Tour of Papua New Guinea, Australia, and New Zealand, in Adelaide, November 2012.

Getty Images
Camilla Parker Bowles presenting a "special doggy cake" and long service certificate to a rescue dog named Ruby in Warminster, England, February 2015.

Getty Images
Camilla Parker Bowles holding an umbrella at the VE Day 65th anniversary tributes, in commemoration of Victory in Europe day, in London, May 2019.

Getty Images
Camilla Parker Bowles eating ice cream with Dame Judi Dench at the Queen Victoria's private beach in East Cowes, Isle of Wight, England, July 2018.

Getty Images
Camilla Parker Bowles taking a sip of rum punch during a visit to the Hermitage Plantation House in Saint Kitts and Nevis, March 2019.

Getty Images
Camilla Parker Bowles going to great lengths to cut a cake during a visit to the Newquay Fire Station in Cornwall, England, July 2017.

Getty Images
Camilla Parker Bowles encountering a reptile known as a Tuatara on her and Prince Charles's visit to the Orokonui Ecosanctuary in Dunedin, New Zealand, November 2015

Getty Images
Camilla Parker Bowles reacting to Prince Charles lighting the candles of her 60th birthday cake during a visit to Bronham in Wiltshire, England, July 2007.

Getty Images
Camilla Parker Bowles preparing to take a shot of gin during a visit to a food market in Honiton, England, July 2018.

Getty Images
Camilla Parker Bowles taking in the action at the Essex Dog Training Centre in Brentwood, October 2011.

Getty Images
Camilla Parker Bowles marveling at a plastinated dog's heart during a visit to Beaumont Sainsbury Animal Hospital in London, February 2015.

Getty Images
Camilla Parker Bowles and Prince Charles wielding boomerangs during a visit to Kings Park in Perth, Australia, November 2015.

Getty Images
Camilla Parker Bowles at a loss for words upon glimpsing the cake at the opening of Ebony Horse Club in London, October 2011.

Getty Images
Prince William and Camilla Parker Bowles laughing during the opening ceremony of the Invictus Games, a sporting event for wounded servicemen and women, in London, September 2014.

Getty Images
Camilla Parker Bowles and Prince Charles reacting to a bald eagle flapping its wings during their visit to the Sandringham Flower Show in King's Lynn, England, July 2015.

Getty Images
Camilla Parker Bowles double-fisting cupcakes at a "Women in Business" event during a royal tour of the Middle East, in Muscat, Oman, November 2016.

Getty Images
Camilla Parker Bowles preparing to cut a cake at the 30th anniversary celebration of the Queen Mother Hospital for Small Animals in Hatfield, England, April 2016.

Getty Images
Camilla Parker Bowles toting a giant teddy bear that an admirer gave her during an official visit to Leipzig, Germany, May 2019.

Getty Images
Camilla Parker Bowles sampling a spread on the set of ITV's This Morning, where she was celebrating the 90th anniversary of the Royal Television Society, in London, January 2018.

Getty Images
Camilla Parker Bowles sampling a glass of Australian wine during an Australian Day Reception at the Violin Factory in London, January 2015.

Getty Images