Donald Trump's Brag About How Much He Paid for Melania's Engagement Ring Was, Of Course, a Lie
Graff Diamonds set the record straight.
---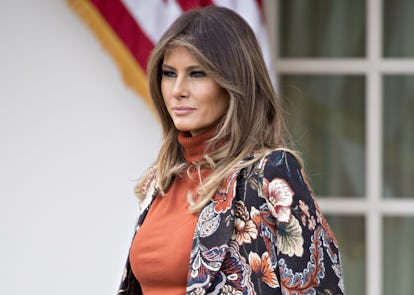 President Donald Trump has been caught in a lie once again, this time by Graff Diamonds. This lie, however — unlike his recent claim that his 2018 State of the Union speech broke a record for viewership (which Fox News later debunked on Twitter) — goes back to 2005.
When Trump was preparing to marry the first lady, Melania, he revealed in a New York Times article about the wedding that he received a hefty discount on her $1.5 million, 15-carat engagement ring. "It was not free, as reported, but half that price," noted the writers. "Only a fool would say, 'No thank you, I want to pay a million dollars more for a diamond,"' Trump said, in between bragging that many of his wedding vendors were rushing to make concessions for him. "Literally anything you can imagine from photos to flowers to food to jets to airports to diamonds. And for every item, there's five people who want to do it. In all cases they don't want anything, but they want recognition."
However, that was definitely not the case with at least Graff Diamonds. In a statement from chairman Laurence Graff to Forbes, Graff revealed Trump never received the discount he claimed he had. Graff called Trump "a pleasure to do business with," adding, "no favours" were awarded to him. Nicholas Paine, Graff CFO, confirmed the same to Forbes saying, "We don't sell items for publicity value."
Despite arguing "only a fool" would drop over a million on a ring — which Trump did himself according to Graff — the president recently spent $3 million on another diamond ring for Melania for the couple's 10th wedding anniversary. (This year they didn't celebrate the date.) The 25-carat ring wasn't without controversy either as after Melania wore it for her official White House portrait, many commented on the insensitivity of flaunting their decadence, especially when much of their lifestyle is currently being paid for by taxpayers.
Considering how many lies President Donald Trump has already told, according to The New York Times — from his inauguration crowd size to denying that Russia interfered with the 2016 election— the amount he paid for Melania's ring might be his most innocent one yet.
Related: It Was Melania and Donald Trump's Wedding Anniversary Yesterday, But Neither Mentioned It on Social Media