Melania Trump Says #MeToo Accusers of Sexual Assault Need "Really Hard Evidence"
She says she stands with assault accusers, unless they don't have "really hard evidence."
---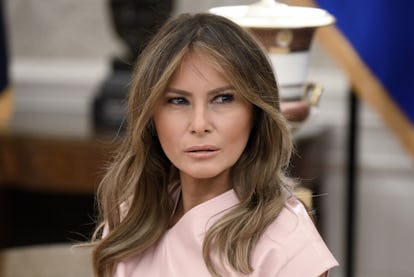 Olivier Douliery-Pool/Getty Images
It's not often that Melania Trump opens up, but in a new interview the first lady is finally addressing the #MeToo movement. Her takeaway? Women speaking up about sexual assault need more "evidence."
While on her controversial press tour in Africa, where her outfits were once again chosen seemingly without any consideration for others, Trump gave an interview to 20/20, which airs this Friday evening at 10 p.m. ET. During her conversation with the anchor Tom Llamas, Trump was asked about the #MeToo movement in the wake of accused rapist Brett Kavanaugh's appointment to the Supreme Court.
When questioned whether or not she supports the movement, Trump gave a statement that diminished the accusations #MeToo has brought forward. "I support the women, and they need to be heard," she said, before contradicting that sentiment with, "We need to support them, and also men, not just women."
Trump added that she only supports women speaking out against sexual assault when they have "evidence," which, statistically speaking, very few accusers do, as two out of three sexual assaults go unreported, The Cut notes, and—like with Dr. Christine Blasey Ford—some survivors don't speak up for decades.
When asked if men accused have been treated unfairly, Trump said, "We need to have a really hard evidence that, you know, if you're accused of something, show the evidence.… I do stand with women, but we need to show the evidence. You cannot just say to somebody, you know, 'I was sexually assaulted' or 'You did that to me,' because sometimes the media goes too far and the way they portray some stories, it's not correct, it's not right."
It is sadly unsurprising that Trump is seemingly more concerned about the media's portrayal of the #MeToo movement than the issue at stake: that women are overwhelmingly subjected to sexual violence—one out of every six American women has been the victim of an attempted or completed rape in her lifetime, according to RAINN—and the repercussions for the abusers are few and far between. Not only are two sitting members of the Supreme Court accused of sexual misconduct, but so is the president of the United States, Melania's husband, Donald Trump.
Donald Trump became president (not by popular vote) shortly after a 2005 video interview with Billy Bush resurfaced in which he bragged about sexually assaulting women. "When you're a star, they let you do it," he said, as The Washington Post reported at the time. "You can do anything. Grab them by the p—y. You can do anything."
Melania Trump dismissed that too, defending her accused serial abuser husband, dismissing it as "boy talk" and saying "he was led on—like egg on, from the host to say dirty and bad stuff."