Melania Trump After Pith Hat Controversy: "Focus on What I Do, Not What I Wear"
"I wish people would focus on what I do, not what I wear."
---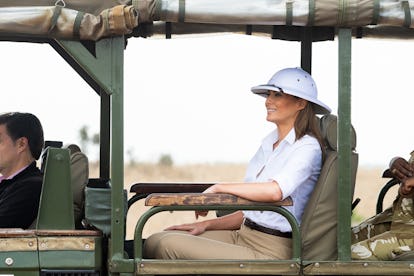 The White House/Flickr
As a former model, and a now-two-year veteran of the office of the first lady, it is inconceivable that Melania Trump truly believes her fashion choices carry no metaphorical or figurative weight. And yet that's exactly what she is trying to claim in the wake of her most recent sartorial controversy, this time over the pith helmet ("a big, fat metonym for colonialism," as Jezebel put it) she wore during a publicity tour of four African countries—Ghana, Malawi, Kenya, and Egypt—this week.
During visits to an elephant sanctuary and an orphanage in Kenya, Trump paired the helmet with a Ralph Lauren ensemble; Lauren and his label have garnered substantial criticism for their willingness to dress the first lady since the inauguration last January, at which she wore a powder-blue Jackie Kennedy–esque outfit. (As salt in the wound, Lauren was also Hillary Clinton's designer of choice.) A few observers noted that, in some ways, she had toned down her look—appropriately—for her tour; gone were the Hurricane Harvey stilettos and the border detention facility "I Really Don't Care Do U" jacket. She recycled pieces from her own closet; she wore flats.
Yet she still proved, once again, her tone deafness to her surroundings: "To some," Katie Rogers wrote for The New York Times, "her fashion choice in Kenya was still a big error on the global stage: the sight of a first lady wearing something so closely associated with the exploitation of Africans."
Nevertheless, by the time she got to Egypt, apparently, she didn't want to hear any more about her misstep. When asked about the helmet, according to WWD, Trump "seemed a bit irritated" as she responded, "I want to talk about my trip and not what I wear. That's very important, what I do, what we're doing with USAID, my initiatives, and I wish people would focus on what I do, not what I wear." Too bad she keeps wearing things that are eminently worthy of our focus.