Melania Trump Calls for Firing of Mira Ricardel in Unprecedented Move
She's calling for the firing of a national security adviser she says made her look bad.
---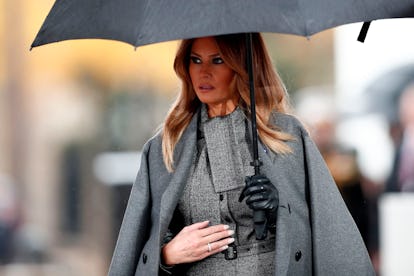 BENOIT TESSIER
In an unprecedented move and the surest sign yet that Melania Trump's East Wing staff truly does work in its own rogue ways, the first lady's office has dramatically and quite publicly called for the immediate firing of the deputy national security adviser Mira Ricardel. "It is the position of the Office of the First Lady that [Ricardel] no longer deserves the honor of serving in this White House," relayed the first lady's communications director Stephanie Grisham in a statement. While it may not seem obvious at first as to why the first lady would be clashing with a national security aide, according to multiple reports, including in The Hill, Trump's issues with Ricardel stem from disagreements over the first lady's recent (and much criticized) trip to Africa, and the belief that Ricardel may have been leaking stories to the press in order to make Melania look bad.
While this would not be the first time in American history that a first lady influenced the hiring and firing of a White House official (Hillary Clinton and Nancy Reagan notably weighed in at times, albeit privately), it is the first time that the East Wing has released such a blunt statement calling for a dismissal independent of the president's West Wing staff. It is also the latest in a long list of examples of how the Trump administration is the most unstable and bitterest administration in recent American history, one that manages to continually find new and unique fires to start.
The Ricardel case is a complicated story with moving parts, but let's break it down.
A report that Ricardel was fired before she was actually fired, but she'll still probably be fired.
Earlier on Tuesday afternoon, The Wall Street Journal reported that Ricardel had not only been fired but escorted out of the White House. The writer retracted that assertion on Twitter, stating that Ricardel was actually still at her desk but was probably going to be fired before the day was done.
Still, it was in the midst of this already confusing situation that Melania's staff decided to issue it's own statement anyway, because apparently there are never too many layers of drama and intrigue for the Trump White House.
Ricardel and Melania's problems stem from her trip to Africa.
According to Bloomberg News, Ricardel threatened to withhold National Security Council resources during Trump's Africa jaunt unless she could travel as part of the first lady's entourage. After the tension, the East Wing believes Ricardel also leaked unflattering stories to the press.
Ricardel, however, may have other enemies in the administration.
Ricardel is a longtime Republican foot solider, and first served in the State Department under Ronald Reagan, rising up through the ranks of the Defense Department during George W. Bush's administration, where she gained a reputation as a tough, no-nonsense bureaucrat who wasn't afraid of confrontation. That reputation would come back to haunt her when she sought a place in the Trump administration and opportunities were reportedly blocked by those she had crossed in the past. Eventually, she landed a spot as under secretary of commerce for export administration before moving on to her position at the NSC. During the Trump presidency, she's reportedly clashed with Secretary of Defense Jim Mattis as well as Chief of Staff Jim Kelly. Others have also suspected Ricardel of leaking or abetting unflattering stories in the press. She ultimately found a champion in National Security Advisor John R. Bolton, another Bush administration vet with a reputation for not shying from inter-administration conflict. Her dismissal would leave Bolton without one of his top aides.
The move is just another example of Melania Trump's independent streak.
Melania Trump's East Wing staff was already said to operate under a unique state of independence from the West Wing, and it's been reported that the two staffs don't often collaborate on messaging. Meanwhile, many reports have indicated that Melania's influence on her husband may be far greater than the general public perceives.
She also hasn't been afraid to speak up about staffing affairs in the administration before. In an ABC News interview conducted during her trip to Africa, she said that she does weigh in on staffing decision with her husband, and added, "You always need to watch your back."