Melania Trump Returns to New York Once a Month For Hair Cuts and Friends
A new profile of the first lady reveals all, yet so little.
---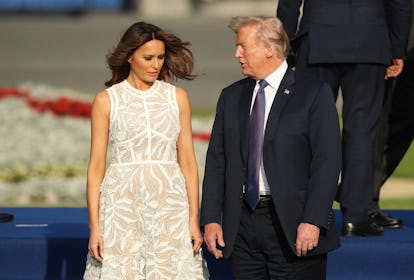 Sean Gallup/Getty Images
A new New York Times profile of our First Lady attempts to shed light on the mystery that is Melania Trump. Unlike the president, who seemingly voices his every thought on Twitter, Mrs. Trump is quiet and reserved, at least in public. And what we found out is…well, yeah, she's a really quiet person who gets her hair a lot. Not a huge shock.
The article states that Mrs. Trump "returns home to New York — at least once per month, two people close to her say — for meetings and to visit a small circle of associates, including her sister and her hairstylist." Cost to the taxpayer aside, it's not completely unreasonable for her to get her hair done in New York. Other first ladies have done so, and if she's already here visiting her sister, might as well touch up her roots, right? The odd thing is that she also has an entire room devoted to beauty at the White House. We reported on her "glam room" last January. Can't a stylist do a house call anymore?
The article also reveals that, like many spouses, the Trumps disagree on interior decor. Melania, as first ladies traditionally do, started redecorating the White House after the inauguration. According to the Times, she "had chosen some furniture for the…residence in the months before she joined her husband in Washington. Yet in her absence, President Trump — whose tastes veer toward the gilded, triumphal style of Louis XIV — replaced her choices with several pieces he liked better. One of two people familiar with the episode cited it as an example of Mr. Trump's tendency not to relent on even the smallest requests from his wife."
However, Stephanie Grisham, Mrs. Trump's communications director, said in an email that "They both chose the décor." Additionally, Grisham wrote that her boss "is staying true to the independent woman that she is by doing things her own way," referring to the less outspoken role she's taken as First Lady in comparison to her predecessors Michelle Obama and Laura Bush. "This should be celebrated, not criticized. Her priorities remain her family, her personal health and her role as first lady."
On a deeper level, it also seems that while the Trumps are not in an exactly cozy marriage, they do listen to and trust one another. "The president does not often accede to anyone's influence, but those close to the family say Mrs. Trump is the strongest voice in the president's life," posits the article. So if POTUS is listening to FLOTUS, and FLOTUS is getting her hair done once a month, that means there's a stylist somewhere in NYC who could basically have as much influence as a member of cabinet, right? Hmm.
Oh, and to answer the other questions you have about Melania: she does Pilates, and no, they never share a bed or even a bedroom. Ever.
Related: Melania Trump's Zara Jacket May Indeed Have Been a Message to Donald Trump
Michelle Obama Has a Long History of Supporting Emerging Fashion Designers, from Teija to Jason Wu