Twitter Really Reacted to Melania Trump's Chilling Red Christmas Decorations
The first lady's White House Christmas decor has unsettled everyone once again.
---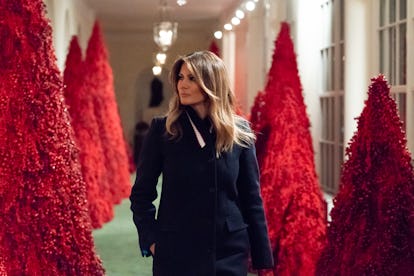 One of the tasks Melania Trump is charged with as first lady—in addition to her self-proclaimed attempts to combat bullying—is decorating the White House for the holidays. Specifically, decorating the White House for Christmas. And on the Monday after Thanksgiving, she unveiled this year's decor on Twitter in a deep red color palette that sent social media users into an immediate furor.
Judging by the photos, the White House is now decked out in red tinsel trees and green firs with red baubles adorning their branches, all the better to coordinate with the oxblood leather gloves the First Lady wears in the images she posted to her Twitter. (There are also Be Best ornaments hanging from the branches of trees, hearkening back to the aforementioned bullying campaign.) Last year, Melania and Ivanka Trump alike decorated their homes—for Melania, her first holiday season in the White House—with varying degrees of spare all-white decorations. Next year, we can perhaps anticipate a White House decked out in somber black. (Or, perhaps, Donald's preferred gold, even if it is already the theme of their Manhattan penthouse.)
Last year's lily-white theme drew comparisons to horror films (Get Out, per Vogue, which described the look as "desolate, post-apocalyptic ice chamber vibes"); this year's aesthetic has already garnered comparisons, more specifically, to The Shining, There Will Be Blood, and The Handmaid's Tale, as well as a combination of David Lynch and Tim Burton, and, more generally, "dystopian nightmare." (While some of these things might even sound complimentary—Stanley Kubrick, after all, directed one of the greatest Christmas movies in film history, fight me—it's worth noting they're not meant to be.)
The White House is currently layered with bloodred Christmas decorations, but the color is apparently meant to represent patriotism. Go figure. The responses, however, are best expressed in the words of the tweeters themselves. Below, see a few of the best.