Swimwear Designer Melissa Odabash Suggests A Freezing Cold Shower Before Slipping Into A Bikini
The swimwear designer and former model shares her summer do's and don'ts.
---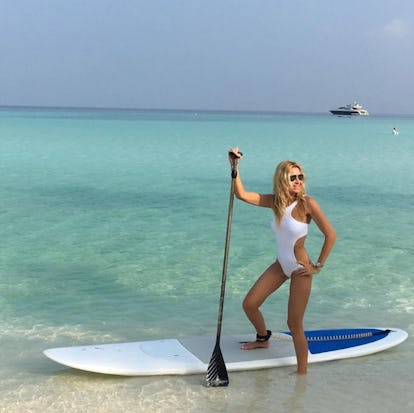 Since debuting her swimwear line in 1999, Melissa Odabash continues to be the go-to summertime designer for models and actresses alike, including Gwyneth Paltrow and Kate Moss. Most recently, the former model's designs could also be seen on the big screen, as Jennifer Lawerence donned one of her pieces in last year's Passengers. When it comes to her own warm weather styles rules, Odabash has some very strict personal opinions: no to heels at the beach, yes to a freezing cold shower before sporting a swimsuit. For more on the designer's summer do's and don'ts, read on.
What is your favorite beach?
There is a resort located on the South Andros Island of the Bahamas called Tiamo. It reminds me of the Maldives. They have a secluded beach there that is something out of a postcard- When you arrive, you feel like you are in heaven, it's unbelievable. You can really switch off as you can only access this resort by boat- it's private and you are completely un-disturbed.
What is your biggest beach tip?
Before hitting the beach take a freezing cold shower, this tightens everything making you look instantly more toned. Ensure you find yourself an amazing self-tanning brand—the product has evolved so much which means you get a gorgeous glow nowadays. I love Vita Liberata.
What is your favorite thing to do pre- and post- beach?
I love waking up in the morning and enjoying a green juice after a morning jog along the boardwalk. Then after a long day at the beach, I'll throw on a pair of roller blades, Honolua suit, and a pair of denim shorts, and glide a long at sunset. I love being outside when I am by the beach.
Do you prefer the pool or the beach?
Beach any day. I love to swim in the ocean and leave salt water on my hair and skin; it's perfect for my highlights.
What do you always bring to the beach?
I always make sure I have a terrific book to read because it's one of the only occasions I get to enjoy one. The best sunblock ever by Dr. Rita Rakus. I don't usually sunbathe and I am very much into protecting my skin from the sun. I also started using Show protective hair oil to protect my highlights from the sun. Finally, where would I be without accessories? I always have a beach hat like my Elle Cowboy hat, and pair of my favorite Tom Ford sunglasses to finish off my look. I also tend to put a couple of dry bikinis in one of my waterproof lined beach totes since I hate sitting in a wet bikini if I go off to lunch.
How does your favorite beach inspire your work?
I am always traveling, so I find that I am inspired by all the beautiful destinations. My favorite thing to do while I am away is to take note of what women are wearing. Although Tiamo resorts private beach is my favorite, I love to watch women on the beaches of the Maldives as they are super chic. I get a glimpse of various takes on beach glamour from all over the world. It is interesting to see what women from diverse cultures wear, however there are also faux pas on the beach that drive me crazy.
How would you style your swimsuit from the beach to a night out?
Most of my one pieces could be worn as bodysuits (I love my Seychelles or Ibiza suits for this look), so stick a pair of jeans, heels, and white blazer in your beach bag and you are set.
What is your ultimate do and don't at the beach?
Don't wear saggy bottoms! I understand women feel the need to wear a larger size so they don't get muffin tops, however this is worsened when they get in the sea and the bottoms look too large and just start sagging. There is a common misconception that if they go up a size it will hide more, but it actually does the opposite and makes you look bigger! Skin is a neutral color so anything you wear on top will instant draw more attention, if you go too big it will have the adverse effect.
I think for some reason a lot of women go wrong and they get confused with what style they should wear. I was just in Sardinia and I saw so many fit women wearing briefs that were too big, which then took away from their figure. The top and bottom were completely out of proportion. Women need to choose swimwear that fits tight to the body with no gaps; if you want to hide or create a waist, look for ruching in the middle of the swimsuit that holds you in.
And don't over-accessorize on the beach—no high heels! Remember, less is more. I think realistically: sunglasses, hat, and a metallic or neutral tone sandal are perfect.
Which swimsuit reference has influenced you most?
My go-to reference has always been vintage James Bond films. Ursula Andress has been on my inspiration board for years. Sexy styles like my Dominica belted suit was designed for the modern-day Bond Girl.
In reference to movies, I'm very lucky to have had so many of my designs featured on the big screen. I designed all the swimwear worn by Naomi Watts for the movie Diana, and I had the opportunity to recreate all the iconic looks that the late Princess of Wales wore. More recently, Jennifer Lawrence wore my Zuma style in the movie Passengers, which we can't seem to keep in stock!
What is your favorite memory at the beach?
My family went every summer to Bayhead Beach, New Jersey, and I remember every year as a treat going to Seaside Heights amusement park. We are very close-knit and some of my favorite memories are of us together at the beach.
What are you reading this summer?
I love autobiographies, so I usually just pick up some at the airport when traveling. Also obsessed with reading on health and wellness.
What are three songs on your summer playlist?
Elton John –"Wonderful Crazy Night" by Elton John, "Lose My Number" by James Blunt," and anything that Lady Gaga puts out.
Watch all of W's top videos, here:
The Ultimate Guide to Summer's Best Swimsuits