The Rock and Other Men Will Also Wear Black To The Golden Globes To Protest Harassment
A show of solidarity and support.
---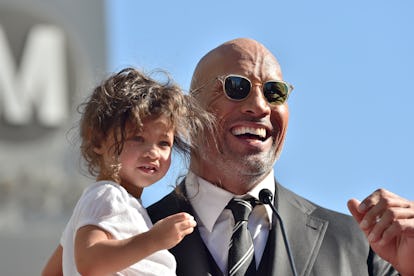 Photo by Axelle/Bauer-Griffin/FilmMagic
As Hollywood scrambles to figure out how to celebrate the year in movie making while still reckoning with the industry's decades of systemic harassment, abuse and, assault, stars have decided that one simple way to keep the conversation going is to wear black to the Golden Globes — something both women and, now, men plan to do. It was reported last week that a number of A-list actresses, virtually everyone on the red carpet, would be wearing black to the Golden Globes to protest the culture of harassment, and now a top stylist has revealed that a number of men plan to take up the cause as well. Ilaria Urbinati, who has worked "with Dwayne "The Rock" Johnson, Tom Hiddleston, Garrett Hedlund, Armie Hammer and more," per InStyle, posted on Instagram, "Because everyone keeps asking me… YES, the men WILL be standing in solidarity with women on this wearing-all-black movement to protest against gender inequality at this year's Golden Globes. At least ALL MY GUYS will be. Safe to say this may not be the right time to choose to be the odd man out here… just sayin…"
Dwayne "The Rock" Johnson commented, "yes we will" on the post, seemingly confirming the plan.
There has been debate among actresses and advocates over the efficacy of making a fashion statement about such a heavy issue, and it's worth noting that most men wear black on the red carpet anyway. Ultimately, whether or not this proves to be little more than a gesture remains to be seen. It would be a shame if stars use the planned protest as a way of acknowledging the issue without actually addressing it head on. But if actors and actresses all take the red carpet prepared with intelligent and measured thoughts about ending systemic harassment, that could be a huge moment. Many young men look up to people like "The Rock" and look to them for how to behave, so being a role model in respecting women is a great way to use his power to be an ally. Of course, men can be and are victims of harassment and assault as well, like Terry Crews and the young men victimized by Kevin Spacey. We are all potential targets, and we can all be part of the solution.
Related: Actresses Will Dress in Black at 2018 Golden Globes in Show of Solidarity for Harassment Victims
Golden Globes 2017: Romantic Gowns Ruled the Red Carpet
Lily Collins wears a Zuhair Murad dress and Harry Winston jewels at the 74th Annual Golden Globe Awards at The Beverly Hilton Hotel on January 8, 2017 in Beverly Hills, California.

Getty Images/WireImage
Claire Foy wears a custom sequin Erdem gown at the 74th Annual Golden Globe Awards at The Beverly Hilton Hotel on January 8, 2017 in Beverly Hills, California.

Getty Images
Emma Stone in Valentino at the 74th Annual Golden Globe Awards at The Beverly Hilton Hotel on January 8, 2017 in Beverly Hills, California.

Getty Images
Felicity Jones wears Gucci at the 74th Annual Golden Globe Awards at The Beverly Hilton Hotel on January 8, 2017 in Beverly Hills, California.

Getty Images
Lola Kirke wearing Andrew Gn and Chopard jewels at the 74th Annual Golden Globe Awards at The Beverly Hilton Hotel on January 8, 2017 in Beverly Hills, California.

Getty Images
Zoe Saldana in Gucci at the 74th Annual Golden Globe Awards at The Beverly Hilton Hotel on January 8, 2017 in Beverly Hills, California.

Getty Images
Hailee Steinfeld in a lavender Vera Wang gown and Forevermark diamonds at the 74th Annual Golden Globe Awards at The Beverly Hilton Hotel on January 8, 2017 in Beverly Hills, California.

Getty Images
Chrissy Teigan in Marchesa at the 74th Annual Golden Globe Awards at The Beverly Hilton Hotel on January 8, 2017 in Beverly Hills, California.

Getty Images