Amber Tamblyn Calls Out Rose McGowan for "Shaming or Taunting" Actresses Wearing Black to the Golden Globes
Other actresses have weighed in as well.
---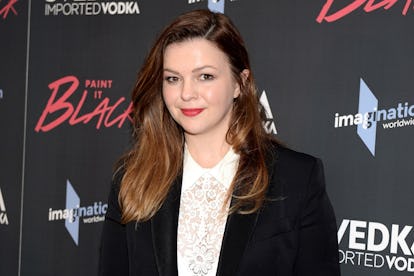 Andrew Toth/Getty Images
Last Thursday, various news outlets reported that the 2018 Golden Globes would be going dark, thanks to actresses who are reportedly planning to wear black in solidarity with sexual harassment victims. Although no actresses (or their stylists) have confirmed these reports, the rumors did not sit well with Rose McGowan, who took to Twitter over the weekend to criticize would-be protesters. "Actresses, like Meryl Streep, who happily worked for The Pig Monster, are wearing black @GoldenGlobes in a silent protest," she wrote in a since-deleted Tweet, according to Vanity Fair. "YOUR SILENCE is THE problem. You'll accept a fake award breathlessly & affect no real change. I despise your hypocrisy. Maybe you should all wear Marchesa." (Marchesa is the fashion brand co-founded by Georgina Chapman, Harvey Weinstein's estranged wife.)
This is not the first time McGowan has directly criticized Streep. Streep, who has worked with Weinstein in the past, previously said that "not everybody knew," in a statement condemning the Weinstein allegations and applauding his accusers. She also vowed to make Hollywood a safer industry for women, in a conversation with Gloria Steinem earlier this month, calling Weinstein "the most gargantuan example of a kind of disrespect." In response to these comments, McGowan tweeted, "No, Meryl, IT'S A F*CKING CRIME. You are such a lie # ROSEARMY."
Now, Amber Tamblyn is calling out McGowan's call-out tweet, telling her friend in a public thread that these comments are inappropriate. "THREAD: Rose McGowan is a friend and while I support her kind of movement, I do not support any woman (or man) shaming or taunting the movements of other women who are trying to create change," she wrote on Monday. "Telling us to all wear Marchesa? This is beneath you, Rose."
"You don't have to support and stand with us, but we stand and support you," Tamblyn continued. "You may take below the belt shots at us but we will not take them at you in return. Our movement is big. And a black dress is just the beginning of the darkness that will be drained from every industry across the country by the time we're done. That's a promise."
She concluded the thread with a hashtag referencing the workplace sexual assault and harassment reforms that will hopefully take place in light of the #MeToo movement. "And we stand together in this fight, shoulder to shoulder, weapon to weapon, woman to woman (and man), body to burned body," she tweeted. "And our arms are open. And our hearts two fold. And our fire will be a universal scorch. Heed the mantra: #ChangeIsComing."
Both McGowan and Tamblyn have been outspoken and prominent celebrity members of #MeToo movement. McGowan went public accusing Harvey Weinstein of rape, while Tamblyn, in an open letter, accused actor James Woods of trying to pick her and a friend up when she was 16.
Other prominent women in the #MeToo movement have since weighed in on Tamblyn's thread. Asia Argento, whose harrowing account of her alleged sexual assault at the hands of Weinstein was detailed in Ronan Farrow's New Yorker story, tweeted, "I wish you'd have written this thread addressing it directly to @rosemcgowan, or even better, called or texted her, since you are friends." "Asia, I did. I spoke to her for over an hour," Tamblyn replied.
McGowan's Charmed costar Holly Marie Combs also addressed Tamblyn. "You just did to @rosemcgowan what you claim you don't support her doing to others," she tweeted. "Every activist for every cause the world over has different methods but share a common and more important message that should remain the same. And undiluted above all else."
Related: Rose McGowan Is Publishing a Tell-All Memoir About Growing Up in Two Cults