Meryl Streep's Daughter Mamie Gummer Is Expecting Her First Child
Her eldest daughter, Mamie Gummer, is pregnant.
---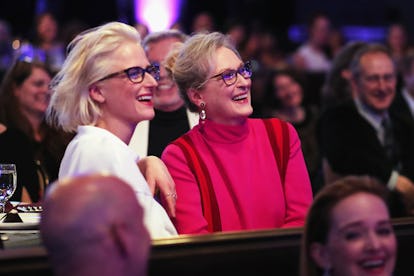 Christopher Polk/Getty Images
Meryl Streep, acclaimed actress, philanthropist, activist, and meme, will soon be taking on yet another huge role: grandmother. Mamie Gummer, the eldest daughter of Streep and husband Don Gummer, is expecting her first child with fiancé Mehar Sethi, Gummer's rep confirmed to Us Weekly on Friday. Streep will likely take on the new title with aplomb, as she's already had some onscreen practice in the grandma department, including, most recently, in the upcoming second season of Big Little Lies.
Gummer, who has starred in shows like The Good Wife and Emily Owens, M.D., and alongside her mom in the 2015 film Ricki and the Flash, sparked speculation that she was pregnant earlier this week, while walking the red carpet at the New York City premiere of Mary, Queen of Scots on Tuesday. For the event, the actress wore a high-necked, long-sleeved white gown that fell past her feet and was covered in delicate pink roses. Though the dress had a roomy cut that hid her figure, Gummer's growing baby bump was still visible when she turned to the side.
This will be the first child for Gummer and Sethi, who apparently announced they were engaged in August, when Sethi shared a photo of Gummer in Croatia with the caption, "My fiancée," according to Us Weekly. Sethi is a writer and producer who has worked on several animated series, including BoJack Horseman and Robot Chicken; Gummer lent a voice to an episode of the latter that was written by Sethi. Gummer was previously married to actor Benjamin Walker from 2011 to 2013 before filing for a "very amicable" divorce.
Back in 2016, Gummer spoke to The Telegraph about how her focusing primarily on TV projects coincided with her desire to one day settle down and start a family. "Going to far-flung places for months on end can be destabilizing, especially as you get older," she said. "You think, 'OK, I only have this window, especially if I want to have a family.' Those kinds of decisions are not as easily or flippantly made as they were when I was in my 20s." In the same interview, Gummer, who was not yet dating Sethi at the time, said she wasn't in a hurry to get married again. "It's all such a circus, such a big pageant, all for show," she said. "And I get dressed up all the time, so it really doesn't hold much appeal for me."
Related: Meryl Streep Inspired Julianne Moore to Be an Actress