Meryl Streep Responds to Mariah Carey Stealing Her Seat at the 2018 Golden Globes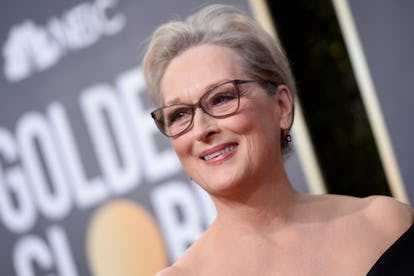 Valerie Macon/AFP/Getty Images
Truly, the one thing that makes the Golden Globes more special than other awards shows is that food and, more importantly, drink are served throughout the night, and, unlike the stuffier Academy Awards, guests typically get up to mingle with one another. But when the commercial break ends and the broadcast resumes, you're supposed to just sit wherever you happen to find yourself, which is how Mariah Carey, chatting with Steven Spielberg (about what, one wonders), found herself plopping down in Meryl Streep's chair. Carey apologized about the situation and Streep was gracious—at least, according to Carey.
But on Monday's Jimmy Kimmel Live!, Streep told a slightly saucier version of the story. "B*tch stole my seat!" she trilled, explaining that when she returned to her table to find her place occupied by Carey, she simply offered to sit on the singer's lap. Because, it would be comfy. Of course.
She accused Carey of "sucking up" to Spielberg…or Spielberg of sucking up to Carey, it's not entirely clear how the power dynamic works out between the biggest diva in Hollywood and Mariah Carey. Also at their table were "Tom and Rita" (that's Tom Hanks and Rita Wilson) and Spielberg's wife Kate Capshaw.
Of the politically charged evening, Streep mused, "What a wild night." She even proposed making The Rock chairman of the joint chiefs—if Oprah makes good on those [2020 rumors(https://www.wmagazine.com/story/oprah-winfrey-cecil-b-demille-award-2018-golden-globe-full-speech).
As for whether the White House's current occupant has seen Streep's new film, The Post, she can't say, but she describes it as "a very patriotic movie." And that's mostly true, though it does suffer from an extreme lack of Mariah Carey, our country's greatest resource.
Related: Meryl Streep Says The Post's Portrayal of Workplace Sexism Is Still Relevant Today
Golden Globes 2018: See Hollywood's Biggest Names Wearing Black Dresses On the Red Carpet
Allison Williams arrives to the 75th Annual Golden Globe Awards held at the Beverly Hilton Hotel on January 7, 2018. (Photo by Kevork Djansezian/NBC/NBCU Photo Bank via Getty Images)

Kevork Djansezian/NBC
Caitriona Balfe arrives to the 75th Annual Golden Globe Awards held at the Beverly Hilton Hotel on January 7, 2018. (Photo by Kevork Djansezian/NBC/NBCU Photo Bank via Getty Images)

Kevork Djansezian/NBC
Sadie Sink arrives to the 75th Annual Golden Globe Awards held at the Beverly Hilton Hotel on January 7, 2018. (Photo by Kevork Djansezian/NBC/NBCU Photo Bank via Getty Images)

Kevork Djansezian/NBC
Debra Messing arrives to the 75th Annual Golden Globe Awards held at the Beverly Hilton Hotel on January 7, 2018. (Photo by Kevork Djansezian/NBC/NBCU Photo Bank via Getty Images)

Kevork Djansezian/NBC
Alexis Bledel arrives to the 75th Annual Golden Globe Awards held at the Beverly Hilton Hotel on January 7, 2018. (Photo by Kevork Djansezian/NBC/NBCU Photo Bank via Getty Images)

Kevork Djansezian/NBC
Tracee Ellis Ross arrives to the 75th Annual Golden Globe Awards held at the Beverly Hilton Hotel on January 7, 2018. (Photo by Kevork Djansezian/NBC/NBCU Photo Bank via Getty Images)

Kevork Djansezian/NBC
Claire Foy arrives to the 75th Annual Golden Globe Awards held at the Beverly Hilton Hotel on January 7, 2018. (Photo by Kevork Djansezian/NBC/NBCU Photo Bank via Getty Images)

Kevork Djansezian/NBC
Catherine Zeta-Jones arrives to the 75th Annual Golden Globe Awards held at the Beverly Hilton Hotel on January 7, 2018. (Photo by Kevork Djansezian/NBC/NBCU Photo Bank via Getty Images)

Kevork Djansezian/NBC
Frankie Shaw arrives to the 75th Annual Golden Globe Awards held at the Beverly Hilton Hotel on January 7, 2018. (Photo by Kevork Djansezian/NBC/NBCU Photo Bank via Getty Images)

Kevork Djansezian/NBC
Chrissy Metz arrives to the 75th Annual Golden Globe Awards held at the Beverly Hilton Hotel on January 7, 2018. (Photo by Kevork Djansezian/NBC/NBCU Photo Bank via Getty Images)

Kevork Djansezian/NBC
Laurie Metcalf arrives to the 75th Annual Golden Globe Awards held at the Beverly Hilton Hotel on January 7, 2018. (Photo by Kevork Djansezian/NBC/NBCU Photo Bank via Getty Images)

Kevork Djansezian/NBC
Allison Brie arrives to the 75th Annual Golden Globe Awards held at the Beverly Hilton Hotel on January 7, 2018. (Photo by Kevork Djansezian/NBC/NBCU Photo Bank via Getty Images)

Kevork Djansezian/NBC
Dakota Johnson arrives to the 75th Annual Golden Globe Awards held at the Beverly Hilton Hotel on January 7, 2018. (Photo by Kevork Djansezian/NBC/NBCU Photo Bank via Getty Images)

Kevork Djansezian/NBC
Meryl Streep and director of the National Domestic Workers Alliance Ai-jen Poo arrive to the 75th Annual Golden Globe Awards held at the Beverly Hilton Hotel on January 7, 2018. (Photo by Kevork Djansezian/NBC/NBCU Photo Bank via Getty Images)

Kevork Djansezian/NBC
Amy Poehler arrives to the 75th Annual Golden Globe Awards held at the Beverly Hilton Hotel on January 7, 2018. (Photo by Kevork Djansezian/NBC/NBCU Photo Bank via Getty Images)

Kevork Djansezian/NBC
Christina Hendricks arrives to the 75th Annual Golden Globe Awards held at the Beverly Hilton Hotel on January 7, 2018. (Photo by Kevork Djansezian/NBC/NBCU Photo Bank via Getty Images)

Kevork Djansezian/NBC
Sarah Paulson arrives to the 75th Annual Golden Globe Awards held at the Beverly Hilton Hotel on January 7, 2018. (Photo by Kevork Djansezian/NBC/NBCU Photo Bank via Getty Images)

Kevork Djansezian/NBC
Susan Sarandon arrives to the 75th Annual Golden Globe Awards held at the Beverly Hilton Hotel on January 7, 2018. (Photo by Kevork Djansezian/NBC/NBCU Photo Bank via Getty Images)

Kevork Djansezian/NBC
Allison Janney attends The 75th Annual Golden Globe Awards at The Beverly Hilton Hotel on January 7, 2018 in Beverly Hills, California. (Photo by Frederick M. Brown/Getty Images)

Frederick M. Brown
Alicia Vikander attends The 75th Annual Golden Globe Awards at The Beverly Hilton Hotel on January 7, 2018 in Beverly Hills, California. (Photo by Frazer Harrison/Getty Images)

Frazer Harrison
Issa Rae attends The 75th Annual Golden Globe Awards at The Beverly Hilton Hotel on January 7, 2018 in Beverly Hills, California. (Photo by Frazer Harrison/Getty Images)

Frazer Harrison
Kendall Jenner attends The 75th Annual Golden Globe Awards at The Beverly Hilton Hotel on January 7, 2018 in Beverly Hills, California. (Photo by Frederick M. Brown/Getty Images)

Frederick M. Brown
Pamela Adlon attends The 75th Annual Golden Globe Awards at The Beverly Hilton Hotel on January 7, 2018 in Beverly Hills, California. (Photo by Frazer Harrison/Getty Images)

Frazer Harrison
Elizabeth Moss attends The 75th Annual Golden Globe Awards at The Beverly Hilton Hotel on January 7, 2018 in Beverly Hills, California. (Photo by Frazer Harrison/Getty Images)

Frazer Harrison
Maggie Gyllenhaal attends The 75th Annual Golden Globe Awards at The Beverly Hilton Hotel on January 7, 2018 in Beverly Hills, California. (Photo by Frazer Harrison/Getty Images)

Frazer Harrison
Viola Davis attends The 75th Annual Golden Globe Awards at The Beverly Hilton Hotel on January 7, 2018 in Beverly Hills, California. (Photo by Frederick M. Brown/Getty Images)

Frederick M. Brown
Connie Britton attends The 75th Annual Golden Globe Awards at The Beverly Hilton Hotel on January 7, 2018 in Beverly Hills, California. (Photo by Frederick M. Brown/Getty Images)

Frederick M. Brown
Millie Bobby Brown attends The 75th Annual Golden Globe Awards at The Beverly Hilton Hotel on January 7, 2018 in Beverly Hills, California. (Photo by Frederick M. Brown/Getty Images)

Frederick M. Brown
Kerry Washington attends The 75th Annual Golden Globe Awards at The Beverly Hilton Hotel on January 7, 2018 in Beverly Hills, California. (Photo by Frederick M. Brown/Getty Images)

Frederick M. Brown
America Ferrera and Natalie Portman attend The 75th Annual Golden Globe Awards at The Beverly Hilton Hotel on January 7, 2018 in Beverly Hills, California. (Photo by Frazer Harrison/Getty Images)

Frazer Harrison