Michael Kors Buys Versace, and Everything You Read About It on Twitter Is Wrong
What this $2 billion deal really means for Versace fans.
---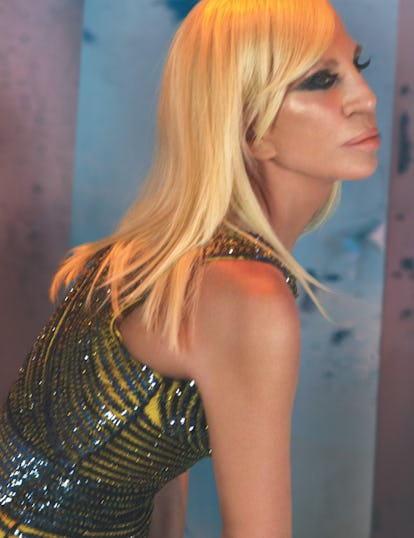 Photograph by Mert Alas & Marcus Piggott, Styled by Edward Enninful; Hair by Kiril Vasilev; makeup by Renato Bernardi; manicure by Adam Slee for Rimmel London at Streeters. Set design by Andrea Stanley and Emma Roach at Streeters. Produced by Across Media Productions; Fashion Assistants Ryann Foulke, Dena Gianni; Hair assistants: Taichi Saito, Sean Mikael, Rebekah Calo, Katie Schember, Cat Wyman, James Oxley; Makeup Assistants: Taylor Treadwell, Lauren Aiello, Anete Salinieka, Sergio Alvarez; Manicure assistant: Chiharu; Set-design assistants: Devin Rutz, Colin Lytton, Nathan Smith, Chloe Park, Amy Bairstow, Philip Doucedame, Warwick Turner-Noakes.
When news started circulating yesterday that Michael Kors Holdings was nearing a deal to purchase Versace, social media flared up with instant backlash. People jumped to conclusions that Michael Kors, the man himself, would take over as the Italian brand's new creative director (he will not), and that $35 Versace-branded polo shirts would soon appear in their nearest suburban strip mall discount department store (highly unlikely). Twitter was, as it takes pride in being, absolutely savage.
On one hand, the strong reaction speaks to the power of fashion as fantasy, and, sure, if one were thinking of this as a matching of two fashion labels, the news doesn't make much sense. To repurpose an old, legendary quip, if Versace dresses the Italian mistresses, then Michael Kors dresses the wife back home in Connecticut raising the kids and attending to her own career. At least, according to the stereotypes. There's assuredly many stylish closets across the globe that include both brands.
The reality of the news, however, has more to do with something the fantasy side of fashion would rather you not think too much about: the business concerns behind it all. From that point of view, the news isn't that surprising at all, especially if one looks back at the business trajectories of both Versace and Kors Holdings (which will now be renamed Capri Holdings) over the past half decade or so. If the acquisition is executed correctly, it could prove to stabilize the futures of both brands, while also being a major boon for the business side of the American fashion industry as a whole.
Here are some things to keep in mind while scrolling through your Twitter feed:
1. First things first, Donatella isn't going anywhere.
Rumors of Donatella Versace's retirement have circulated for years, since long before any acquisition talks began. As it turns out, while her family no longer owns the company outright, she isn't going anywhere. Her continued involvement as the creative director of Versace was inked right into the deal. "We believe that being part of this group is essential to Versace's long-term success," Donatella herself said in a release. "My passion has never been stronger. This is the perfect time for our company, which puts creativity and innovation at the core of all of its actions, to grow."
In addition, the Versace family (including Donatella's brother Santos and her daughter, Allegra, who owned the biggest stake in the label, per Gianni Versace's will) will become shareholders of Capri Holdings.
2. Michael Kors the increasingly powerful American fashion conglomerate is not the same as Michael Kors the man and quote machine.
When people read "Michael Kors Buys Versace," we guess some just assumed the familiar face from Project Runway had decided to scrounge together a few bucks to buy himself a new label to personally do whatever he wanted with. This couldn't be further from the truth. We're talking Michael Kors the holding company, a publicly traded conglomerate that, as evidenced by both this deal and the recent acquisition of Jimmy Choo, is looking to turn itself into something of an American-based fashion conglomerate under the guidance of the chairman and CEO John D. Idol. Of course, as creative director of his own brand, a member of the board of directors, and honorary chairman, Kors himself is very much involved with the company, but he's not the driving person behind the wider business moves at this point. He and his board hired someone to do that all for them.
3. But, hey, let's give Kors, the man, his due credit.
People are out there on Twitter talking like any mixture of Michael Kors and high European fashion is some sort of style anathema. In fact, Kors was creative director Céline from 1997 to 2004, when the French fashion conglomerate LVMH bought the label, and helped turn a house founded as a supplier of children's shoes into a ready-to-wear powerhouse. Yes, Kors walked away from Céline so Phoebe Philo could fly and Hedi Slimane can do whatever he plans to do with the house.
Kors ultimately decided to step down from the house to concentrate on his own label (quite obviously a smart decision, in retrospect), and famously let his displeasures of trying to run a label under the auspices of a parent company be known. Hopefully, his experiences will positively inform how the company he founded works with the creative talents in its growing portfolio of brands.
Kors's disdain also speaks to some realities of the fashion business, especially when it comes to American designers. European designers follow a certain path to success, while Americans often follow another. Kors and American brands like Tommy Hilfiger, Ralph Lauren, and Calvin Klein have signature luxury collections, but have traditionally relied on diffusion lines and more affordable licensed lines to actually turn a profit. The future of that model is increasingly in doubt, and indeed, the Kors label has been attempting to change its long-term game plan. The brand has tried to lessen its availability in department stores (not to mention discount outlets like TJ Maxx) in recent years. So for those thinking that all of a sudden you're going to see Versace on the racks of Ross, the long-term goal here is actually that you won't even see the Kors licensed lines on the racks of Ross.
4. Fashion is becoming a Game of Conglomerates—and theres an American player, finally.
There are two main major business players in the world of luxury fashion that stand head and shoulders above the others, both of which happened to be French: LVMH, which owns Louis Vuitton, Dior, Céline, Fendi, Givenchy, and several other fashion and non-fashion luxury brands; and Kering, which owns Gucci, Saint Laurent, Balenciaga, McQueen, and others. There are some smaller groups (Aeffe, which owns Moschino and Alberta Ferretti, for one), some odd corporate bedfellow situations (Bally is owned by the same parent company as Panera Bread), a few remaining truly powerful independents (Chanel, Dolce & Gabbana, and, of course, Prada, still recovering from its own attempt at conglomeration), and then a bunch of struggling midsize brands whose long-term prospects always seem to be a matter of much hand-wringing for the fashion set.
Versace is far stronger now than it was just a few years ago, when it was plagued with rumors of bankruptcy, but it's been clear to business observers for some time that being part of a wider fashion group may the safest bet to ensure the label's future. Kors's emergence as just such a group gives the brand not only that security but also the prestige of being a marquee name in that group rather than another cog in a wheel.
Conversely, Capri Holdings could be building itself up into an America-based rival of those French companies. If fashion is going to be a game of supergroups, then another one, particularly with American ties, isn't particularly bad for anyone. We're jumping ahead of ourselves, but if all goes well, perhaps some of those midsize American labels could someday find themselves under the financial umbrella of an American company like Capri or Tapestry, the company that emerged after Coach bought Kate Spade.
5. So, will there be major changes to what Versace retails?
Well, fashion is always changing, and those who don't keep up are bound to get left behind. Just about every brand right now—those with newer, younger creative directors, and those whose founding designers are still on board—are dealing with continuing shifts in the luxury markets. Asia and the Middle East have emerged as important markets, and millennials and Gen Z consumers are shifting expectations of what constitutes luxury. Versace would have to navigate those sea changes no matter who owned it.
So it's hard to say what this new ownership might mean immediately for what you see stomping down the runway, if anything.
The safest bet? Likely a renewed focus on Versace's handbags, shoes, and accessories, all highly profitable (as Kors knows very well), and other parts of the Versace brand that have traditionally been overshadowed by its clothing. So when you're rocking your brand-new Versace It bag in 2021, just remember to apologize for that mean thing you said about Michael Kors on Twitter, okay?
Emily Ratajkowski, Shalom Harlow, and the Hadids All Walked the Versace Extravaganza
Emily Ratajkowski on the runway at the Versace SS19 show during Milan Fashion Week on Friday, September 21st, 2018. Photograph by Alessio Constantino for W Magazine.

Alessio Constantino
Bella Hadid on the runway at the Versace SS19 show during Milan Fashion Week on Friday, September 21st, 2018. Photograph by Alessio Constantino for W Magazine.

Alessio Constantino
Kaia Gerber on the runway at the Versace SS19 show during Milan Fashion Week on Friday, September 21st, 2018. Photograph by Alessio Constantino for W Magazine.

Alessio Constantino
On the runway at the Versace SS19 show during Milan Fashion Week on Friday, September 21st, 2018. Photograph by Alessio Constantino for W Magazine.

Alessio Constantino
On the runway at the Versace SS19 show during Milan Fashion Week on Friday, September 21st, 2018. Photograph by Alessio Constantino for W Magazine.

Alessio Constantino
On the runway at the Versace SS19 show during Milan Fashion Week on Friday, September 21st, 2018. Photograph by Alessio Constantino for W Magazine.

Alessio Constantino
Gigi Hadid on the runway at the Versace SS19 show during Milan Fashion Week on Friday, September 21st, 2018. Photograph by Alessio Constantino for W Magazine.

Alessio Constantino
Freja Beha Erichsen on the runway at the Versace SS19 show during Milan Fashion Week on Friday, September 21st, 2018. Photograph by Alessio Constantino for W Magazine.

Alessio Constantino
Kendall Jenner on the runway at the Versace SS19 show during Milan Fashion Week on Friday, September 21st, 2018. Photograph by Alessio Constantino for W Magazine.

Alessio Constantino
On the runway at the Versace SS19 show during Milan Fashion Week on Friday, September 21st, 2018. Photograph by Alessio Constantino for W Magazine.

Alessio Constantino
On the runway at the Versace SS19 show during Milan Fashion Week on Friday, September 21st, 2018. Photograph by Alessio Constantino for W Magazine.

Alessio Constantino
Stella Tennant on the runway at the Versace SS19 show during Milan Fashion Week on Friday, September 21st, 2018. Photograph by Alessio Constantino for W Magazine.

Alessio Constantino
On the runway at the Versace SS19 show during Milan Fashion Week on Friday, September 21st, 2018. Photograph by Alessio Constantino for W Magazine.

Alessio Constantino
On the runway at the Versace SS19 show during Milan Fashion Week on Friday, September 21st, 2018. Photograph by Alessio Constantino for W Magazine.

Alessio Constantino
Liya Kebede on the runway at the Versace SS19 show during Milan Fashion Week on Friday, September 21st, 2018. Photograph by Alessio Constantino for W Magazine.

Alessio Constantino
Lexi Boling on the runway at the Versace SS19 show during Milan Fashion Week on Friday, September 21st, 2018. Photograph by Alessio Constantino for W Magazine.

Alessio Constantino
On the runway at the Versace SS19 show during Milan Fashion Week on Friday, September 21st, 2018. Photograph by Alessio Constantino for W Magazine.

Alessio Constantino
Imaan Hammam on the runway at the Versace SS19 show during Milan Fashion Week on Friday, September 21st, 2018. Photograph by Alessio Constantino for W Magazine.

Alessio Constantino
On the runway at the Versace SS19 show during Milan Fashion Week on Friday, September 21st, 2018. Photograph by Alessio Constantino for W Magazine.

Alessio Constantino
On the runway at the Versace SS19 show during Milan Fashion Week on Friday, September 21st, 2018. Photograph by Alessio Constantino for W Magazine.

Alessio Constantino
On the runway at the Versace SS19 show during Milan Fashion Week on Friday, September 21st, 2018. Photograph by Alessio Constantino for W Magazine.

Alessio Constantino
Anna Ewers on the runway at the Versace SS19 show during Milan Fashion Week on Friday, September 21st, 2018. Photograph by Alessio Constantino for W Magazine.

Alessio Constantino
Kiki Willems on the runway at the Versace SS19 show during Milan Fashion Week on Friday, September 21st, 2018. Photograph by Alessio Constantino for W Magazine.

Alessio Constantino
Vittoria Ceretti on the runway at the Versace SS19 show during Milan Fashion Week on Friday, September 21st, 2018. Photograph by Alessio Constantino for W Magazine.

Alessio Constantino
Anja Rubik on the runway at the Versace SS19 show during Milan Fashion Week on Friday, September 21st, 2018. Photograph by Alessio Constantino for W Magazine.

Alessio Constantino