Michelle and Barack Obama Celebrate Their 25th Wedding Anniversary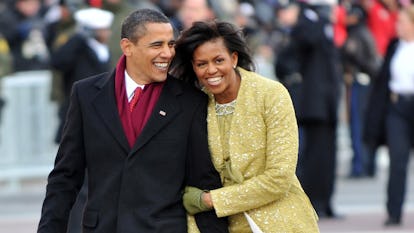 Ron Sachs-Pool/Getty Images
Leave it to Michelle and Barack Obama to be the glimmer of hope and happiness needed in the world today. In honor of October 3, which marks the former First Couple's twenty-fifth wedding anniversary, Michelle took to Twitter to celebrate her "best friend" and husband with a sweet message.
Sharing a black and white photo from their wedding, Michelle captioned the now-iconic pic, "Happy 25th anniversary @barackobama. A quarter of a century later, you're still my best friend & the most extraordinary man I know. I ? you." Naturally, their Internet fans began flooding Michelle's mentions with adorable GIFs of the two hugging, kissing, and fist-bumping alongside messages of how missed they are in the White House. "Happy Anniversary to an exemplary couple. And y'all are adorable, too. ❤️" one Twitter user wrote.
Barack has yet to share his own message on social media for Michelle, but judging from past public displays of affection towards his wife, it will assuredly come.
Barack and Michelle's love story — which has been immortalized in the movie Southside With You — began when Michelle was assigned to mentor Barack at the law firm Sidley Austin in Chicago. In 1989, the future Obamas went on their first date to see the movie Do the Right Thing. ("He was trying to show me his sophisticated side by selecting an independent filmmaker," Michelle teased in 2014, according to MTV.) And the rest is presidential history.
It's far from the first time that the former POTUS and FLOTUS have had the country screaming "relationship goals." The couple routinely take to social media on their anniversaries and Valentine's Day to show each other some love. And just a few months ago, Michelle shared a birthday message to Barack that echoed Tuesday's anniversary well wishes. "Another year older, but still the same phenomenal guy I married nearly 25 years ago," she wrote at the time.
Since leaving the White House, the Obamas have traveled extensively, dropped their eldest daughter, Malia, [off at college](https://www.wmagazine.com/story/malia-obama-brooklyn-beckham-tiffany-trump-move-into-college, and are even considering a move to New York City.
Related: Queen Beyoncé Received Tributes from Jay Z, Michelle Obama, and Serena Williams on Her Birthday
Oprah Winfrey Confesses Her First Cinematic Crush: