Mick Jagger Has Been Leaving Comments on His Son Lucas Jagger's Instagram
"Watch out for the water."
---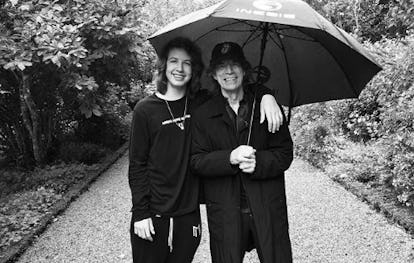 instagram.com/lucasjagger
Mick Jagger may be a rock icon, but to his son Lucas Jagger, he's just a dad figuring out Instagram one loving comment at a time. In between playing stadiums, testing out his standup skills, and traveling across the world, the Rolling Stone frontman has been spending a lot of time on social media, especially the feed of his second-youngest son, 19-year-old Lucas.
Endearingly, and relateably, Sir Mick has been blowing up his son's Instagram comments, leaving a trail of dad jokes. In the comments section of one photo Lucas posted at Lollapalooza in São Paulo, Brazil — where the younger Jagger was raised by his mom, Brazilian model Luciana Gimenez — Jagger wrote, "Looks like fun. Ha!" In another, where Lucas posted a group shot of his friends with a camp tent emoji, his 74-year-old father wrote, "Looks like fun!" leaving two pine tree emojis.
Jagger later tried to play it cool when Lucas posted a photo of himself taking in a pink sunset. "Cool pic," wrote the rock star, almost blending in with the rest of the comments.
His best one? "Watch out for the water," Jagger wrote on a photo of Lucas standing on the shore, with the waves barely reaching his ankles. One can never be too safe.
Lucas is Jagger's seventh son, as the septuagenarian welcomed his eighth child in December 2016, with his girlfriend, Melanie Hamrick, which they named Deveraux Octavian Basil Jagger. (Perhaps Jagger, a noted Instagram user, wanted to make sure that no one else had his youngest son's name as a handle. It's still up for grabs as of this moment.)
Jagger, who is also a great-grandfather, has an incredible Instagram account of his own. His feed, which has almost 1.5 million followers, is often filled with the kinds of posts you'd find within your own circle of relatives on Instagram. Outside of the ones that show his jet-setting lifestyle with his band, Jagger is just a dude who loves to document the moment with a posed photo — even the mundane ones: There is the time he shared a picture of himself sitting on a tree branch in a sleek puffer jacket with the caption "Rustic life!"
There was the time he wanted to say goodbye to his Dutch fans in the native language.
And the time the best caption he came up with for a photo of himself standing in front of a sunset was "Enoying the view."
Please go enjoy Mick Jagger Instagram now.