Miranda Kerr Speaks Candidly About Marriage, Motherhood, and the Impressive Cosmetics Brand She's Built
If KORA Organics, model Miranda Kerr's cosmetics line can make our skin look like hers, then she's definitely on to something.
---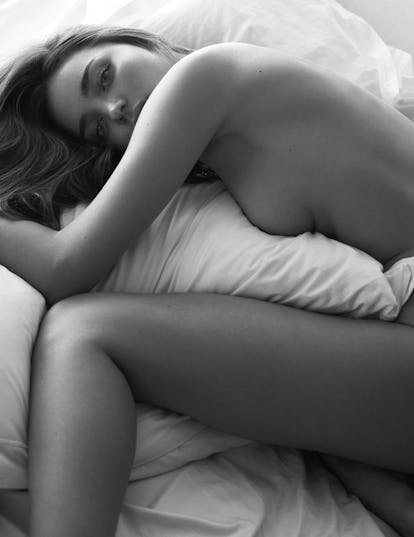 Mert & Marcus
Miranda Kerr has it all–a prolific modeling career, killer body, gorgeous dimples, high-profile new husband, super-cute son, close family and if all that wasn't enough, she's been quietly building a cult cosmetics business for the past five years. This month, Kerr expanded her Cosmos-certified KORA Organics face and body line (available at Sephora) with 15 new products, including the Noni Glow Collection, whose hero ingredient is noni fruit extract from the morinda tree. Introduced to the nourishing powers of Noni juice by her grandmother when she was 13, Kerr has been consuming it ever since. Now we can, too, in the form of antioxidant-packed Noni Glow Skinfood powder supplement sachets that you mix with water or a smoothie. I don't know if noni is the cure-all Kerr says it is, but one thing is for sure–if it makes me glow just a fraction as much as the Australian stunner, well, let's just say, I'll have what she's having!
What did you have for breakfast this morning?
Oh, I had an omelet. It was really delicious, with avocado and some toast on the side. But I usually like to start my day with fresh, hot water.
With lemon, or without?
I went through a stage of having lemon, and then I went through a stage of having apple cider vinegar with my hot water, and now I'm just having hot water. It's really good.
You've been making your Kora organic beauty products for a while. What inspired you to start the line?
I mean, I'm very passionate about it. Health is wealth, and because our skin is the largest organ in our body it's important to use organic products on it. And there's a difference between having an organic product, and having a certified organic product. I wasn't able to find any skincare products on the market that were certified organic, and that really made a difference to my skin. My skin is important for my job, but everyone wants to have beautiful skin. I really feel that healthy skin is the most beautiful skin.
And so I worked for many years, trying various formulations with an organic chemist in Australia. We wanted to make sure that the products were as effective as they could be. Not only did we want these products to fill your skin with nutrients, but we wanted them to also be super effective. I'm really excited about our products because they work, and people are getting incredible results. And they're good for you. So basically, they detoxify your skin and then put back the nutrients, because as I said before your skin is your largest organ, and what you put on it sinks into your bloodstream.
What are some key ingredients in Kora?
We focused on transformative ingredients such as Noni extract. Noni extract is in each and every one of our products. Noni is a super food (derived from the fruit of a tree in the coffee family) that's full of antioxidants and contains over 100 vitamins and minerals. That is the key ingredient across our whole range, and then our products are also filtered through rose quartz to add that little bit of magic to your life, because rose quartz brings in that vibration of love, and so it really comes back to the whole mind, body, skin connection.
I know this is a little bit too much detail, but I'll just tell you anyway. On the back of each product there's a little positive word, like bliss, or love, or joy. So that, coupled with the rose quartz, feeds your mind with positive affirmations and self love while you feed your skin the nutrients it needs to function at its best. We also launched a new supplement, Noni Glow Skinfood, which contains Noni, natural green tea and mangosteen, among other things. So you get your little daily dose of vitamins that feeds your skin from the inside, and you pamper your skin on the outside with products that help detoxify, nourish and revitalize. So that's kind of our thing– mind, body, skin. It's a holistic approach to skin care.
I love the fragrance. Is it the Noni fruit or something else?
It's my Heart Chakra Aromatherapy Oil, a nurturing scent that my aromatherapist in Australia developed for me when I was going through a bit of a rough time in my life. I spoke to her about what was going on, and she sent me over a precious blend with super-powerful aromatherapy benefits. It contains things like ylang ylang, rose otto, sandalwood and cedarwood.
I felt it made a big difference to me, and helped me through that period in my life, and wanted to make it available to everyone. Rose otto helps open your heart. Sandalwood is very calming, ylang ylang is good for stress or anxiety, and cedar wood is very soothing, and assists in mental focus, and vitality. The formula is supercharged with rose quartz crystal, which as I mentioned earlier promotes self love and acceptance, for oneself and for others.
What is your favorite Kora product besides all of them?
Well, right now I'm pretty obsessed with the new Noni Glow Face and Body Balms that have just launched. They're incredible to travel with, and they are super concentrated. When I'm traveling my skin gets a little dry. So I like to combine KORA hydrating moisturizer with a couple of drops of the Noni Glow Face Oil, and a bit of the face balm and use it on certain little dry spots. It's such a powerful hydrating treatment. I also use the Noni Glow mixed with moisturizer as a base under makeup. I'm also excited about the skin food supplement, because everyone's always asking me what vitamins I take. This comes in little individual sachets, so you can just shake one with water, or put it in your smoothie if you like, but I don't. I always mix it with plain water.
Do you live a completely organic lifestyle?
Honestly it's important for me to have a balance, and not be super strict with myself. We buy all of our fresh produce from local farmers' markets, and we buy organic where possible, but obviously when you're traveling it can be a little more challenging to do that. So I don't believe in being super strict. I believe in being aware and conscious of what you're doing. For example, I'm making a conscious choice when I put my body lotion and body oils all over. I'm making a conscious choice because I know we live in a world where we're exposed to so many toxins and whatnot on a daily basis. We don't live in a bubble. I try to eat organic, but then you know what, sometimes I don't. I aim for 80 percent healthy and 20 percent indulgent and for me that balance works really well because you drive yourself mental otherwise.
Now that you're in your 30's, what's the thing you most love about your body and face?
I am so fascinated with the female body and the way it's capable of carrying a child. It's just one of the most magical things and I feel very lucky that I was able to have Flynn. And like I said before, healthy skin is the most beautiful skin. It's not about not having wrinkles, and what not. It's about having that healthy skin so that it's really glowing from within.
You have a six-year-old son. Did you see any skin and body changes after becoming a mom?
I remember being very calm about my body. I was just so excited to be having Flynn. I was definitely cautious about what I was putting on my skin because like I said earlier, it goes into your bloodstream. So I used our essential body wash, the body lotion. I even used them on my son when he was a baby, and he still loves them. He loves the Heart Chakra Aromatherapy Oil as well. I also used Noni Glow Body Oil throughout my pregnancy, and I didn't get one stretch mark, even though I had a 10-pound baby. If you use it religiously morning and night, it really helps prevent stretch marks. It also helps minimize the appearance of stretch marks you may already have.
Your son likes aromatherapy?
Yeah, if he's having a bad day, or if he's like, mom, I don't want to do this or that. Maybe it's something for school, or whatever it is. I say, just put a little bit of this oil on, and he feels better. It's very calming!
I hear you absolutely love to grocery shop. Is that true?
Oh I do.
Where do you usually shop?
I love to shop at the farmer's market, that's the best. If I can't go to the farmer's market I'll go to Whole Foods. I love to feel the fresh produce, and I make sure I have a list of things I might need for the house. I'm a list girl.
Do you eat meat?
I do, on occasion. I prefer to eat grass-fed beef because it has more omega 3's and is generally healthier. It's not that often that I'll eat it, maybe once a week, or something.
You recently got married. Do you and your husband like to cook?
Well, he really loves my slow-roasted turmeric, garlic, and lemon organic chicken. So that's actually what I made for him on our wedding day. I did that specifically for him and our immediate family, and then I had the chef replicate it for the rest of the guests at the wedding. He also really loves my homemade apple pie, which I started making when I heard it was his favorite.
Do you entertain a lot?
Yes. I love to have people over. We do that more than like anything else. Either I cook, or on the weekends Evan likes to get the barbecue out, and we'll have a little pool party. It's one of my favorite things to do. I probably get that from my grandmother because she loved entertaining as well.
Okay, cocktails or mocktails?
A bit of both. It depends. Remember, 80-20. I make a really good margarita, I'm told. It's one of Evan's favorites. It's just good tequila with fresh lemon, fresh lime, a little agave, crushed ice, and some sea salt on the rim.
Favorite guilty food pleasure?
Oh, I think it has to be [my husband] Evan's burgers.
He makes a mean burger?
He makes a mean burger. It's REALLY good. He uses grass-fed beef, and then he has his special technique where he puts a little cheese on the inside, and he marinates it in different herbs and seasonings.
I love a man who can cook.
Me too! He also makes incredible guacamole. He puts pomegranate seeds in it, and onion, and lime juice. It's really delicious. He loves doing it. I got lucky!
Do you ever have to diet considering now you've married a man who makes yummy burgers and killer guacamole?
I wouldn't really say it's about dieting. I'm conscious of what I'm eating. So for instance if I eat a burger with him, the next day I'll be like okay, I'm going to take it easy and have fish with salad, or a lentil soup. I'm just conscious about what I eat, but for me it's about nutrition, not about calories. If I'm filling my body with nutrients then I'm going to feel my best. You know what I mean? Whenever I eat food that's not super packed with nutrients, then I'll feel like I need to kind of rebalance things a little.
What was your pre-wedding day beauty prep like? Did you have a lead-up-to-the-big-day beauty regimen?
I'm pretty consistent with my skin care. I exfoliate two or three times a week. I use masks, depending on what my skin needs. We have a hydrating mask, and a purifying mask. Sometimes I'll put the purifying mask on the T zone and the hydrating one on my cheeks, neck and décolleté.
What about makeup? I know Charlotte Tilbury named a lipstick after you. Is there any other go-to product in your purse right now?
Yes. There's a color by RMS. [Rose Marie Swift]'s a friend of mine, and we actually kind of started our formulations at the same time. Anyway, she has a lipstick, I think it's called Beloved. It's a gorgeous reddish color and you can use it like on your lips and on your cheeks. Sometimes I'll even put a little bit on my eyelids. And then obviously, her Magic Luminizer is amazing. Her concealer is also fantastic. I use number 22.
You always glow in photos. Part of this probably comes from being newly wed and happy, but you're obviously very disciplined about taking care of your skin.
Yeah. The whole mind, body, skin connection. I'm also grateful every single day. I am grateful for basic things like the fact that we have a roof over our head, and that we have water. Putting everything into perspective is just really important.
Do you have a favorite workout?
I mean I absolutely love Kundalini yoga, and I have for years. I also like Pilates. And just turning some music on and dancing. I feel like that's a good way to work out, and it's a fun way to get in a workout without actually having to go to the gym.
What's on your playlist?
I'm an old school like country girl, so I like Shania Twain. But I love everything from hip-hop to classical to country.
Do you and your husband work out together? Does he do yoga with you?
We actually did yoga together before our wedding. That was really nice. And our first date was a yoga class as well.
Did you have a nickname growing up?
Yes, Randa.
Do you have a favorite beauty treatment or facial?
I'm a huge fan of oxygen facials, and used to have a lady that came to my house, but then she ended touring with Madonna, so I lost her. Now I just do my own at home with an oxygen machine.
So where do you go on wellness or spa retreats?
Actually, I like to create that kind of environment at home. I have a really great friend of mine who used to be a Korean monk, and he does an incredible Korean body scrub at home for me, and then he'll do massage, a full body massage and then also like a face massage. Oh, and that is something I did before my wedding–he gave me a really good face massage!
Can other people go to him? Should we say his name, or is it a private friend?
Well, the sad thing is that he's going to be too busy.
You don't want to give up your secret massage man! Very selfish, Randa! Do you have a healer?
Yes! She's actually really incredible. Her name is Holly Star and she's based in New York. She's an intuitive healer, and does amazing things for people. And then there's another guy that I really like–Howard Wills and he practices by reciting different prayers. You can find these prayers on his website. They're like prayers of forgiveness. He talks about cleansing your thoughts every day. Practicing forgiveness of yourself, forgiveness of others, and I really think that's pretty powerful. It works for me, that's for sure.
How often do you meditate?
I do it every morning and evening. It's really instrumental for me to take even just 10 minutes to set that kind of intention. It starts the day in a peaceful way, and I use it to just unwind at night. I find it really, really, really, really helpful for me.
And I suppose that probably helps you stay calm and balanced, because you have a lot going on in your day to day.
Meditation, for sure, and prayer. I like praying multiple times throughout the day as well.
You have the most amazing hair. Is there a hairstyle you've always wanted to try but couldn't because of your career?
Well, I've wanted to cut my hair for such a long time, but I couldn't because of contracts. But last year I woke up and I was like, you know what, I want to cut my hair short, and to be honest I would have even gone shorter, but my husband prefers it when my hair is this length or longer. I don't know what it is about men liking long hair…
Is there a model or actress that you admire?
It has to be Christy Turlington. She's very much into yoga and meditation, and she seems to do a lot of great charity work, and I feel like she has a good spirit.
Over to fashion. What's your current obsession? Is there anything you're dying to break out that you bought for fall?
You know what, I did buy a really nice winter jacket. Actually, I got two beautiful jackets. A gray one from Dior and a black one from Celine. They are staples that I'll be able to keep in my wardrobe forever, and pass down. You know what I mean, investment pieces.
Is there any up and coming designer you're excited about?
Well, that little brand in Australia called Zimmermann, they're kind of just launching. Well, not launching, but getting more well known in America. They have like really great pieces, and they're also really great people. I like them a lot. And then, obviously, Mother Denim is good. They make great jeans, and I like Louis Vuitton. I've got my loyalties to Nicolas [Ghesquière]. He's a creative genius.
Last question: now that you have a skin care empire under your belt, what's next?
I mean, I'm so focused at the moment at like expanding into other markets like Asia and Europe, and continuing to develop more innovative products. Kora really is my baby. it's me who's done all the funding, and everything, and that's why it's taken me a little longer to get it out there, because it's been a risk. But I believe in it so much that it's worth it to invest money I've made from modeling into my company, and get it out there so that it's doing good things for people. It really works!!
Supermodel Miranda Kerr Knows How to Balance Super Sexy and Ultra Feminine
Kerr attended the 2008 launch of a new Victoria's Secret bra in a colorful strapless frock.

Getty
Showing off a new blonde hairstyle, Kerr matched her hue to a light colored frock for a Victoria's Secret event in 2009.

Getty
Back to her darker roots, Kerr chose a metallic mini for Victoria's Secret 5th Annual "What Is Sexy?" Bombshell edition party in 2010.

Getty
Kerr showed off her playful side in a cheery floral dress at the launch of a new Victoria's Secret fragrance.

Getty
At W's Best Performances issue party at Chateau Marmont in 2012, Kerr chose a slinky white satin dress.

Getty
Kerr attended the 2011 CFDA Fashion Awards in a black gown with side cut-outs.

Getty
For the 2011 Victoria's Secret Fashion Show, Kerr arrived in a leopard print bustier dress.

Getty
Kerr arrives at the 9th Annual G'Day USA Los Angeles Gala in 2012 in a white dress with black leather straps across the stomach.

Getty
Showing off her girly side, Kerr chose a light blue, floral dress for a 2012 Golden Globes party.

Getty
Sticking with the blue hue, Kerr arrives at the 2012 Women Of Style Awards in Australia in 2012.

Getty
Kerr attended the 2011 Met Gala with then-husband Orlando Bloom, wearing a frothy white dress.

Getty
For a 2012 music video premiere, Kerr opted for a Stella McCartney LBD.

Getty
Kerr takes a more gothic turn in this black lace number with long-sleeves at the 2013 Vanity Fair Oscar Party.

Getty
Kerr attends the 2012 Just Cavalli Soho Flagship store opening in a wild animal print dress by the brand.

Getty
Kerr shows off a revealing side slit and open back while attending a 2014 Golden Globes party.

Getty
At the 2015 Vanity Fair Oscar Party, Kerr goes the Grecian goddess route in a white dress with metallic accents.

Getty
A sweet and girly moment for the model, at the opening night of "Romeo And Juliet" on Broadway in 2013.

Getty
The model shows off her legs in a metallic mini at the 2015 Met Gala.

Getty
A look only a supermodel could pull off: Kerr wears a belt around her abs, in Calvin Klein, at a Los Angeles event in 2015.

Getty
Kerr chose a slinky silver gown for the 2014 Vanity Fair Oscar Party.

Getty
Showing off her edgier side, Kerr takes in the Saint Laurent runway show in a leather mini, leopard print jacket, and oversized choker.

Getty
Pictured with now-husband Evan Spiegel, Kerr opted for peekaboo white at a 2016 Grammys party.

Getty
Kerr arrives at the 6th Biennial UNICEF Ball in 2016 wearing a disco-ball-esque Louis Vuitton dress.

Getty
Red hot. Kerr shows more than a little skin in this cherry number at the 2016 Vanity Fair Oscar Party.

Getty
Kerr goes colorful in Carolina Herrera, including a thigh-high slit, at a Los Angeles party in 2017.

Getty
For the 2016 Met Gala, Kerr wore a risky Louis Vuitton design that she pulled off like only a supermodel can.

Getty
Kerr stood out in vibrant pink and red at the Louis Vuitton Spring 2017 show in Paris.

Getty
Kerr dazzled at the 2017 Vanity Fair Oscar Party in a pale blue gown by Prada.

Getty
At this year's Met Gala, Kerr turned heads in a vintage-inspired Oscar de la Renta gown.

Getty
Watch: The Beauty Secrets of Supermodels