Moon Juice Dust Products to Be Sold at Sephora
Finally, you can live like Amanda Chantal Bacon.
---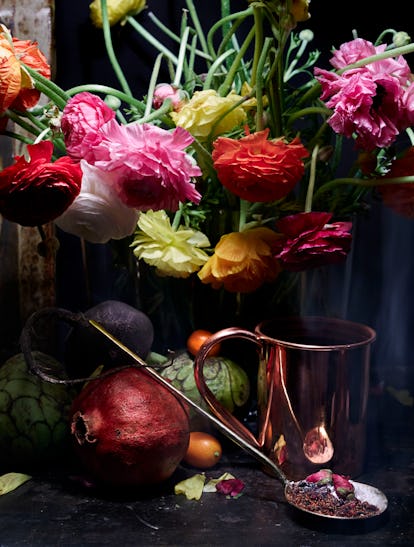 For those in the know, Moon Juice beauty products promise miracles. With just a dollop of powder in your morning coffee or any other beverage, you can revitalize everything from your sex life to your skin, sleep, spirit, energy and, even, your brain, as the homeopathic cult brand advertises. "If I'm recovering from travel or I've been doing a lot of yoga, and I can just feel my muscles a little depleted, I'll throw Power Dust in," explained brand founder Amanda Chantal Bacon to W. "If I'm feeling a little mentally fatigued, and I've got a big office day ahead of me, I'll throw a bunch of Brain Dust in." The only downside? It's not exactly convenient to get your hands brand's beloved dusts if you live outside of Los Angeles, where they're based. This fall, however, that will change when Moon Juice Beauty Dust and the dust sampler pack dubbed Full Moon hit Sephora's shelves on September 15, WWD reports.
Sephora is the natural step in the growing company's expansion, which has also included stocking their products at Net-a-Porter and Urban Outfitters. The timing makes sense too, as the natural beauty market is becoming harder for traditional beauty industry executives to ignore. In the post-GOOP wake of companies like Moon Juice and luxury natural skincare like Tata Harper reportedly raking in millions, global retailers have begun to pivot. This past April, CVS announced they have started phasing out products that contain parabens, phthalates and specific formaldehyde donors, as U.S. News reported at the time. Earlier this year, Target announced a similar move, stating that they were going to give more shelf real estate to natural beauty brands, as WWD reported. "Making informed choices should be simple for guests," senior vice president of essentials and beauty Dawn Block told the publication. "This framework is designed to take the complications out of finding better-for-you product options."
While Western science might not fully back up all of the claims that come printed on canisters of Moon Juice dust — the products have not been approved by the FDA — there is plenty of research that shows consumers want more natural beauty options. According to research firm Kline & Company, synthetic cosmetics are on the decline meanwhile naturals have grown by seven percent in the U.S., as Fast Company points out. And that number seems primed to grow as companies like Moon Juice continue to expand, which is inevitable.
With the news that Moon Juice will be expanding to Sephora comes the announcement that they will be offering a new dust product later this year: "dusted chocolates," as WWD reports, which will be a tastier way to consume their adaptogens. Luckily for those unfamiliar with that term, there's plenty of time to brush up on exactly what those are before then.
Related: Moon Juice's Amanda Chantal Bacon Is Sprinkling Sex Dust Everywhere She Goes
See What's Trending in W Video: