In the First Season 3 Trailer, Mr. Robot Somehow Gets Even Darker
The show is still stuck in 2015, but their version is no utopia even in these times.
---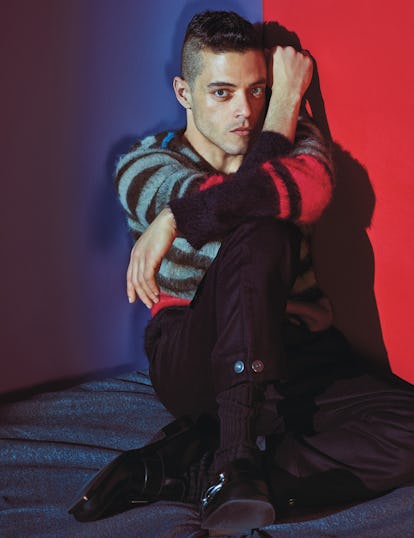 Time has passed slower in Mr. Robot's alternate timeline than it has in real life. It's still 2015; Barack Obama is still president. But if that sounds like a utopic vision right now, the new trailer for Mr. Robot's third season is here to set you straight. At the end of the second season of the series, which has never had a particularly optimistic outlook to begin with, Rami Malek's Elliot Alderson was shot by his nemesis, the tech executive Tyrell Wellick; the beginning of the third, judging by its first trailer, sees Elliot waking up again, at a loss for how he got there.
"What am I doing here?" he asks Angela, his best friend and former colleague played by Portia Doubleday. "You don't remember," she says, more statement than question. He already has multiple-personality disorder, must he now be saddled with memory loss?
The trailer, which premiered Wednesday, is a collage of impressions and intrigue, hinting at more Dark Army, more White Rose (the elusive hacker played by B.D. Wong), and definitely more Christian Slater—and making it clear that, when it premieres October 11, Mr. Robot is about to get a whole lot darker.
Elliot may not have witnessed the election of Donald Trump, but the 2016 election still clearly impacted showrunner Sam Esmail. "I'm never going to deny the energy of what's happened, but it coincided with what we're doing in the third season," he told Indiewire. (Still, Mr. Robot will remain firmly in 2015 through the end of the series.) "We were in the writers' room when the election went down and we saw the tide turning, and then we decided we got too depressed and went home to be with our loved ones."
At the end of the second season, Esmail compared the latest developments in the show to The Empire Strikes Back, in which the hero—in this case, Elliot; in Star Wars, Luke Skywalker—retreats, allowing other characters to develop arcs in their absence. "Season three," he told the Hollywood Reporter, "is sort of the return to Elliot—but not the naive Elliot we saw at the beginning of the season. It's the Elliot we've seen go through this horrific experience from the first and second seasons, and with all of that in mind, that's going to make this new Elliot come into fruition in the next season."
Related: 21 Burning Questions (and Answers) For Your 21 Favorite Fall TV Shows
Rami Malek has always had to share his birthday: