21 Burning Questions (and Answers) For Your 21 Favorite Fall TV Shows
The post-Game of Thrones lineup? Looks pretty, pretty, pretty good.
---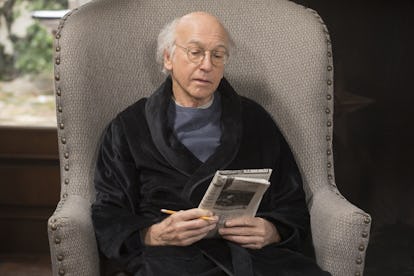 While there's currently a gaping, Game of Thrones-shaped hole in our weekly TV schedules, there is some good news: Fall is coming, people, and with it the return of many beloved shows, a few of which have been gone for a very, very long time. Here, we tackle the most urgent questions about your 21 favorite shows.
1. Will Narcos be any good now that Pablo Escobar is dead? (Netflix, September 1)
Seasons one and two of Netflix's cocaine-dusted crime drama followed Javier Pena (Pedro Pascal) and Steve Murphy (Boyd Holbrook) as they chased down infamous Colombian drug lord Pablo Escobar (Wagner Moura). While the bloody death of Escobar might have served as a natural end to the series, the forthcoming season will focus on Pena as he singlehandedly battles the Cali Cartel. That means yep, Holbrook, whose involvement was up in the air for a couple of months following the season 2 finale, is out as well. This should come as little surprise; the show is largely true to life and the real Steve Murphy left Colombia shortly after Escobar was killed. Still, will the show survive without Holbook's charming southern drawl and light psychopathology? Pena will take on those meandering voiceovers, but only time will really tell the show's fate.
2. What is Lena Dunham even doing on American Horror Story: Cult? (FX, September 5)
Back in February, Ryan Murphy teased that the forthcoming season of his anthology horror series would deal with the election. Now he's saying that it's going to deal with the election "thematically." This sort of makes sense, given that the election was terrifying, trailers for the new season feature clowns, and clowns are also terrifying. But the more pressing question is: What is Lena Dunham going to be doing?! Ever since the Girls alum was announced as a cast member back in July, AHS fans have wondered how on earth she would fit into this universe. At a recent screening of the first three episodes, Murphy confirmed that Dunham plays Valerie Solanis, aka the woman who attempted to assassinate Andy Warhol. And for all you Dunham haters, she'll only appear in one episode.
3. Who's the worst on You're the Worst? (FXX, September 6)
Jimmy, obviously.
4. Where Is BoJack Horseman? (Netflix, September 8)
Everyone's favorite dark comedy about an anthropomorphized horse is returning—however, according to the trailer, BoJack himself is nowhere to be found. While all of the other characters appear to be doing great (especially Todd, who's modeling for the hilariously-named designer Sharc Jacobs) BoJack has yet to return to Hollywoo after he quite literally drove off into the sunset at the end of Season 3. Is he (still) in a drunken stupor or has he started fresh?
5. Can Nicole Kidman and Gwendoline Christie save Top of the Lake: China Girl? (SundanceTV, September 10)
The first iteration of Sundance's super dark procedural miniseries Top of the Lake was profound and strange and unlike anything else. But early reviews of the revitalized second season that returns Elisabeth Moss and director Jane Campion have been despairing and disappointed in the UK, where the show is airing now. Hopefully, the star power added by newcomers Nicole Kidman and Game of Thrones' Gwendoline Christie can keep viewers interested until the season hits its stride.
6. How's this potentially genius "Trump as swear word" idea going to work on Broad City? (Comedy Central, September 13)
When Ilana Glazer and Abbi Jacobson first sat down to write the forthcoming season of their stoner hit Broad City, they thought it would air during a Clinton presidency. Oops. While premiering an episode at Colossal Clusterfest in San Francisco in June, the girls revealed that "Trump" would be bleeped out as a swearword this season. "There's no airtime for this orange (person)," Glazer said. "We bleep his name the whole season." Actually, this is going to work great.
7. Is Fuller House still a thing? (Netflix, September 22)
Yes. Sigh.
8. Will Transparent's Israel storyline work? (Amazon, September 22)
The trailer for Transparent's fourth season has the Pfeffermans taking a family vacation to Israel, which suggests certain family members will be taking a deeper look into their Jewish identities. Will a change in scenery offer fresh insights into these characters or should the show stick with what it's good at: exploring trans issues and family dynamics at home? Given Jill Soloway's track record, we're optimistic the show can do both.
9. Do we need more or less Kleenex for the return of This Is Us? (NBC, September 26)
If the teaser is any indication, more.
10. Does Lucious regain his memory on Empire? (Fox, September 27)
If you're still watching this show, season three left on a cliffhanger, in which Lucious (Terrence Howard), having just declared his undying love for Cookie (Taraji P. Henson) for the one billionth time, just barely survives a car explosion, orchestrated by his son Andre (Trai Byers). Problem is, he doesn't recognize his family! Will he regain his memory or will he have to start life anew? Considering the show's handling of, um, consequences, we're guessing the former, but not until after they drag it out for a few episodes.
11. How is Grey's Anatomy still on the air? (ABC, September 28)
Shonda Rhimes, that's how.
12. Is How To Get Away With Murder's Viola Davis still the best thing on network TV? (ABC, September 28)
Yes.
14. Is the Will & Grace reboot going to be embarrassing? (NBC, September 28)
When Will & Grace, a sitcom about a gay lawyer and his straight, female redheaded roomie living in New York, first hit cable in 1998, it was groundbreaking. Sure, there had been gay characters on prime time before, but a show about gay characters? And one that was, largely thanks to supporting characters, hilarious? But lest we forget, by the time the show wrapped in 2006, everyone was pretty much over it, not in small part because they had tired of its gay stereotypes. Will & Grace's return is exciting because we love these characters, but we also have way more complex, nuanced queer characters on TV now. I don't know, guys. I don't think this is going to end well.
15. Will Curb Your Enthusiasm still be diabolical and funny six years later? (HBO, October 1)
Personally, I think the odds are pretty, pretty, pretty good.
16. Will Scandal's Olivia and Fitz finally make it work? (ABC, October 5)
Gladiators, get your popcorn, the last season of Scandal is upon us. We will get the answer.
17. In Riverdale, is Fred Andrews dead?! (CW, October 11)
"Who shot Fred Andrews?" is the millennial "Who shot JR?" The more important question is: Will Fred survive? We hope so, because Luke Perry is the O.G. teen drama star this series needs.
18. Can Mr. Robot get its mojo back? (USA, October 11)
Mr. Robot sort of went off the rails in season two. While Rami Malek was as captivating as ever, the show—every episode of the season was directed by showrunner Sam Esmail—was all over the place, dedicating full episodes to campy concepts that fell flat and focusing on peripheral characters nobody seemed to care about. Here's hoping it can regain its footing in season 3. With the addition of the always-incredible Bobby Cannavale, things are looking hopeful.
19. Is Martha & Snoop's Potluck Dinner Party still the cutest thing on TV? (VH1, October 16)
Definitely.
20. Will Negan finally be defeated on The Walking Dead? (AMC, October 22)
God, we hope so.
21. Is Stranger Things overrated at this point? (Netflix, October 27)
With the cast currently gracing the covers of countless magazines and teaser trailers and photos dropping (seemingly) constantly, it's hard to believe that we still have two whole months before season two of Stranger Things drops. I'm going to guess that the hype has only just begun. It can't possibly live up to it (can it?).