Naomi Watts Celebrated Her 50th Birthday, and 35 Years of Friendship With Nicole Kidman
The best best friends in Hollywood.
---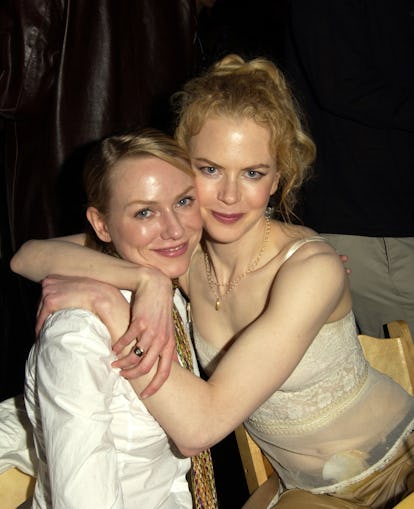 J. Vespa
One Hollywood relationship that has truly withstood the test of time? The friendship of Nicole Kidman and Naomi Watts, each a statuesque Australian blonde bombshell in her own right, and together, a power couple like no other (though whenever they decide to retire, Michelle Williams and Busy Phillips are ready and willing to take over).
The BFFs recently celebrated Watts's 50th birthday together, with a banana split sundae, toppings on the side, surrounded by friends. Kidman marked the birthday with an Instagram post, writing, "Happy Birthday to my gorgeous friend Nai – IT'S A BIG ONE! Friends for the last 35 years, here's to another 35 together and celebrating with your girlfriends. Love you so much ?#birthdaywishes."
On her own Instagram, Watts poked fun at herself, expressed gratitude for her life, and, yeah, bragged a little about her (well-deserved!) vacation to Morocco. Beneath a picture of arched doorways, she wrote, "Yes, I'm in Morocco ?? and yes, I'm celebrating a BIG birthday??? ??Feeling very lucky to share incredible experiences with many of my favorite people. Grateful for so much. Family and friends make everything worthwhile, near or far. #nothingwithoutyou #meanit #whatmidlifecrisis !!??"
Watts and Kidman have been friends for the majority of their lives—35 years, in fact. For those who are math-averse, that means they met when they were teenagers down under. (New York Magazine reports they met in 1991, on the set of Flirting.)
This time last year, Kidman and Watts were—you guessed it—hanging out together. They sat next to each other at the Michael Kors show during New York Fashion Week, whispering. Because that's what best friends are for.
Watch: Naomi Watts Was Fully Pregnant and Stone Cold Sober on Her Favorite Birthday