Stranger Things' Natalia Dyer Loves Drake, Music Festivals and Wearing Sneakers
Getting ready with the Stranger Things star before the Zadig & Voltaire Fall 2018 runway show at New York Fashion Week.
---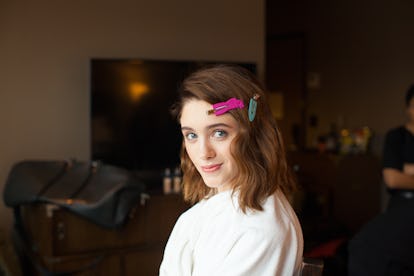 Natalia Dyer is about to start filming the third season of the TV series that made her a star—something you may have heard of called Stranger Things—but she's also, well, a normal girl who likes listening to Drake and going to fashion shows.
On Monday afternoon, Dyer was preparing to do both of those things. We met the actress in her SoHo hotel room, where she was blasting a hip hop playlist blasted from an iPhone in the corner as she got her hair and makeup done for Zadig & Voltaire's Fall 2018 runway during New York Fashion Week. Typically, she finds herself in favor of a more casual look of jeans, t-shirts and baseball caps, but for the occasion, Dyer was wearing a denim jacket-dress with a white rhinestone belt, both courtesy of the brand. "This felt very cool and comfortable—which is very important to me—and different from what I've worn before," she said. "It's a much cooler version of [my daily look], but it's still denim, it's still very comfortable. It's all easy, but it looks much cooler than I usually do!"
But Dyer already is cool and down to earth—no matter what she wears. The 21-year-old actress calls herself a "nomad" these days—she hails from Nashville, but divides her time between Atlanta and New York, and does the occasional short stint in Los Angeles, as all actors do. Of course, she's got some good recommendations for any trip to Nashville—if you're traveling down south, you absolutely must get some barbecue and take a trip to Tootsie's Orchid Lounge. Even the three hour jaunt to Dollywood is worth it, according to Dyer, who said she has a lot of nostalgic memories tied to Dolly Parton's theme park (it's also the only theme park she's ever been to in her life—she's not the biggest fan of rollercoasters).
When she's not spending her time shooting Stranger Things in Atlanta or visiting family back in Nashville, she's traveling abroad as much as she possibly can. "I wanna get all of that checked off my list in my twenties, but I also think traveling is one of the best educations you can give yourself, you know? The places that I've gone have totally stuck with me, and they put you out of your element in a great way," the actress explained, now sitting in a car on the way to the fashion show in Chelsea.
When we hit a spot of traffic, Dyer took a moment to calculate which music festival she wants to attend next time she's abroad (she really wants to make it out to Glastonbury at some point), and parse out which acts she'd love to see perform (Kendrick Lamar, Rihanna, Drake and Frank Ocean all made the cut). She is especially a hip hop enthusiast—Take Care and Nothing Was The Same top her list of the Toronto rapper's best albums—with a flair for sneakers. "When I don't have to dress up, I don't. My favorite thing is that sneakers are in and I hope they stick around," she admitted.
Naturally, it felt like fate that near the end of our conversation, right before arriving at the venue, she switched on the radio just in time to jam to the chorus of "God's Plan" by Drake. By the time Dyer emerged from the SUV at the Zadig & Voltaire show in Chelsea, the sun was finally shining and Drake was still rapping on the speakers; a strange yet fitting string of events indeed.
Related: Dylan Sprouse Is Focused on Opening His Brooklyn Meadery At the Moment, But Still Has Plans to Return to Hollywood