Natalie Portman's New Film Annihilation Has a Whitewashing Problem Because No One Read The Sequel
"That does sound problematic, but I'm hearing it here first."
---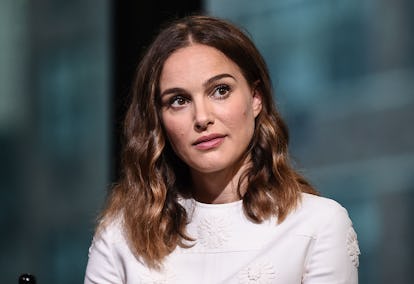 Daniel Zuchnik/WireImage/Getty Images
Director Alex Garland's Natalie Portman-starring film Annihilation initially received positive buzz for having a diverse, largely female cast (Sonoya Mizuno, Tessa Thompson, Gina Rodriguez and Jennifer Jason Leigh co-star). Now, however, the film is in the midst of a whitewashing controversy because, apparently, no one involved bothered to read the sequel to the novel it was based on.
The science fiction action film is based on Jeff VanderMeer's 2014 novel of the same name. The book is presented as the field notes of an unnamed biologist (played by Portman in the film) who leads her team into a mysterious uninhabited place known as Area X. The characters aren't named in the first book, and there's little description of them besides their professions (because a biologist wouldn't mention the color of the hair of her colleague, let alone anyone's race, in her field notes). Though the novel constitutes the first entry in "The Southern Research Trilogy," Garland always intended for Annihilation to be a standalone film and not the beginning of a franchise. Which makes sense, considering it's Area X that is the constant in the series, and the other novels focus on other protagonists.
However, the character Portman plays does make an appearance in the sequel, Authority, and in the sequel the character is described as having Asian ancestry. The writer described her "high cheekbones that spoke to the strong Asian heritage on one side of her family." Considering how often Hollywood has Anglicized characters who are presented as having Asian heritage in the source material, this has unsurprisingly caused some anger online.
Though, it seems everyone involved is saying they never intended to consciously whitewash the character because, well, they never read the second book.
Garland himself first addressed the situation on the Nerdist podcast back in December, claiming he only read the first novel and adding, "It would not be in my nature to whitewash anything. That just wouldn't be like me. I read a book and I adapted it because I thought the book was amazing. And I thought, 'I'm not exactly sure how to adapt this, but I've got an idea.' And I just went with it. So that was it."
Garland also says that he began writing the screenplay for Annihilation before Authority was released (though, it was released just a few months after the first).
Portman has now been asked about the situation by Yahoo! Entertainment, but hadn't heard about it until then. "I actually didn't know that," she said. "I'm hearing that for the first time. That does sound problematic, but I'm hearing it here first."
"We need more representation of Asians on film, of Hispanics on film, of blacks on film, women and particularly women of color, Native Americans — I mean, we just don't have enough representation," Portman continued. "And also these categories like 'white' and 'nonwhite' — they're imagined classifications but have real-life consequences. … And I hope that begins to change, because I think everyone is becoming more conscious of it, which hopefully will make change."
Related: Annihilation Trailer: Natalie Portman Searches for Oscar Isaac in a Strange, Beautiful Forrest