Natalie Portman Pens Statement About Why She Declined Israel's Genesis Prize: "I Must Stand Up Against Violence"
The Jerusalem-born actress has refused the nation's Genesis prize because of disagreements with Prime Minister Benjamin Netanyahu.
---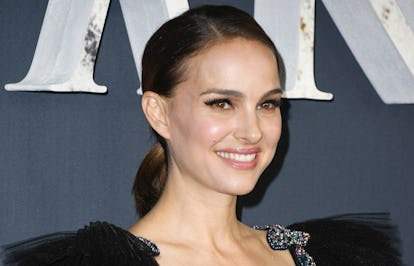 Photo by Jon Kopaloff/FilmMagic
Earlier this week, it was revealed that Natalie Portman, the Jerusalem-born and Oscar-winning actress, had declined Israel's Genesis prize, causing the state's minister of culture and sports to release a statement saying that Portman "has fallen as a ripe fruit in the hands of BDS supporters," aka the Boycott, Divestment, Sanctions group. Now, Natalie has released her own statement, clarifying that she is not part of any group, and that her issue is with Israel's leadership and actions, not its existence. Her thoughtful statement, per The Hollywood Reporter, is below:
My decision not to attend the Genesis Prize ceremony has been mischaracterized by others. Let me speak for myself. I chose not to attend because I did not want to appear as endorsing Benjamin Netanyahu, who was to be giving a speech at the ceremony. By the same token, I am not part of the BDS movement and do not endorse it. Like many Israelis and Jews around the world, I can be critical of the leadership in Israel without wanting to boycott the entire nation. I treasure my Israeli friends and family, Israeli food, books, art, cinema, and dance. Israel was created exactly 70 years ago as a haven for refugees from the Holocaust. But the mistreatment of those suffering from today's atrocities is simply not in line with my Jewish values. Because I care about Israel, I must stand up against violence, corruption, inequality, and abuse of power.
Please do not take any words that do not come directly from me as my own.
This experience has inspired me to support a number of charities in Israel. I will be announcing them soon, and I hope others will join me in supporting the great work they are doing.
The Annihilation star recently made her directorial debut with A Tale Of Love And Darkness, an adaptation (in Hebrew!) of Amos Oz's memoir about growing up during the formation of Israel 70 years ago.
Related: Natalie Portman Says She Didn't Have Other Actress Friends Before the Time's Up Initiative
The Stars of the 2015 Toronto International Film Festival
Natalie Portman, director-writer-actress ("A Tale of Love and Darkness") On her feature debut as writer-director and star: "You've got to take credit for all of it. You can't do it without your cast and crew, but it's your vision. There's no, 'Oh it's the director's fault.' You are the one to blame. But it's also wonderful, because you get to shape your vision."
Elizabeth Olsen, actress ("I Saw the Light") On playing Hank Williams's wife, Audrey Mae: "Nobody has very nice things to say about her. She was untalented and wanted to be a star, so there were a lot of reasons to have an issue with her personality. But at the same time, she was dealing with an alcoholic husband who was never home, so you end up having compassion and empathy for her. I just tried to be her lawyer—to, you know, defend her."
Donald Glover, actor ("The Martian") "I really like science. Like anyone else who's a millennial, I like Neil DeGrasse Tyson. And Bill Nye's really cool, but I didn't know I'd have to know a lot of science and I definitely didn't know I'd have to know a lot of math. I am not good at math. I hope it doesn't show."

Caitlin Cronenberg
Sarah Gadon, actress On introducing Natalie Portman at the annual TIFF kickoff soiree: "She is such a huge talent, but she's also kind of accessible at a stoner-chic level."
Zoe Kazan, actress ("Our Brand is Crisis") "I play a political consultant, who's brought in by Jane Bodine, Sandra Bullock's character, as her secret weapon. I basically dig up dirt. She's a very mysterious character, she's very unknowable, and she's also the only Spanish speaker on the team. I grew up speaking Spanish, so I got to make use of that."
Jeff Daniels, actor ("The Martian") "I wouldn't say I could fly a shuttle, but I know what one looks like."
Scoot McNairy, actor ("Our Brand Is Crisis") "I cold-called director David Gordon Green a year and a half ago and said, 'I'm a big fan and I really want to work with you.' Sure enough he calls me about a year later. I was really quick to jump at working with him. He's really, really funny and really, really odd. And he's all about having a good time."
Chiwetel Ejiofor, actor ("The Martian") "I spoke to people from the European space agency to talk about not only the technical aspects but also the emotional and intellectual ways they would approach problem-solving … I was fascinated by how all of the different groups communicate and the emotional intelligence these guys have."
Dean Norris, actor ("Remember") "It was really, truly an honor to get to work with Christopher Plummer."
Sebastian Stan, actor ("The Martian).
Naomi Watts, actress ("Demolition).
Barkhad Abdi, actor ("Eye in the Sky") "In 'Captain Phillips,' I had a bigger part, so I showed more. This one, not as much, but it feels good enough."

Photographer: Caitlin Cronenberg
Carmen Ejogo, actress ("Born to be Blue") On playing the jazz musician Chet Baker's romantic partner: "My first introduction to Chet Baker was this photograph taken by William Claxton in the 50s that I fell in love. It was a portrait of Chet with Halema, this part-Indian beauty who was sort of leaned up on his lap. I was just mesmerized by this combination of people."

Photographer: Caitlin Cronenberg
Connor Jessup, director ("Boy")

Photographer: Caitlin Cronenberg
Francesca Eastwood, actress ("Heroes Reborn")

Photographer: Caitlin Cronenberg
Geoffrey Rush, actor ("The Daughter") "I've now entered my 60s and it has hit me that there's a whole other bunch of characters I can play. I'm working with people who are five decades younger than me. I would never in a million years have thought I should be the patriarch in a Henrik Ibsen-derived movie. I can go there now."

Photographer: Caitlin Cronenberg
Jack Kilmer, actor ("Len and Company") "I'm obsessed with home recording. I have many, many songs on which I'm playing all the instruments—drums, guitar and bass—and I run it into an 8-track. It's a high output of music. It's quantity over quality, probably."

Photographer: Caitlin Cronenberg
Keir Gilchrist, actor ("Len and Company") "My interest in film and music are about equal. I have a grindcore band that I do vocals for called Whelm. But I'm not interested in mainstream music or big record labels at all. There's no artist on the radio that I care about, period."

Photographer: Caitlin Cronenberg
Mackenzie Davis, actress ("The Martian")

Photographer: Caitlin Cronenberg
Michael Pena, actor ("The Martian)

Photographer: Caitlin Cronenberg
Michael Shannon, actor ("Freeheld") On playing the real-life cop Dane Wells, who rallies fellow officers to support his gay colleague's fight for equal rights: "I went and met Dane, and he's a very thoughtful, quiet person—a very good person. I thought it would be a challenge, honestly. I thought it would take people by surprise. I'm always hearing a bunch of crap about how I play bad guys."

Photographer: Caitlin Cronenberg
Odessa Young, actress ("The Daughter") "My father was born in Toronto so now I'm bringing him back. It's a nice homecoming for him. He's been out roaming the city, reliving his childhood."
Paul Schneider, actor ("The Daughter") On co-star Geoffrey Rush: "He is like the father I never had and the one I wasn't sure I wanted—until I met him. I, like anyone else, wandered into it in awe and came away more in awe in the sense that he was such a good buddy . . ."
Rhys Ifans, actor ("Len and Company") "When you're young, you have a very clear idea of what selling out is; and then as you get older, there's a period where you think you might have sold out according to your youthful principles. Then you sort of settle into that, and you think, I didn't sell out, I just evolved. And then you evolve further, and you get to my age and you go, You know what, I just fucking sold out. You regress to a second, hardened point like you were when you were sixteen. I'm kind of back there now."
John Goodman, actor ("Trumbo") On playing the Hollywood producer Frank King: "I've already sucked at playing major figures, so I wasn't worried about it. If I ever have to do it again, I'm going to take a lot of the pressure off of myself."

Photographer: Caitlin Cronenberg
Paul Dano, actor ("Youth") "We were on location in the Alps, all alone, and I was sort of the young buck of the group. Right away Michael Caine and his wife Shakira started taking me out for dinner. They made me feel right at home. That was pretty cool—to get off work and go hang with Michael and his wife."

Photographer: Caitlin Cronenberg
Rosie Perez, actress ("Dancing With the Devil") On playing a nurse: "I would like to say that I'm a very empathetic person, and I brought that to the role."

Photographer: Caitlin Cronenberg
Madalina Diana Ghenea, actress ("Youth") "I only started acting four years ago. I'm from Romania, a country where something like this seems impossible. Actually, it all started in Haiti for me. I worked with Artists for Peace and Justice and they started a film institute there. When I met all these talented kids making movies, I thought, 'Okay, maybe I should give it a try.'"
Waris Ahluwalia, actor ("Beeba Boys") "I am a gangster … Oh, you mean in this movie? I'm a gangster in life, so I didn't have to act."br> Special thanks to Jeff Glaab.